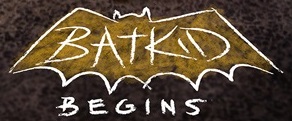 BATKID BEGINS - Trailer #1
Posted by: Bill "Jett" Ramey (Follow @BATMANONFILM)
May 21, 2015

If this doesn't make you proud to be a Batman fan (and shed a tear), well, you've got a heart as cold as Mr. Freeze. Hell, even Mr. Freeze would melt watching this! Check out the trailer, poster, and synopsis for BATKID BEGINS below...
On one day, in one city, the world comes together to grant one 5-year-old cancer patient his wish.
The documentary "Batkid Begins" looks at the "why" of this flash phenomenon. Why did the intense outpouring of spontaneous support for a child reverberate around the world and become one of the biggest "good news stories" ever?
The film explores what happens when an event goes unintentionally viral, and reveals surprising truths about what happens when a nerve is touched in our digital society. Will Make-A-Wish fulfill its mission to help Miles reclaim his childhood after battling disease for more than half his short life?
In the end, the film leaves audiences to decide; did Miles need the world for inspiration? Or did the world need Miles?
"Batkid Begins" was directed by Dana Nachman, who also produced the documentary with Liza Meak. The film was written by Nachman & Kurt Kuenne. Ian Reinhard & John Crane served as executive producers.
Behind the scenes, the directors of photography were Don Hardy and Naomi Ture ; the editor was Kurt Kuenne; and the animation is by Rob Simmons. Dave Tweedie and Helen Jane Long composed the music.
New Line Cinema presents a KTF Films Production, a Dana Nachman film, "Batkid Begins." The film will be distributed in limited release on June 26, 2015, by Warner Bros. Pictures, a Warner Bros. Entertainment Company.
BATKID BEGINS hits select theaters on June 26, 2015.

comments powered by