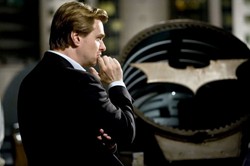 A little update on the "status" of
BATMAN 3
, that's a
little
more positive that
the one from a few weeks back
.
I've actually sat on this for a bit, but it comes from an old friend of BOF's who is a tried and true source and has been spot on in the past with the info he's given me – on and off the record. I won't name him this time, but he does have a "BOF Nickname" and I've ID'ed him with it many times in the past.
Anyway, here's his response to my C-Nol/B3 inquiries:
* "The last I heard was that Chris (Nolan) was digging into INCEPTION…but still working on breaking a story [for BATMAN 3] with David (Goyer) and Jonah (Nolan)."
* "All the talk of Warners worrying about not getting him back aren't really true at this point. They do have ideas of some people to approach if Chris officially terminates his involvement, but [Warner Bros. expects him] to return to the franchise at the moment -- assuming that a story that excites him is hatched by him, David and Jonah. I do think it's fair to call it 50/50 at this point on that regard, it's not nearly a sure thing, but they seem hopeful that he's going to find a story he wants to tell."
Not too different than what we've already heard, but like I said, a bit more of a positive tone this time.
It appears that the bottom line is that while the "Nolan Triumvirate" of C. Nolan, Goyer, and J. Nolan are semi-actively working on a story/script for a third BATMAN.
Even so, Chris is putting all of his effort into this INCEPTION (Which I can't wait to hear more about!) right now.
Apparently, any "handshake agreement" between Mr. Nolan and Warner Bros. is that he's not saying no and they're not hiring another director and will sit down and make a decision sometime in the near future