FYI: This article contains information that some
may consider SPOILERS. READ AT YOUR OWN RISK.
1. "What will Heath Ledger look like as The Joker in THE DARK KNIGHT?"
I heard he was going to have off-white/"grayish" colored skin. I heard that he would have a "cut smile." We all knew -- or should have -- that The Joker in TDK was going to very different from what we've seen before. Well, all of that is true...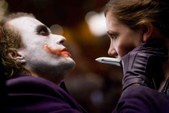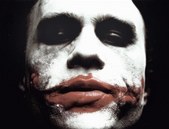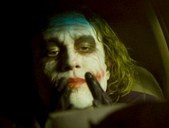 Heath Ledger as The Joker &copy Warner Bros.
2. "Who the hell is Anthony Michael Hall playing in TDK?"
Exactly. Who the hell IS he playing? AMH talks as if it's a key role and fans have speculated everything from Roman Sionis to The Riddler to Jean Paul Valley. I was told that he's playing a villain -- one not created for the movie, but is from the comic books.
UPDATE (11/14/07): AMH is playing a news reporter named "Engel" who has some sort of personal "issue" with Bruce Wayne.
3. "Will Katie Holmes return for THE DARK KNIGHT?"
Uh, that's been answered. Mrs. Tom Cruise will not be returning to Gotham and "officially" it's due to "scheduling conflicts." Umm, okey dokey.
Now the real question here is whether or not "Rachel Dawes" is returning. LATINO REVIEW says the role will be recast -- is this why Rachel McAdams was rumored to be up for a part in the film recently? MOVIEHOLE claims that the Rachel role has only about 10 minutes of screen time -- but it's important for her to be in the film.
My take all along is that if Rachel returns, what's the purpose? Wasn't that last scene between Rachel and Bruce fairly "final," if you will? If she does return and is recast, let's hope that the Nolans and David Goyer have come up with a good reason for her to be there.
UPDATE: Rachel will be back, and she will be portrayed by Maggie Gyllenhaal.
4. "Besides The Joker, are any other classic Bat-villains to be included?"
I say that will definitely happen. Word was that The Penguin would have a part in TDK, but that's been dismissed by LATINO REVIEW insiders. Now which ones will show up -- and how major or minor the part -- is the question.
UPDATE: There's one for sure and he was in BATMAN BEGINS -- and it's not Ra's Al Ghul.
5. "Will the Batman suit be altered?"
Don't expect wholesale changes in the suit like you had from film to film in the last series. However, I'm sure the Bat-suit will be improved upon by the costumers. Plus, don't you think Bruce would make improvements to it as well?
UPDATE: An image of the new Bat-Suit was released by Warner Bros. via ENTERTAINMENT WEEKLY on June 15, 2007. Take a look: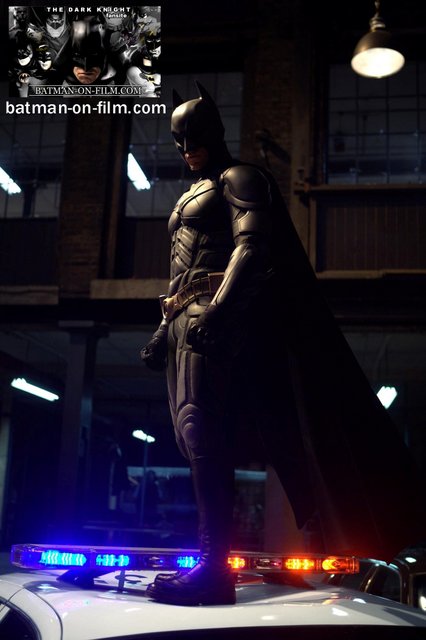 &copy Warner Bros. (Stephen Vaughn)
Again, not wholesale changes, but clearly the suit has been upgraded. And all of the rumors that BOF reported regarding the suit seem to be true: the farbricky/chain mail undersuit and a sleeker design are the primary examples.
6. "Which BEGINS cast members are returning?"
Bale, Caine, Oldman, and Freeman are all returning. And I'd expect to see some of the minor characters such as Commissioner Loeb and maybe even Det. Flass make an appearance.
UPDATE: One of the not-so-nice guys from BATMAN BEGINS is returning for more mayhem. In addition, Commissioner Loeb is in TDK.
7. "Will THE DARK KNIGHT have a big presence at Comic Con this July?"
It better. They would be dropping the ball tremendously if there is not a substantcial presentation for TDK this summer in San Diego. Warner Bros. was there last summer and saw how big the SPIDER-MAN 3 presentation was -- and I'm sure they took note. At least I hope they did! UPDATE: Uh, scratch that one.
No one from THE DARK KNIGHT's cast and crew showed up in San Diego this past summer (2007) nor was there any sort of TDK presentation. BUT, there was one hell of a TDK scavenger hunt through downtown San Diego orchestrated by "The Joker." This extravaganza was part of TDK viral marketing campaign that ended with a new pic of The Joker (Heath Ledger) and Rachel Dawes (Maggie Gyllenhaal) -- along with the very first teaser trailer.
About a month later at Wizard World Chicago, the cast and crew of TDK did show up for a very exclusive panel that featured director Chris Nolan screening about 3 minutes of badass footage! Oh yeah, and everyone there got a cool TDK T-Shirt.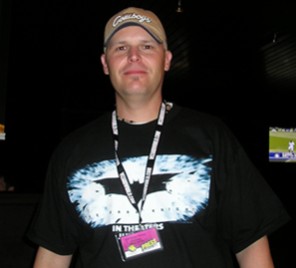 "Jett" in Chicago for Wizard World 2007
(Click on the pic for WWC's TDK panel synopsis)
8. "Who the hell is playing Harvey Dent?!"
That's the million dollar question. There have been many a name rumored for the part over the past year: Leiv Schreiber, Guy Pearce, Jamie Foxx, Josh Lucas, Eion Bailey, Ed Norton, etc., etc. LATINO REVIEW claims that Matt Damon turned it down -- which may explain why there was no announcement last fall as was rumored.
When it's all said and done, it could be one of those guys mentioned, or it could be someone else entirely. Nolan was spot-on with casting in BATMAN BEGINS, so based on that, I expect him to pick a hell of a Harvey Dent…and Two Face!
UPDATE: Well, this one's finally been answered! Aaron Eckhart has been cast as Gotham D.A. Harvey Dent -- and the eventual Bat-Villain Two Face!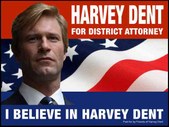 Aaron Eckhart
"Jett" is the founder and editor-in-chief of BATMAN-ON-FILM.COM,
BATMAN-IN-COMICS.COM, and ON-FILM.NET.