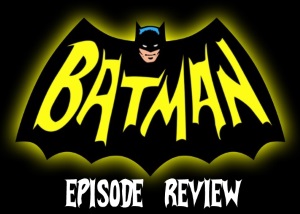 "The Thirteenth Hat"/"Batman Stands Pat" (S1/E13 & 14)
Author: Bobby Barrett (Follow @BATBOBBY)
Date: January 18, 2015

SYNOPSIS
PART 1: Jervis Tetch, The Mad Hatter, is out of prison and looking for revenge on the twelve jurors who put him away. He collects them and their hats once by one while setting his sights on the "thirteenth" juror: Batman, whose testimony convicted him.
PART 2: After Batman escapes The Mad Hatter's trap, the villain flees and goes after the twelfth juror that sent him to prison. Alfred bugs the juror's hat but Mad Hatter discovers the transmitter and sets a trap for The Dynamic Duo.

INFO
"The 13th Hat/Batman Stands Pat" was written by Charles Hoffman and directed by Norman Foster. They were first broadcast on February 23rd & 24th, 1966 on the ABC television network.

DVD/BLU-RAY
"The 13th Hat/Batman Stands Pat" can be found on BATMAN: THE COMPLETE TELEVISION SERIES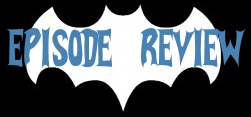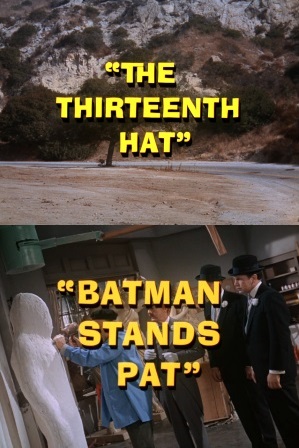 I've definitely seen my fair share of BATMAN reruns over the years; they would air after school in 1989 (a time when none of us could possibly get enough Batman in our lives), and we'd rush home with The Caped Crusader's exploits as priority number one! Over the years, I'd catch them occasionally on various networks that happened to be showing them, always willing to stop on said channel no matter what else was happening. That in mind, It came as a bit of a shock that I was never aware of Jervis Tetch/The Mad Hatter's inclusion here before preparing to review the series for BOF! Always nice to know that something you've spent so much time with over the years can still hold surprises.
While those of us following Batman in the last few decades are more likely familiar with Jervis as a creepy whack job with a penchant for mind control and an obsession with blonde haired girls, the '66 version uses a much lighter approach. This Hatter is an obsessed hat collector who has no issue with stealing to get what he wants, with help from some goons and a hypnotic top hat that uses to zap his victims unconscious.
Hats have been disappearing all over Gotham City...and to make matters worse, their owners are missing as well! It's this tongue-in-cheek description of the crimes that lead Gotham's finest to suspect Jervis Tetsh (yes, on the show it's "Tetsh") and call in the Dynamic Duo: the only ones capable of dealing with such a fiend! It's worth noting that the Hatter is one of the few villains on the '66 series to be referred to by his real name and not just his criminal alias.
Unbeknownst to our heroes, but revealed to the audience, Jervis is targeting the members of the jury who put him away at his last trial, keeping their hats as trophies and "sequestering" the jurors themselves in a hidden chamber at his hat factory. In addition to hats from the twelve jurors, he has a special place reserved for a "thirteenth hat": Batman's cowl! Will Batman and Robin outwit The Mad Hatter or wind up as hats themselves??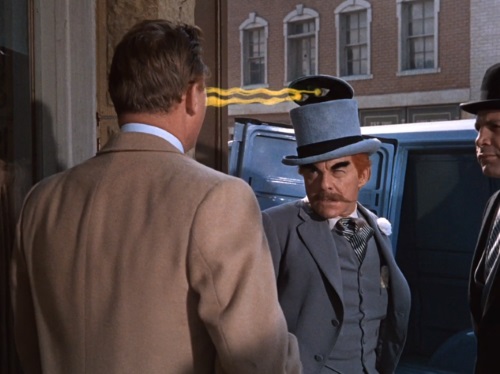 David Wayne as The Mad Hatter in "The 13th Hat" (February 1966)
This episode was yet another enjoyable addition to series still only weeks into its run, but with so many signature trademarks already at work. David Wayne has no problem getting sinister in his role as this week's guest villain, with Jervis Tetch's red hair and pointy mustache making him appear to have stepped right out of the comics page. This is not a villain with a sense of humor, like The Joker or The Riddler – no, Wayne's Jervis has a stone cold air of determination about him, no matter how ludicrous the traps he schemes up might be. He takes fiendish delight in revenge, and seems uninterested in much else.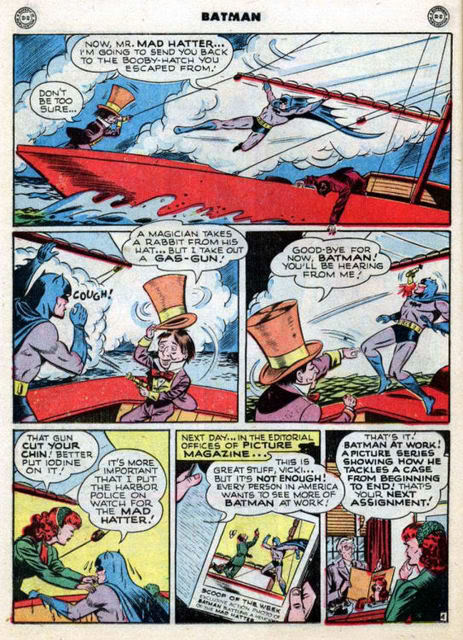 The Mad Hatter's 1st appearance in BATMAN #49 (October 1948)
Writer Charles Hoffman's story borrows several elements from Bill Finger's original 1948 Mad Hatter tale presented in BATMAN #49, most notably Tetsh's impersonation of a sculptor working on a Batman statue for the city (that Batman himself is, of course, posing for) in an attempt to steal The Dark Knight's cowl. It's fun to see the comics play a vital influence on this show since this was an era long before the mainstream media took "funny books" seriously, and we were still some decades away from the idea of "fanboy backlash". It's apparent that there is truly some love being put into this show from all parties involved, and it's that heart that drives home a feeling of sincerity amidst all the camp. It's also what makes BATMAN still enjoyable all these years later.

comments powered by