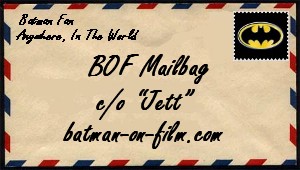 The May '17 BOF Mailbag!
Author: Bill "Jett" Ramey (Follow @BATMANONFILM)
Date: May 14, 2017

Happy Mother's Day 2017 to all the moms out there! And especially to my late Mom who helped make me the Batman fan I am today! And also to my wife, the wonderful and lovely "Announcer Rachel!"
Below you'll find the May 2017 edition of the BOF MAILBAG.
Thanks for all the questions and keep them coming via EMAIL, BOF's FACEBOOK PAGE, or on BOF's TWITTER. FYI: We answered A LOT of reader's questions in the latest BOF PODCAST, so check it out below.
Also, please post your thoughts, feedback, and opinion in the COMMENTS SECTION below.
Thanks for reading mailbag and listening to the podcast! Now, let's get started!
JETT SAYS: First of all, we don't know if Matt Reeves wants to use The Joker in HIS Batman film. Regardless, I'm quite sure if – but really when – we see The DCEU Joker again, it'll be Jared Leto in the role.
Given the issues of Zack Snyder's 2 DCEU movies with editing and superfluous or mishandled plotlines, have you guys ever considered going down the rabbit hole of fan edits? For example, there is one called "Man of Tomorrow" that combines MAN OF STEEL and BATMAN v SUPERMAN into one dramatically reshaped 2.5 hour movie that focuses on Superman's arc. At the very least, a review could make for an interest discussion on the podcast.
JETT SAYS: Hi Justin, thanks for the question sir! The only DCEU film of Zack Snyder's that I have issues with is BvS – I actually quite like MAN OF STEEL. Anyway, in regards to your question about fan-edited cuts of films, you are correct by saying it would be akin to "jumping down the rabbit hole." It's been my policy here on BOF not to review or publicize fan-edits of movies or fan films, because there's no way to cover them all and most are, well, not very good to be frank. And whether or not I like a film, I do respect the work the filmmaker puts into his movie; thus, an edit by a fan isn't what the filmmaker intended for folks to see. So, I wouldn't feel "right" by giving a fan-edited film any run on BOF. (And yes, I'm quite aware that I've probably broken my rule a couple of times during BOF's 19 year run.)
Cheers!
I think there's a pretty big difference between the Frank Gorshin's Riddler and John Glover's from BATMAN: THE ANIMATED SERIES. Is there a version of The Riddler in the comics before the animated series that you think inspired the animated series interpretation or was The Riddler mostly portrayed as being Frank Gorshin-y in the comics?
JETT SAYS: Hmm, interesting question Gabe. Truth be told, I'm not a big fan of The Riddler character. Frankly, he's a Joker knock-off and is only thought of as a "major" Batman villain because of his inclusion in the 1960s TV series. So, I don't think that Bruce Timm and co. were really influenced by anything in the comics prior to B:TAS coming out in 1992 – I think it was their own take on the character.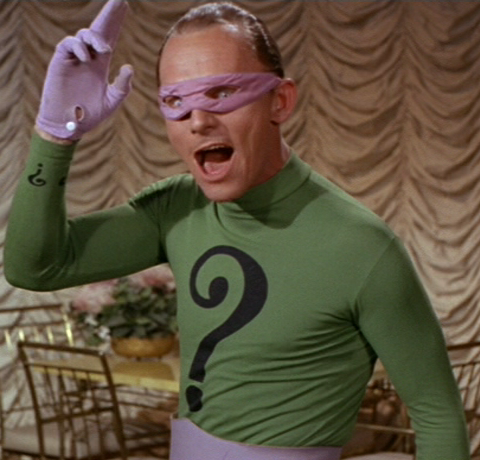 Hi Bill, whether or not JUSTICE LEAGUE is a hit, what happens to Zack Snyder? Do you have any idea if we'll see and Batman characters in GOTHAM CITY SIRENS? And lastly, are you still planning on writing a book about your BOF adventures?
JETT SAYS: Hi Glenn, thanks for writing in again sir! On to your questions… 1 I don't know if Mr. Snyder (who I like a lot as a dude – he's a really good guy) will direct another DCEU film after JUSTICE LEAGUE, but I think he'll have a role in the DCEU going forward in a producer capacity.
2 Yes sir…Harley Quinn, Poison Ivy and Catwoman! If you're asking me if Batman will show up, I can't say he won't, but I'd prefer if he didn't. Look, I'm all for a BCU ("Batman Cinematic Universe"), but doesn't mean Batman must show up in every single BCU film. Going back to GCS, it wouldn't surprise me if a classic Batman villain is the film's big bad.
3 Yep – been working on it for a few years now. But, the story ain't finished just yet!
Do you think DC/Warner are hiring writers that are more technical screenwriters than storytellers – someone that would just put the director´s and Geoff [Johns]'s stories into paper for example? Also, there were several cool rumors about directors negotiating for DC films, but nothing official yet. Is there any good buzz going on about it?
JETT SAYS: Woah, Fernando…that's a lot to take in brother! But here's what I think…
I have no issue with the screenwriters of the DCEU films released so far – not even David Goyer who unfairly gets a lot of shit. The bottom line is that film is a director's medium sir, so whether we like or dislike these DCEU films, it falls on the feet of those who helmed it…for the most part.
I'll say this and you (and everyone reading) can take it for what it is: The only DCEU film to date that is 100% "director driven" is BATMAN v SUPERMAN. The film's that will come post-JUSTICE LEAGUE will also be very filmmaker-driven. What comes in between, well, we'll have to wait and find out how that turns out.
What are your favourite comic book storylines from DC comics and Marvel comics so far?
JETT SAYS: Well Tan, I haven't read a Marvel comic since the 90s during the whole Ben Reilly/Scarlett Spider clone thing nonsense! (For the record, while a Batman/DC fan first and foremost, I was a fan of Spider-Man and The Hulk growing up.) Really, I've never kept up with Marvel Universe storylines and crossovers. I grew up a "DC (Batman) kid."
As far as my "favorite storylines" from DC Comics, well, they are all Batman stories – go figure, right?
My fave single Batman comic book story is, to this day, "The Joker's Five-Way Revenge" from BATMAN #251 from 1973. While it's not the first Batman comic I owned as a child, it's the one that had the most impact on me. I also LOVE Scott Snyder's Batman stuff on DETECTIVE, BATMAN (which is classic), and now on ALL-STAR BATMAN.
When it comes to stories, plural – that went on to become what we call today "graphic novels" – that's easy. THE DARK KNIGHT RETURNS, YEAR ONE and THE LONG HALLOWEEN are my top three to this day.
JETT SAYS: Oh man, that's a tough one – I love Batman in all mediums! If I had to pick one, it would probably be film. I think that's because it was 60s TV series that made me a fan of Batman, so I have a special place in my Bat-heart for live-action incarnations of the character.
Do you think after the backlash of BATMAN v SUPERMAN and SUICIDE SQUAD, WB mandated that most (if not all) DCEU bullshit to be cut from WONDER WOMAN so that the film can be as stand-alone as possible for a film developed under the Snyder regime?
JETT SAYS: Mauricio, I guess that's possible. But I think the film has always been mostly a standalone Wonder Woman origin movie. I think the ties to BvS and JUSTICE LEAGUE will be seen, probably, in the beginning and end of the film. How much of that was changed from the original plan after the DCEU course-correction post-BvS, I'm not sure. I'm of the belief that WONDER WOMAN simply is what it is. Filming was done when BvS came out last year, so there's only so much they could've changed. The DCEU2.0 will kick next year with James Wan's AQUAMAN.
Do you think that BATMAN '66 and the last two Batman films in the Burton/Schumacher series would have been more well-received by the Batman community as a whole if they had been serious?
JETT SAYS: David, BATMAN '66 and BATMAN FOREVER both were well received. The 60s TV series gave us the first wave of Batmania and also basically saved Batman as DC nearly canceled Batman comics just prior to the series' debut. And I know many people forget (or choose to forget), but BATMAN FOREVER was a huge it in 1995. In fact, it made more money than BATMAN RETURNS. The issue with FOREVER is that it gets unfairly lopped-in with BATMAN & ROBIN.
David, I believe that we're at a point that all aspects of Batman can coexist peacefully. You might not like every incarnation of the character, but, I think, they are all respected by most fans. The days of shunning the Adam West Batman are over, thank goodness.
What happens when WONDER WOMAN is savaged by reviews and underperforms? Will WB finally just write this all off as a failure and pull the plug?
JETT SAYS: First of all Jason, WONDER WOMAN is still a couple of weeks out from release, so we don't know how it will perform critically and at the box office. Secondly, I don't think WB will pull the plug on making DC films even if WW performs as you suggest. Same goes for JUSTICE LEAGUE in November. They've already course-corrected and the DCEU2.0 will kick in next year when AQUAMAN is released. I think they are going to focus on filmmaker-driven DC films that aren't overtly connected to each other. I also think there's going to be a focus on Batman universe films.
Last year WB brought out the directors for their announced DC films. What do expect to be announced this year at San Diego Comic Con? Same kinda thing?
JETT SAYS: Emmet, I don't think they are going to do that this year for obvious reasons. Ben Affleck was on that stage as a DCEU director, and he's not even a DCEU director any longer. I think they'll focus on JUSTICE LEAGUE and probably show us something from AQUAMAN.
Do you think BATMAN RETURNS has any redeeming qualities? If so, what?
JETT SAYS: I think the individual performances by the actors are very good. Danny Elfman's score is fantastic too.
Do you think JUSTICE LEAGUE will reference "The Return of Superman" storyline?
JETT SAYS: How will it not Adam? They've got to bring him back somehow, so I suspect they'll pull from that comic book story. Personally, I'm of the belief that's a story that should've been told in a solo Superman film – and gosh I hope there's another one or they'll have absolutely wasted Henry Cavill as Superman. He's a great Superman and he deserves a great Superman solo movie dammit!
With SDCC '17 fast approaching, Do you think we will get any news on Matt Reeves' Batman movie?
JETT SAYS: Brian, I don't think so dude. WAR FOR THE PLANET OF THE APES comes out only a week before SDCC '17, so I think Mr. Reeves will still be doing press, etc. for that film. Now, he may be at SDCC, but he's not going to go to work on THE BATMAN until August or September. So, I don't think there's going to be any news to reveal.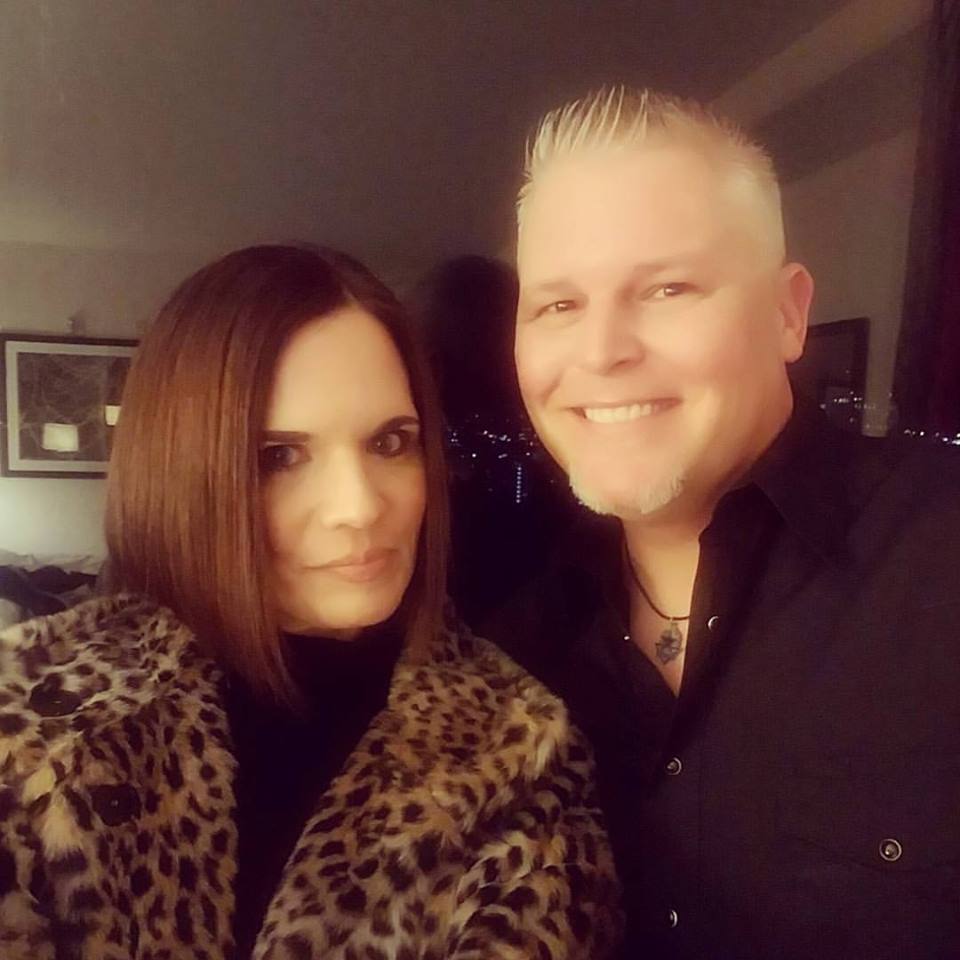 A life-long Batman fan, Bill "Jett" Ramey
is the founder of BATMAN-ON-FILM.COM.
His passions are Dallas Cowboys Football, Elvis, Rock-N-Roll, cold beer,
dive bars, the city of Austin (Texas),
The University of Texas Longhorns, AND...
THE BATMAN!
He resides in the GREAT state of TEXAS
with his lovely Minnesotan wife,
his youngest son (who is now taller and heavier than his dad),
and 1.5 Boston Terriers.

comments powered by