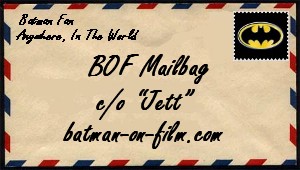 The June 2017 BOF Mailbag #1
Author: Bill "Jett" Ramey (Follow @BATMANONFILM)
Date: June 12, 2017

First of all, I want to say that I was very sad to hear that Adam West passed away on June 9, 2017 at the age of 88. You can read my tribute to Adam West HERE.
Below you'll find the June 2017 BOF Mailbag.
Thanks for all the questions and keep them coming via EMAIL, BOF's FACEBOOK PAGE, or on BOF's TWITTER.
Also, please post your thoughts, feedback, and opinion in the COMMENTS SECTION below.
Thanks for reading mailbag and listening to the podcast!
JETT SAYS: Adam, I don't think "learn something" really has anything to do with it dude. The fine folks at Warner Bros. knew they had a winner in WONDER WOMAN and the marketing and publicity for the film reflected that. Honestly, I thought it was very BATMAN BEGINS-ish, if you will. Now, WW will end up being a bigger box office success than BEGINS, but there's a lot of reasons for that – mainly, BEGINS was trying to win audiences back to Batman on film after the movie franchise had been run into the ground.

When it comes to BATMAN v SUPERMAN, the marketing/publicity for it speaks volumes about how WB felt about felt about it, as well as their confidence level. At minimum, they knew the film was going to be divisive amongst fans and was not going to play well with critics. Thus, they put all of their eggs into the opening weekend basket (you know what I'm sayin'?) when it came to the film's publicity.

It's going to be very interesting to see the approach that WB takes in marketing JUSTICE LEAGUE. Also, pay attention to the embargo date for reviews.

Have you watched any or all of BATMAN v SUPERMAN since you saw WONDER WOMAN? And if so, did it change how you viewed any aspects of the movie since you now know part of the backstory?

JETT SAYS: Cody, I have not watched one second of BvS in months. Even after seeing WONDER WOMAN, my opinion of it remains unchanged. In fact, every time I re-watched it last year, I liked it less – so I simply stopped watching. I'm not sure if I'll ever take a look at it again – I am not a fan of that movie.

I know in the past you mentioned that you don't really follow GOTHAM, though you did take interest in certain character portrayals. That said, did you catch the season three finale? If so what do you think of the direction everything appears to be heading?

JETT SAYS: Dan, while I do not watch GOTHAM, I did check out the end of the finale. My reaction was, "Really? You're going there already?" I don't know, it looks to me like they are going the route of SMALLVILLE when Clark was basically Superman but not "Superman" – you know what I mean? So I guess a 16 year old Bruce Wayne is basically Batman now but not "Batman." Whatever they do moving forward, I'm not interested and likely will not watch.

We all know Marvel is a well-oiled machine that's constantly building to bigger and grander movies. After JUSTICE LEAGUE, we have AQUAMAN, BATGIRL, GOTHAM CITY SIRENS and many other movies in "development" but what do you think Warner Bros. is building toward? Could we eventually see them build toward a "Crisis" event movie like Marvel's INFINITY WAR?

JETT SAYS: Christian, I don't think WB is building up to a big, crossover movie at this time. All I think they are worried about is getting past JUSTICE LEAGUE (which they are doing everything in their power to make "good") and moving on with the DCEU2.0. The only projects that are I can say with 100% confidence are going to happen are AQUAMAN (which is currently filming) and THE BATMAN The rest, we shall see.

JETT SAYS: I don't not believe there are any plans for that. The WONDER WOMAN movie we saw in theaters is the same film that will be released on home video. Thank goodness.

With WONDER WOMAN being a win box office and critically, does that change the chances of Ben Affleck possibly bowing out of THE BATMAN after JUSTICE LEAGUE? Or is he for sure all-in on THE BATMAN contractually regardless?

JETT SAYS: Kyle, it certainly doesn't hurt, that's for certain. But I don't think WW's success factors into Ben Affleck playing Batman again (after JL) or not. I think it's all about what director Matt Reeves wants to do with THE BATMAN once he gets to work on it. If I were a betting man, I'd lay money on Affleck returning for it. After that, I'm not sure what the future holds for Ben and Batman on film.

I will say that THE BATMAN can provide Affleck a way to walk away and WB door for a soft reboot if all parties so choose to go that route.

JUSTICE LEAGUE arrives in 5 months. Extensive re-shoots are currently taking place. JL is a CGI-heavy movie, which means a lot of post-production work. How the hell are they gonna finish the CGI in the re-shoots in time for the scheduled release? Or are the re-shoots only about dialogue and connective tissue?

JETT SAYS: Mauricio, I need to tiptoe around this question sir. Let's just say that while some significant additional filming is indeed taking place, this new stuff will likely not include a lot of CGI post-production. Take that for what you will.

Hey Bill, hope your little vacay was good, you certainly deserved it! Was the choice of Joss Whedon, WB's choice, Zack's or a combination of the two? Do you think Joss will go right from JL to BATGIRL? I thought GOTHAM CITY SIRENS was farther along than BATGIRL - are there any problems with that film? Finally, what do you think Of Bruce's proposal to Selina in the comics?

JETT SAYS: 1. The vacay was good! But why is it I always need to rest and recoup after a vacation?

2. No comment.

3. I'm sure that's the plan. We'll see if it comes to fruition.

4. I think we'll have to wait and see if GCS ultimately gets made – though I don't think there are any "problems" with it.

5. I have no problem with Bruce Wayne being happy.

Hello Jett! I truly feel for Zach Snyder and his family at this time. With that being said, do you feel these extended reshoots with Joss Whedon at the helm instead of Zack Snyder will improve the film at all? I feel Whedon has a better understanding of characters and the obvious experience of undertaking such a film.

JETT SAYS: As far as sad situation with Zack Snyder, check out the BOF podcast where we paid our respects to Mr. Snyder and his family.

Look, all I'm going to say is that it's certainly not going to hurt having Whedon on board. WB wants to make this film the best it can possibly be, so having Whedon to turn to sure as hell isn't a negative.

JETT SAYS: I don't know if they're going to "announce" the start of production on any DCEU film this year to be honest. However, I think the next one will be THE BATMAN or GOTHAM CITY SIRENS.

Has all the toxic fanboy behavior ever tempted you to just shut down the site?

JETT SAYS: Oh Tim, for crissakes yes! Many times. But then someone – usually "Announcer Rachel" – talks me off that ledge with a heavy dose of common sense.

Given the great reception to WONDER WOMAN, do you think Patty Jenkins will be invited to oversee the DCEU 2.0?

JETT SAYS: No sir. But she'll helm WONDER WOMAN 2.

Do you think it's fair to say that WB/DC's top priorities right now are THE BATMAN and WONDER WOMAN 2?

JETT SAYS: I wouldn't disagree with that.

What direction would you like to see the next Batman animated series go?

JETT SAYS: Wow, good question. Probably what they did with BEWARE THE BATMAN to be honest. Too bad it was canceled – I don't think they gave it a chance. I'm not sure what they'll do next if they decide to make another animated series.

If GOTHAM CITY SIRENS is a hit, do you think that Warner Bros. will take a chance on BIRDS OF PREY even though the TV series failed?

JETT SAYS: I don't know David. Is GCS close enough in premise to BOP to make the latter a moot point?

A few weeks ago, in a comment, you posted how Zack Snyder recently did something really nice for you in regards to JL. Can you share what it was?

JETT SAYS: Mike, I can't not. But, if you're a regular reader of BOF, it's probably easy to figure out what it was.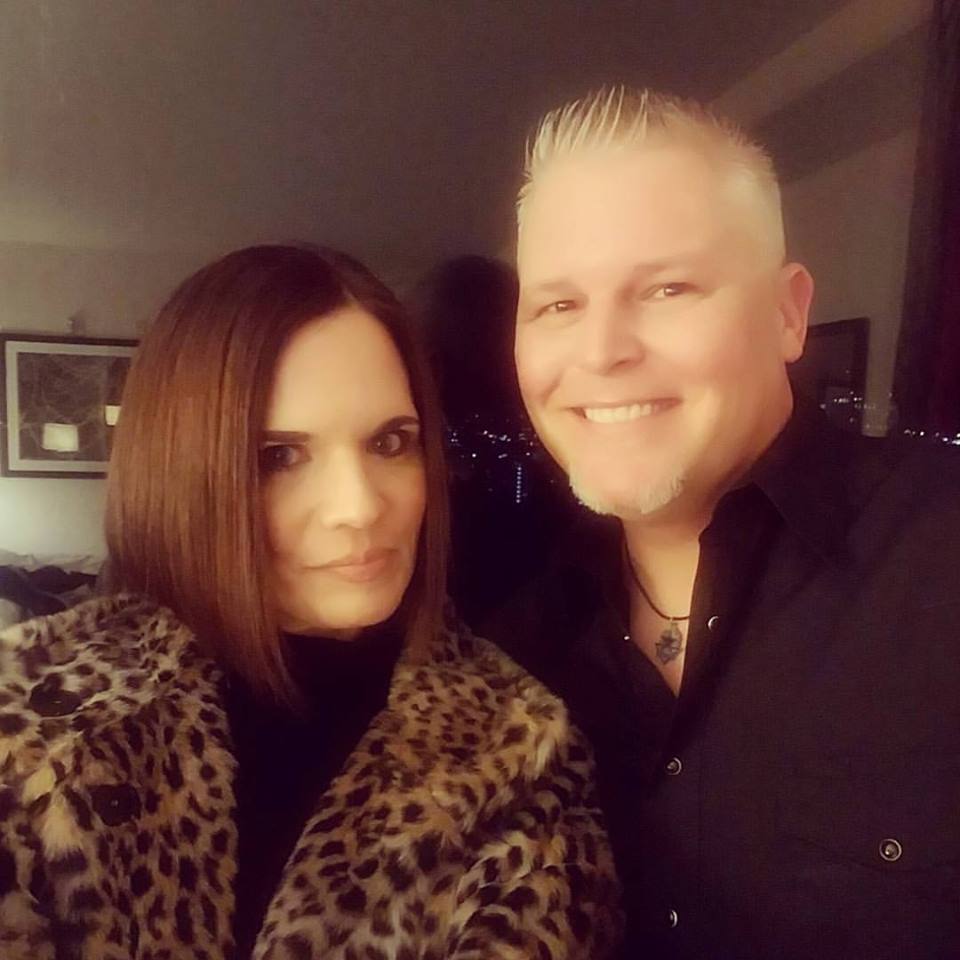 A life-long Batman fan, Bill "Jett" Ramey
is the founder of BATMAN-ON-FILM.COM.
His passions are Dallas Cowboys Football, Elvis, Rock-N-Roll, cold beer,
dive bars, the city of Austin (Texas),
The University of Texas Longhorns, AND...
THE BATMAN!
He resides in the GREAT state of TEXAS
with his lovely Minnesotan wife,
his youngest son (who is now taller and heavier than his dad),
and 1.5 Boston Terriers.

comments powered by