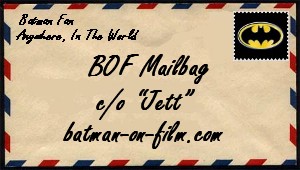 The January '17 BOF Mailbag!
Author: Bill "Jett" Ramey (Follow @BATMANONFILM)
Date: January 22, 2017

Below you'll find the latest BOF mailbag.
Thanks for all the questions and keep them coming via EMAIL, BOF's FACEBOOK PAGE, or on BOF's TWITTER. FYI: We answered A LOT of reader's questions in the latest BOF PODCAST, so check it out below.
Also, please post your thoughts, feedback, and opinion in the COMMENTS SECTION below.
Thanks for reading mailbag and listening to the podcast! Now, let's get started!
Besides Affleck's THE BATMAN, what DCEU film are you most looking forward to seeing? (via EMAIL)
JETT SAYS: All of them…except for JUSTICE LEAGUE. I honestly couldn't care less about it. Regardless, I hope it's good, does well at the box office, and that I like it.
But if I had to narrow it down, I'd say I'm pretty excited for AQUAMAN. From what I've heard, James Wan has total control of the project and it's pretty much going to be a standalone film free from overt ties to the DCEU (thank goodness).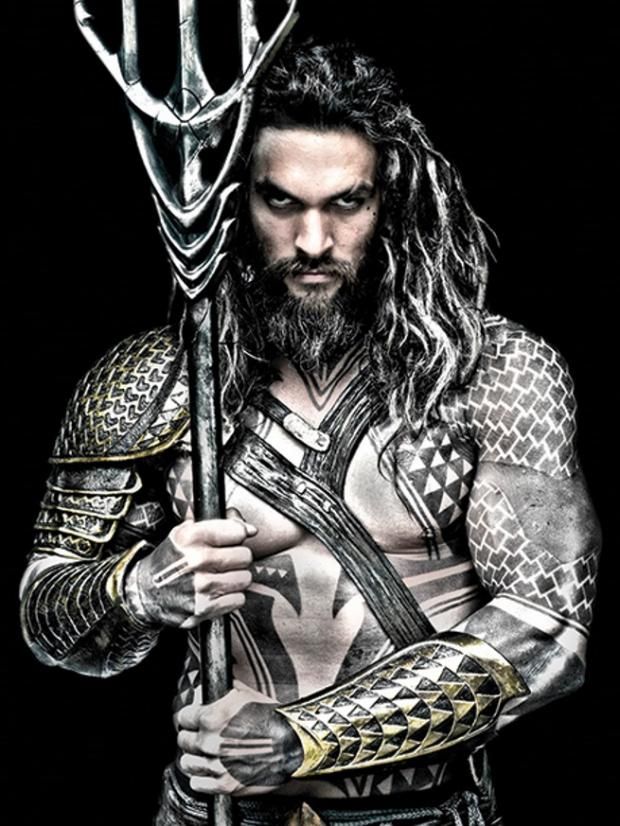 JETT SAYS: The bottom line is that it's not happening. I don't know if it was bulls*t or simply never panned out, but regardless, I'm disappointed. As someone who doesn't think BATMAN FOREVER sucks (and could've been a better film with a proper cut), I would've loved to have seen it happen.
Maybe one day.
What's your favorite trailer from THE DARK KNIGHT TRILOGY?
JETT SAYS: Rob, that's easy sir. The very first one – the teaser trailer – for BATMAN BEGINS.
Who should play The Mad Hatter in a Batman movie?
JETT SAYS: David, that's an easy question to answer as well sir: Hopefully, NO ONE.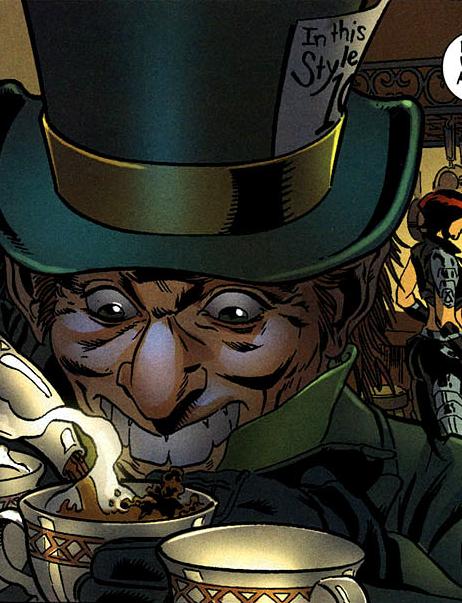 JETT SAYS: Egg Head.
I'm kidding. At the top of my list is Hugo Strange. I'd also like to see a cinematic take on Black Mask – not that I want his face to actually be made from a coffin and look like the hex #000000 version of Marvel's The Red Skull.
Not a mailbag question per se, but perhaps a future countdown list: What are the best "Batman moments" throughout his cinematic career?
JETT SAYS: Dude, done. This will make for a great podcast and I shall alert Rick, Ryan and Justin and tell them to get their lists ready! Here's one...
What are your thoughts on yet another rumor now circulating that WONDER WOMAN is a "mess?" I'm always a wait and see guy, but I can't help but feel a little disheartened that YET another negative story is being thrown out there regardless if it is just a "rumor."
JETT SAYS: Ben, I've got gotta tread lightly when it comes to these sort of questions sir, so I hope you understand.
I'll say this: I 100% believe that Sasha Perl-Raver was sincere and was simply relaying what she heard from someone who did indeed see an early cut of WONDER WOMAN. She's NOT a "LIAR!" as fanboys proclaimed in the aftermath due to butt hurt-ness.
Ben, I'm SUPER excited for WONDER WOMAN bro. I hope it's awesome and kicks ass at the box office. BUT, I'd be remiss and disingenuous if I said if I told you "All's OK!" – You know what I'm sayin'? Keep in mind that WONDER WOMAN was basically in the can when BATMAN v SUPERMAN fallout occurred and Warner Bros. and DC Entertainment decided to "course-correct" the DCEU.
JETT SAYS: I've never seen proof it to be honest, but apparently he was up for the role of Dick Grayson/Robin in BATMAN FOREVER – though I can't confirm or deny it. If he had gotten the role, he would've been 20 years old while filming (Bale is actually about 4 years younger than Chris O'Donnell who got the part).
Was there ever a plan for The Joker to be in THE DARK KNIGHT RISES? Before Heaths death I mean.
JETT SAYS: I'll put it this way: I'm not convinced, nor am I sure, that Heath Ledger would've reprised his as The Joker in RISES even if Ledger had not unfortunately passed away.
Yes, I know David Goyer once said the plan was for The Joker to return in part 3 and scar Harvey Dent while on trial. But, Nolan doesn't worry about sequels as he puts everything in the film at hand and a sequel will happen organically if there is to be one.
And frankly, does anyone think Nolan would've brought The Joker back? I mean, really, why in the hell would he want to repeat what he already had done anyway?
What will happen to the DCEU if the next two films – WONDER WOMAN and JUSTICE LEAGUE – are as bad as BvS and SUICIDE SQUAD?
JETT SAYS: Jonathan, it depends dude – there are a lot of variables here. If they make a lot of money, but have the same critical and fan reaction as the BvS and SS, likely nothing but a few tweaks. However, if both WW and JL underperform at the box office (JL must make $1 billion + worldwide to be deemed a financial success for example) and are hammered critically and by the audience, then things will be dire for the DCEU.
Let's all hope that doesn't happen.
I asked you before who would you want to play an older Bruce Wayne in a BATMAN BEYOND adaptation and you said Clint Eastwood. Now my question is who would you want to see direct it?
JETT SAYS: Well Jeremy, if Clint Eastwood is in the film, I'm sure he'll direct. So my answer is obvious, yes?
I think that eventually (I don't know when) Batman movies will be like Bond movies. There will be one actor and/or director for a few movies, with each movie standing on its own and will not be part of a shared universe. Do you think that's a realistic expectation?
JETT SAYS: Brother, I've been saying this for 19 years now! Gabe, I think that would be a great way for the Batman film franchise to be handled. Make 3 or 4 films with one star and one director, wait a few years, and then do another with a different Batman and creative team and let it also be its own thing and different from what has come before.
Geoff Johns said another DC TV show is coming. Do you think it will be Batman-influenced?
JETT SAYS: Hi Jeff! Dude, I have no idea what's coming next for DC on TV. You got a lot right now, no? And POWERLESS makes its debut on NBC in a couple of weeks. My wish is that they'd produce a Deadman series done in the style of QUANTUM LEAP.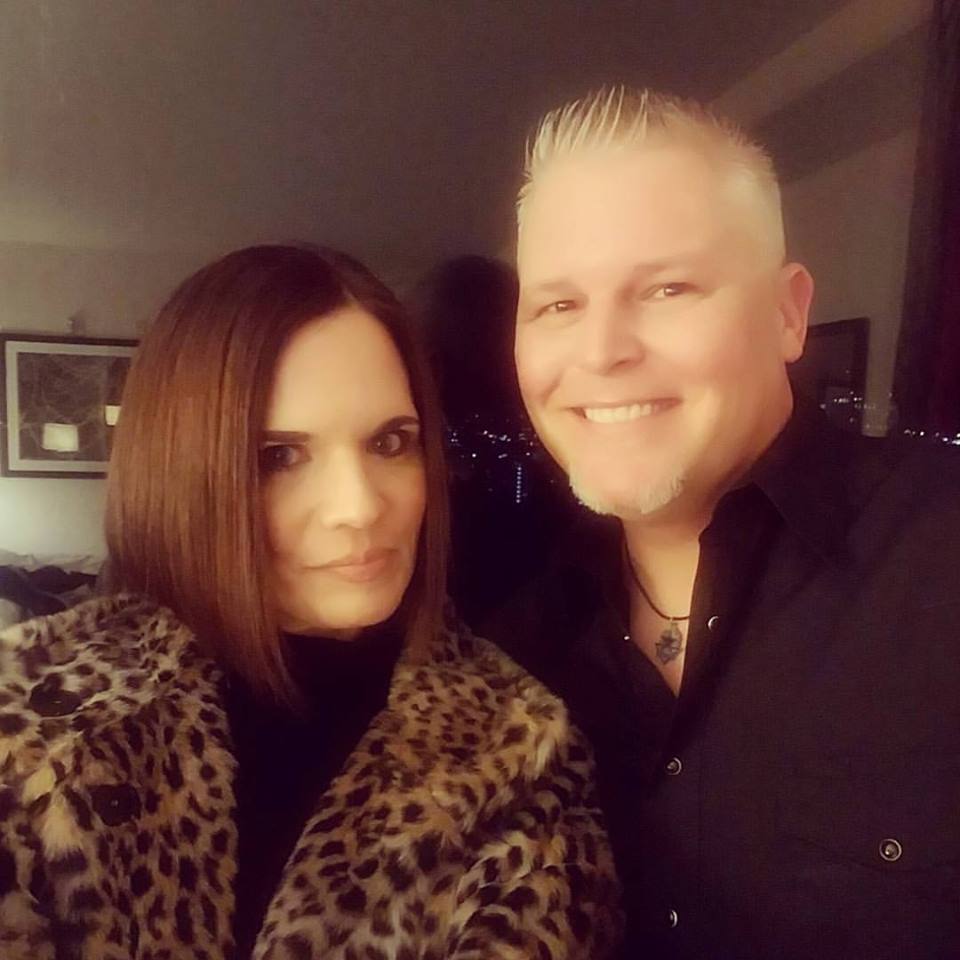 A life-long Batman fan, Bill "Jett" Ramey
is the founder of BATMAN-ON-FILM.COM.
His passions are Dallas Cowboys Football, Elvis, Rock-N-Roll, cold beer,
dive bars, the city of Austin (Texas),
The University of Texas Longhorns, AND...
THE BATMAN!
He resides in the GREAT state of TEXAS
with his lovely Minnesotan wife,
his youngest son,
and 1.5 Boston Terriers.

comments powered by