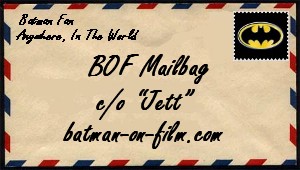 The February '17 BOF Mailbag!
Author: Bill "Jett" Ramey (Follow @BATMANONFILM)
Date: February 28, 2017

Made it by the skin of my teeth!
Below you'll find the February edition of the BOF MAILBAG!
Thanks for all the questions and keep them coming via EMAIL, BOF's FACEBOOK PAGE, or on BOF's TWITTER. FYI: We answered A LOT of reader's questions in the latest BOF PODCAST, so check it out below.
Also, please post your thoughts, feedback, and opinion in the COMMENTS SECTION below.
Thanks for reading mailbag and listening to the podcast! Now, let's get started!
Jett how do you feel about when people say the fight scenes in THE DARK KNIGHT TRILOGY were not well shot? I disagree with the statement, but I always wondered what you thought.
JETT SAYS: J.P., I think they were fine. What they were going for – particularly in BATMAN BEGINS – was to show Batman attacking from the POV of the bad guy. I don't know how anyone could complain about the "Secrets of Scary People" scene in BATMAN BEGINS. It's one of the greatest in the history of Batman on film.
What is your take on the 17 (and counting) DCEU films announced so far? Doesn't it look like WB are throwing stuff at the wall in the hope that something sticks?
JETT SAYS: Dude, I don't think all or many of those films "announced" will end up being made. Period.
If we do lose Ben Affleck after JUSTICE LEAGUE, what effect if any does that have on Jared Leto as The Joker? Other actors will likely stay in hopes of the franchise righting itself, but as an Oscar winner and successful musician, he has plenty of irons in the fire and has already expressed his frustration with Warner Bros. in the past. Will he follow Affleck out the door?
JETT SAYS: Great question. I don't necessarily seen Affleck and Leto tied at the hip, so to speak. I believe that Leto is keen on playing The Joker again regardless of his feelings regarding the final cut of SUICIDE SQUAD. I think we could certainly see him in GOTHAM CITY SIRENS and, of course, Matt Reeves' THE BATMAN. But yeah man, you gotta think the dude is saying, "What did I get myself into?" right now regarding the DCEU.
JETT SAYS: No idea man. I guess it depends on how much creative control Matt Reeves has and whether or not he liked the script. I think Mr. Reeves has a BIG say.
You know Warner Bros. pretty well. Why do you think WB will not create a DC Studios similar to Marvel Studios and perhaps find a Kevin Feige-type figure to run things and maybe make some good comic book films? All the best. Reader since 2003.
JETT SAYS: Thanks for being a longtime BOF'er Thomas! And yes, I know WB well -- I've had a relationship with them for quite some time now. Here's the deal and the difference...
Marvel Films existed before it was purchased by Disney, and it's still run as an independent production company for the most part. Marvel Films even has the power to OK which Marvel films get made and then released by Disney. With Warner Bros. and DC, WB has owned DC and thus, DC characters, for years, so the structure is just very different. Now, they have created DC Films under Geoff Johns and Jon Berg, but WB's Toby Emmerich makes the decision on which films will get made.
I don't think that having Warner Bros. do things exactly like Disney does with Marvel Films is going to solve WB's DC on film issues. Things worked out pretty well during the course of THE DARK KNIGHT TRILOGY. The problems with DC on film started when the studio decided they had to get to a Justice League film as fast as possible and turned the MAN OF STEEL sequel into a two and a half hour JUSTICE LEAGUE prequel.
How about going back to the "filmmaker-driven" approach that Warner Bros. is famous for and hire filmmakers who are passionate about a DC character and let them do their thing? It sure as hell worked for them with Chris Nolan and Batman, and it can work for them again in the future. And I think this is what they're going to get back to post-JUSTICE LEAGUE with their DC movies (i.e. James Wan's AQUAMAN and Matt Reeves' THE BATMAN).
Do you think Ben Affleck had any input on Matt Reeves becoming the new director of THE BATMAN?
JETT SAYS: Great question Chance. Since I wanted to give you an educated question, I checked with 'ol FOBOF. He says that it's likely that Warners asked his opinion since he is the star of the film. I'd add that unless things have changed (which is TOTALLY possible LOL!), Ben Affleck is one of the film's producers as well as star. So yeah, I'm of the opinion that they probably asked for Affleck's input out of respect.
So, do we riot in the streets if they make Nightwing's costume have the red trim rather than the blue trim?
JETT SAYS: HAHAHA! Pitchforks and torches on the march in Burbank, CA! Well, I think they'll want to avoid comparisons to Chris O'Donnell's suit in BATMAN & ROBIN fo sho. But, I'm kinda hoping they'll go with Nightwing's original disco/funky threads myself.
Elvis would've loved that costume!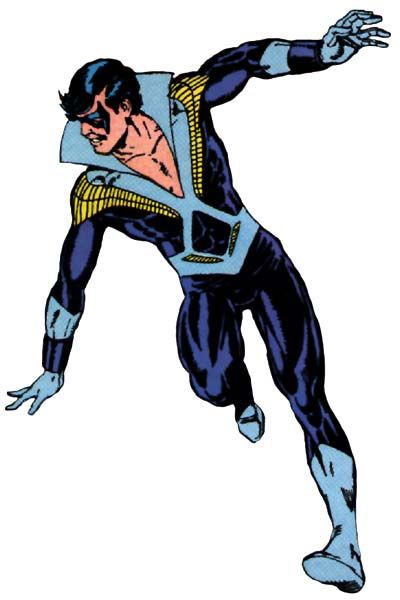 Are you going to see LOGAN? There's a lot of talk saying it's the best superhero film since THE DARK KNIGHT.
JETT SAYS: I'm absolutely going to see it. And I hope the "it's great" talk is true as it'll be good for the genre.
Do you see the sudden announcement of NIGHTWING as the inevitable write-off for Bruce Wayne (Please don't "Omega Sanction him")? And as a B side to that question, what does that mean for the guy that they ultimately choose for Dick Grayson? I mean likely they will want someone younger than Dick probably should be in the DCEU, so he can commit to a multi-picture deal, right?
JETT SAYS: Dan, I'm not of the belief that they'll "retire" Bruce Wayne's Batman and pass the torch to Dick Grayson for future solo Batman films. I may end up being wrong, but I just don't see that happening. Bruce Wayne IS Batman and will remain the Batman on film as well. Keep in mind they have the option of doing prequels with a younger, in-his-prime DCEU Batman in the future.
As far as who should be cast as Dick Grayson/Nightwing, I think you definitely need to go with an actor in his early 20s. And yes, I'm quite sure whoever nabs the part (IF this project comes to fruition mind you) will sign-on for multiple films.
My theory is that part of the negotiations between Matt Reeves and WB was what story Reeves wanted to tell which is a prequel that establishes Robin. And since the director and his story are set, they're at least able to start production on its sequel/spin-off which would be the Nightwing film by getting a script ready.
JETT SAYS: I would say that part of the negotiations between my friends at Warner Bros. and Mr. Reeves did involve his take on the film and how much creative control he would be allowed. Could money have been a factor too? Absolutely. But I don't think WB or Reeves would allow money to be a deal breaker. I'm of the belief that creative control was the biggest issue for both parties.
As far as your Robin theory, I have no idea. I suspect a prequel (or prequels) is possible – if not for THE BATMAN, at least in the future.
Are you still watching/liking POWERLESS?
JETT SAYS: Tyler, I have not watched it since it debuted a few weeks ago. I have them on my DVR, so I may power-watch them this weekend. BOF's Justin Kowalski says it's improving. So BOF'ers, are y'all still watching? And if so, how is it? Post your thoughts in the comments section below.
JETT SAYS: I'm with you (and see above). Unless they do BATMAN BEYOND at some point down the line (which I'd like to see to be honest), Bruce Wayne will be the cinematic Batman for the foreseeable future. If Ben Affleck doesn't do THE BATMAN (and I hope he does), then they'll either recast with someone around Ben's age and continue on as planned or recast with a younger actor and do prequels.
Hey, here's my question Bill: You don't think BATMAN v SUPERMAN is up there with BATMAN & ROBIN (1997) in terms of bad Batman films do you?
JETT SAYS: No, not at all. For me, BvS is more like BATMAN RETURNS. I was very excited for both of those films. However, both tremendously disappointed me.
Look, I'm not piling on BvS here, OK? But it's not like I'm the only one who didn't dig that film. There was a reason it got poor reviews. There was a reason it didn't make as much money as expected. There was a reason it led to Warner Bros. "course-correcting" the DCEU and making a lot of changes on the fly to JUSTICE LEAGUE right before it was set to film.
With all that said brother, I can honestly say that there are parts of BvS that I really like. I can't say that about B&R (though the Alfred is dying subplot was OK).
I just watched MAN OF STEEL and BATMAN v SUPERMAN and was reminded how much I love both of those films. Is JUSTICE LEAGUE really going to be bad?! I know you didn't enjoy BvS and in your vintage subtle/not-so-subtle "Jett way", you like to get in your shots at JL. Just like WB's new "hope and optimism" approach to the DCEU going forward, can you give me some for JL?
JETT SAYS: Tony, I hear you man, I do. As I've said many times here on BOF and the podcast, I know that many fans liked/loved BvS and I'm happy for all. Oh yeah, for the record, I'm really liked MAN OF STEEL – don't forget that. It's with BvS that I have issues. ANYWAY…
Tony, I really, Really, REALLY hope that JUSTICE LEAGUE is damn good and does well at the box office. And despite my personal misgivings based on what I've heard about it, I will go in with an open mind and I hope to enjoy it. That's truly all I can say positive right now about it.
Dude, don't worry about what I think, OK? If you loved BvS, I'm pretty sure you're going to love JL.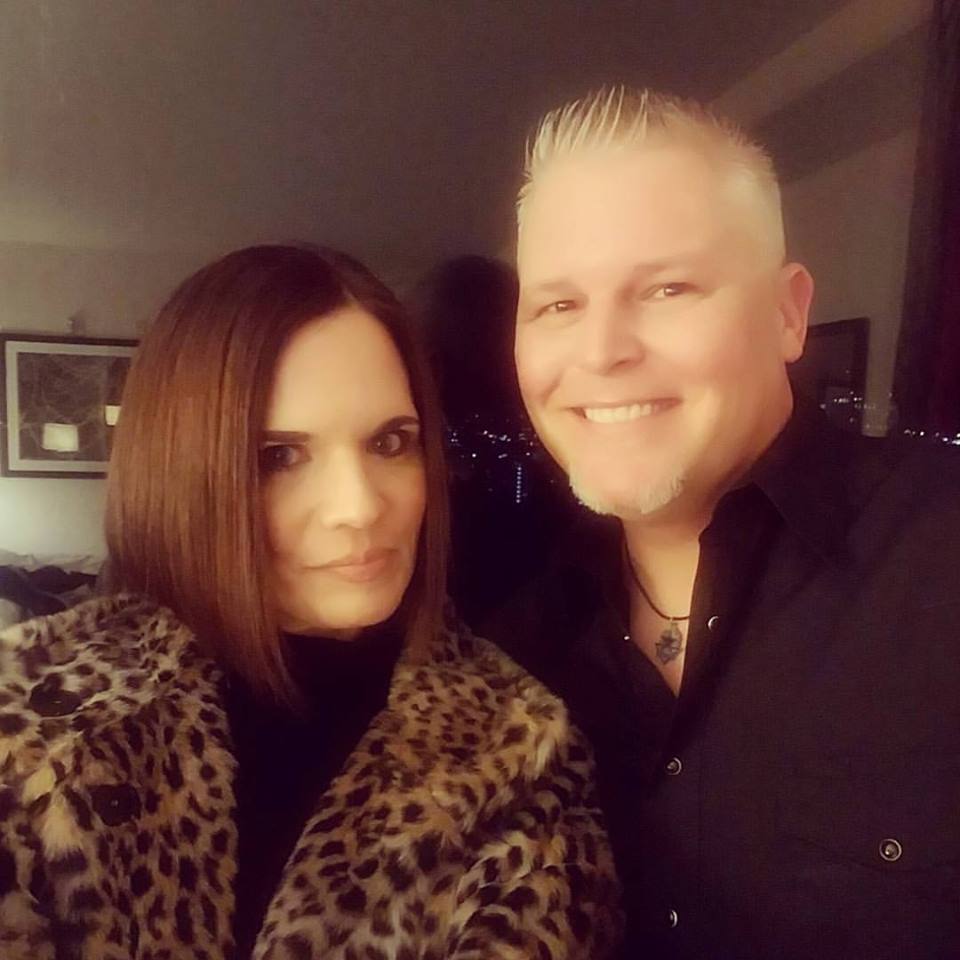 A life-long Batman fan, Bill "Jett" Ramey
is the founder of BATMAN-ON-FILM.COM.
His passions are Dallas Cowboys Football, Elvis, Rock-N-Roll, cold beer,
dive bars, the city of Austin (Texas),
The University of Texas Longhorns, AND...
THE BATMAN!
He resides in the GREAT state of TEXAS
with his lovely Minnesotan wife,
his youngest son,
and 1.5 Boston Terriers.

comments powered by