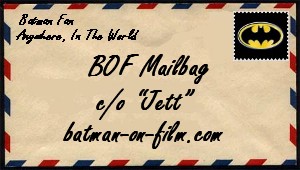 The President's Day 2016 BOF Mailbag!
Author: Bill "Jett" Ramey (Follow @BATMANONFILM)
Date: February 15, 2016

Happy President's Day 2016 and welcome to the latest installment of the BOF Mailbag!
Thanks for all the questions and keep them coming via EMAIL, BOF's FACEBOOK PAGE, or on BOF's TWITTER.
Also, please post your thoughts, feedback, and opinion in the COMMENTS SECTION below!
Now, let's get started...
JETT SAYS: Frankly, they want to do something different – darker, more "realistic," and more "adult", if you will – than the movies produced by Marvel Studios. There's a fear – unwarranted or not – that the movie-going public expects comic book films – especially team-up movies post-THE AVENGERS – to be "light and fun". In other words, a "popcorn" comic book film. Thus, there's a chance that audiences might reject BATMAN v SUPERMAN or the upcoming JUSTICE LEAGUE films if they're not "just like Marvel." I think it's hogwash and I applaud Warner Bros. for going a different route than Marvel.
May sound a bit strange, but…In your opinion, how political is Bruce Wayne? Would he choose sides (think the Democrats/Republicans dichotomy)? It's President's Day after all!
JETT SAYS: HA! I don't get political on BOF, BUT...
I'd say that Bruce Wayne probably leans to the left socially and to the right economically. Yes, my answer is right down the middle on purpose!
As the marketing rolls on any word about the advance fan screening to those who attended the IMAX trailer premiere last year?
JETT SAYS: Alex, I have not heard anything about that. However, I do know that info on that sort of stuff comes very close to the actual release date. Just be patient.
Can BATMAN v SUPERMAN be a good film without the audience liking it?
JETT SAYS: Absolutely Eric. If the mainstream audience is expecting BvS to be just like THE AVENGERS and not accepting of anything else when it comes to comic book films, then that's a scenario that could happening. However, audiences embraced "The Dark Knight Trilogy" and those films were certainly NOT "popcorn fluff." With all that said, I do think BvS and the different tone of the DCEU film are going to be accepted by the mainstream.
JETT SAYS: Had several questions on this topic! I would hope that they do not, but they probably will. Batman is "The World's Greatest Detective" and Superman has x-ray vision. I think it's inevitable.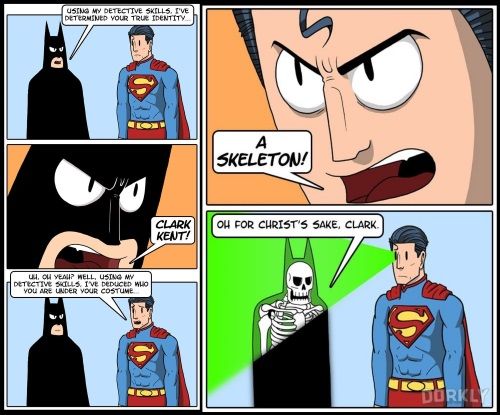 Via DORKLY.COM
It seems like this film, and basically the start of DCEU, is based off of Frank Miller's THE DARK KNIGHT RETURNS; which itself was an offshoot of the main DCU. I've often thought, though I love Miller's Batman, that it might of been a smarter move to base this version of Batman, and the universe at large, off of a different story or amalgamation of multiple in-canon stories to provide a better starting point? Do you feel this would have been a smarter idea than off of a story that portrays Batman, Superman, and the DCU at large in a gloomier, negative light, or does it even matter? I like this story and look forward to the film cause well I'm a fan. But for an average person, I can see why WB has some trepidation.
JETT SAYS: John, I get what you're saying, but I don't think it really matters. The only thing about the DCEU that's based on the Millerverse is that Batman/Bruce Wayne is older and a bit of a broken man. I personally have no problem at all with this more aged interpretation of Batman and I'm really looking forward to seeing Affleck portray the character in BvS and the next solo Batman film.
Where do think the DCU is going to go with the "Rebirth" happening in June; especially with the Batman titles? Will Jim Gordon go back to being the commissioner and will Bruce get his money and company back?
JETT SAYS: Apparently, things are going back to the "status quo" in the Batman comic book universe.
JETT SAYS: Well, Batman is in his mid to late 40s, we know there's been at least one Robin (who is now apparently dead), and Alfred exists. Therefore we can assume that the "Batman Family" does indeed exist in the Batman sector of the DCEU. Now, how extensive is it, who knows?! Rumors say that Barbara Gordon (played by Jenna Malone) cameos in BvS and Dick Grayons/Nightwing was allegedly in the script's first draft. We might not find out the extent of the Bat-Family in BvS, but we certainly will by the time we get the solo Batfleck Batflick.
When do you think we'll see anything from the upcoming THE KILLING JOKE animated feature? And if it's a success, do you feel WB would look into adapting more classic comic storylines in addition to their "inspired by" DC animated films. I'd personally like to see 1 of each a year if not more.
JETT SAYS: Well, THE KILLING JOKE is going to premiere at San Diego Comic Con in July, so I suspect we'll see the promotional stuff commence shortly – probably in April after that JUSTICE LEAGUE VS. TEEN TITANS film.
As far as future of animated Batman on film, I like both the original films as well as the adaptations like THE DARK KNIGHT RETURNS and YEAR ONE. So I hope they continue to do both. Personally, I've been banging the drum for GOTHAM BY GASLIGHT to get the animated movie treatment for a while now.
Do you think Warner Bros. will move up the release date of WONDER WOMAN now that TRANSFORMERS 5 is opening on the same day?
JETT SAYS: Chance, I looked at the release schedule for 2017 films and I don't see where they'd move it. I figure they'll sit pat, but they could look at April 2017.
When are you seeing BATMAN v SUPERMAN? Will you be writing a review? You've mentioned "cool things" coming on BOF, what's that all about? (via EMAIL)
JETT SAYS: 1) Very soon. 2) Absolutely – and podcasting one too (just wait to you check that out). 2) Stay tuned! ;)
JETT SAYS: 2 hours and 31 minutes, apparently.
Completely off-topic: Are you going to watch DEADPOOL this President's Day? Given its surprise box-office performance and possible influence on the future of the genre, do you feel like writing a review or an op-ed?
JETT SAYS: Though I'm a fan of superhero/comic book cinema and see most of the films of the genre, I personally have no interest in DEADPOOL. I'll wait for it to be available on-demand. BOF's J.A. Hyde reviewed it and raved about it.
It looks like we're getting a flashback of the Wayne murders in BvS. Are there any other pivotal moments from Batman's past that you'd like to see as brief flashbacks in these DC Films? His first time putting on the cowl, training, Robin(s), villains, etc? I think flashbacks would be a good way of showing us his early days without retreading the whole origin story or "The Dark Knight Trilogy".
JETT SAYS: I'm fine with flashbacks as long as they're essential to the film's story. The only flashback that I'd like to see is The Joker killing whichever Robin he killed. I don't know if that scene is in BvS has rumored, but I think it would add to why this Batman is kinda F'ed up.
I beat the BOF drum more than anyone I know, it's my bible. Should I have concern now that we hear WB is "worried" about BvS. I trust you with everything. The only time I feel like you were ever wrong is when it came to the GREEN LANTERN movie. Even I thought that film was going to be a good one. So again, should I be concerned? I loved all the trailers and previews for BvS. I don't see what the concern could possibly be.
JETT SAYS: Thanks Peter for being such a loyal BOF'er! I addressed this yesterday in an op-ed on BOF and you can check it out RIGHT HERE. I hope it puts your worries to rest a little bit. And yeah, was totally wrong with my GREEN LANTERN prediction! I was really pulling for that film to be good.
Was there ever any confirmation about whether SUICIDE SQUAD will take place before or after the events in BvS? I'm worried that WB may confuse general audiences if they're jumping around the timelines too much.
JETT SAYS: I know it's after MAN OF STEEL, definitely. Where it sits timeline-wise in regards to BvS I'm not sure. It seems that the films of the DCEU might not be totally linear as WONDER WOMAN – or at least a good part of it – is a prequel/origin story. It also seems that this could be the case for AQUAMAN as well.
Hey Jett! There's some evidence to suggest Batman may be a straight-up killer in BvS: Charles Roven's recent "jury and executioner" comment, that footage from the second (first?) trailer that looks like the Batwing blowing up some dudes in trucks, numerous images of Batman holding a gun of some sort, and his talk of destroying Superman. However, the filmmakers have clearly crafted a story that is somewhat a response to fans' outrage over the destruction in MAN OF STEEL and Superman's role in that. With that in mind, they must be aware that Batman's no-killing rule, although somewhat ambiguous, is a huge point for a lot of fans. Do you think the advertising has been misleading, or are we really getting a Batman who regularly uses lethal force? And if so, why would the filmmakers want to court that kind of controversy? What are your thoughts? (via EMAIL)
JETT SAYS: Rob, despite Mr. Roven's "executioner" comment, I do not believe that this Batman kills. Zack Snyder loves and has too much respect for the character (and Batman fans) to go down that road. Now, is this Batman one violent MF'er who might get some sort of kick out of inflicting a little more pain than required? Absolutely. However, he definitely wants to take Superman out, that's for sure!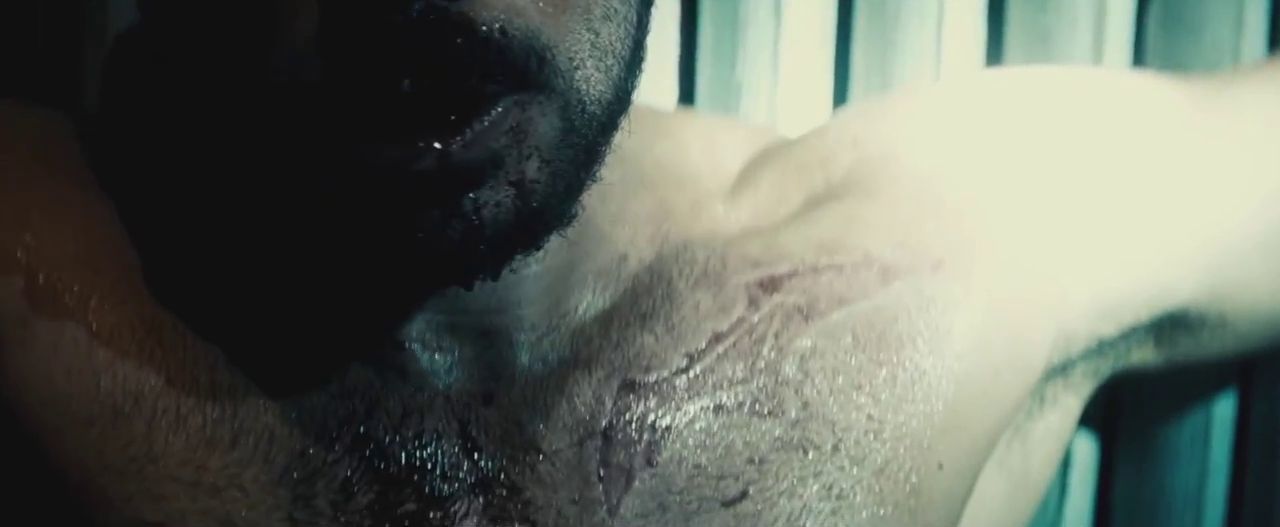 A life-long Batman fan, Bill "Jett" Ramey
is the founder of BATMAN-ON-FILM.COM.
He likes Elvis, Rock-N-Roll,
The University of Texas, cold beer,
Dallas Cowboys Football, and of course...
THE BATMAN!
He resides in the GREAT state of TEXAS with his lovely wife, three kids, and two Boston Terriers.

comments powered by