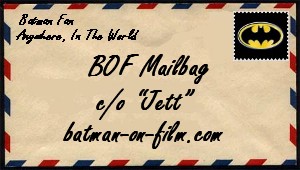 The November/Thanksgiving '16 BOF Mailbag!
Author: Bill "Jett" Ramey (Follow @BATMANONFILM)
Date: November 22, 2016

Happy Thanksgiving 2016!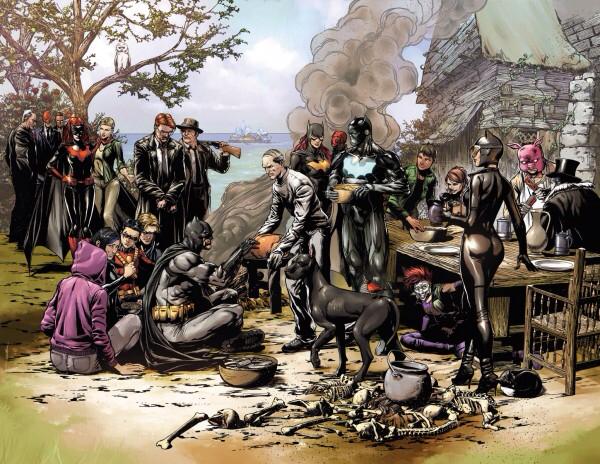 Below you'll find the latest BOF mailbag.
Thanks for all the questions and keep them coming via EMAIL, BOF's FACEBOOK PAGE, or on BOF's TWITTER. FYI: We answered A LOT of reader's questions in the latest BOF PODCAST, so check it out below.
Also, please post your thoughts, feedback, and opinion in the COMMENTS SECTION below.
Thanks for reading mailbag and listening to the podcast! Now, let's get started!
Is there anything from the Batman Universe that is too "comic-booky," but you would like to see some day in the big screen anyway?
JETT SAYS: Hmm…good question Fernando. Longtime BOF readers know that I prefer a very "grounded" Batman and Batman Universe. With that said, since I'm a fan of Hugo Strange, I think you could pull off his "monster men" in a live-action film and not have it look silly. Same might go for Man-Bat too ala "genetic engineering." I think many of Batman's villains could be done in a "realistic" manner without coming off goofy or dumb onscreen as most are grounded and without powers anyway.
I also think Batman with a teenage partner – Robin – is very comic-booky too. However, I'm at the point with my Batman sensibilities where I wouldn't mind seeing a good director (ahem, Ben Affleck) give it a go on the big screen. We know one Robin was killed in action – I wonder if we'll ever see that story told on film?
With still no director for THE FLASH, when do you think Warner Bros. will announce a new director, or announce that they are pushing the film back?
JETT SAYS: Chance, who the hell knows?! You probably know I've long said I didn't know if THE FLASH solo film would ultimately get made. My guess – and I agree with Neil Turitz, who recently guested on the BOF PODCAST – that THE FLASH will get pushed back and AQUAMAN will get bumped up. They will then wait 'til after JUSTICE LEAGUE to see if it's prudent to move forward with THE FLASH. With all that said, I wouldn't be surprised if they announce a director just for the sake of the film's development (which really won't mean a damn thing).
JETT SAYS: I don't know if DOCTOR STRANGE's success makes BvS a "bigger" disappointment – it did fine being one without any help. ANYWAY…
Will DS get to $300 million domestic like BvS? Will it top $800 million worldwide as BvS did? Maybe it will, maybe it won't – it doesn't really matter quite frankly. For what it is/relatively speaking, DOCTOR STRANGE's theatrical run is going to be more successful than BvS's regardless. One thing's for sure already: it's critically more successful (and yes, that does matter) and liked by audiences more (via Cinemascore – and yes, that matters overall too) than BATMAN v SUPERAN.
Any plans for THE LONG HALLOWEEN to be adapted as an animated film?
JETT SAYS: Craig, I'm sure that the folks behind these DC animated films have discussed it. Honestly, I think it's simply too long (no pun intended) to be properly adapted as a film – animated or live-action. Personally, my "pet cat" – to use a phrase from coaching and scouting – is GOTHAM BY GASLAMP. I'd LOVE to see it get the animated movie treatment. In fact, James Tucker – one of the DC animated film bigwigs – told me he'd love to see it as a movie as well.
JETT SAYS: VERY likely sir.
Jett, do you think you'll ever come around and be excited for JUSTICE LEAGUE? (via email)
JETT SAYS: Kyle, I don't know if I'll get to the point that I'm "excited" about it. I certainly want to see it and hope it's good. Look, I'll be honest here, OK? This just isn't my cup of tea when it comes to Batman. Perhaps I wouldn't be so "meh" on it had BATMAN v SUPERMAN hadn't been such a disappointment. Regardless, I'm VERY excited for Ben Affleck's solo Batman film.
For the record, I hope JUSTICE LEAGUE is good and a big success. I might not be excited, and it may not be my cup of tea, but I wish it no ill will and I'm pulling for it to be a hit amongst critics, fans, and the mainstream audience.
Would you like to see Mr. Freeze get another shot as a villain in the new continuity?
JETT SAYS: Ryan, I'm not sure. I think Mr. Freeze is pretty out there in terms of realism. Plus, the best version of the character – from BATMAN: THE ANIMATED SERIES – was kinda-sorta done with Arnold Schwarzenegger in BATMAN & ROBIN. There are other villains I'd like to see in a live-action Batman film before they get around to Mr. Freeze again.
Do you think that inclusion of cut Joker scenes in the "Extended Cut" of SUICIDE SQUAD will make it a better film?
JETT SAYS: Jorge, I haven't seen it, but "BOF Roundtablers" Justin and Ryan have and said the "new" Joker scenes don't change the film at all. While I liked SUICIDE SQUAD upon my first viewing (in New York during the film's press junket), I liked it less and less with subsequent screenings. It's a bit of a mess and the ending is horrible. But, the cast's chemistry and performances save it.
I haven't read any Batman comics since ENDGAME. What should I be reading?
JETT SAYS: Gabe, check out the latest BOF PODCAST as we answered your question in it. Personally, I'm reading BATMAN and ALL-STAR BATMAN. I dropped DETECTIVE COMICS a while back. I'm also reading DARK KNIGH III, but it isn't a monthly. I'd get it once it's released as a collection.
Two Questions, one fun: First, if WONDER WOMAN and JUSTICE LEAGUE are subpar or flops, do you foresee Batfleck's solo endeavor simply being on its own, the DCEU continues on, or a complete restart where Batfleck is the beginning, or some other outcome? Second (the fun one), if Batman were the coach of an NFL team, who would he be? I choose not to limit you to active coaches.
JETT SAYS: Question 1: I think Affleck's solo Batman film will pretty much be its own thing, though it will exist within the DCEU. Thus, don't expect cameos by Superman, Wonder Woman or any other JL members.
Question 2: Coach Tom Landry (had to pick a Cowboy!). Coach Landry was a man of principle, but he was cold, calculated, and very detailed. If I had to pick a current NFL coach, it would probably be Coach Belichick.
A life-long Batman fan, Bill "Jett" Ramey
is the founder of BATMAN-ON-FILM.COM.
He likes Elvis, Rock-N-Roll,
The University of Texas, cold beer,
Dallas Cowboys Football, and of course...
THE BATMAN!
He resides in the GREAT state of TEXAS with his lovely wife, three kids, and two Boston Terriers.

comments powered by