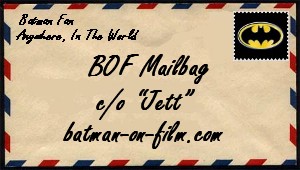 The January 10, BOF Mailbag!
Author: Bill "Jett" Ramey (Follow @BATMANONFILM)
Date: January 10, 2016

Happy New Year 2016 and welcome to this year's first installment of the BOF Mailbag!
Thanks for all the questions and keep them coming via EMAIL, BOF's FACEBOOK PAGE, or on BOF's TWITTER.
Also, please post your thoughts, feedback, and opinion in the COMMENTS SECTION below!
Now, let's get started...
Predictions to what Snyder left out of the trailer that "ruined everything" (even though it didn't)?
JETT SAYS: Hey Josh, good to hear from you bro! Clearly – well, I hope – nothing really was revealed in that last BvS trailer. One theory of mine – and it's not anything I know or have heard – is that a version of "Bizzaro" is in the film. After seeing all three trailers, I'm more convinced of this now than ever. Did y'all see the "pissed off" Superman shooting lasers (AKA "heat vision") out of his eyes at Batman? That's a Lex Luthor-created Bizzaro Superman from where I stand. Does Bizzaro degenerate into Doomsday? I think so…maybe. Regardless Josh, there's certainly got to be a lot of this film remaining that we haven't seen and won't 'til we see it in the theater…I hope.
I know I am really, really early but I can't remember what went down for THE DARK KNIGHT. When do you think tickets will go on sale?
JETT SAYS: For BATMAN v SUPERMAN I assume? I'm not totally sure Peter, but I would say sometime in February. I believe tickets are already being sold in the UK. I checked with Fandango.com and they aren't for sale there yet and there's no date posted either. You can sign up for an email alert though.
Even though we're in the middle of the comic book movie age, do you think social media has taken away from the movie experience? Personally I ignore all the fanboy garbage, but it seems that now since everyone has a voice, people seem to nitpick every little detail on social media and comments section on every article. BvS and STAR WARS: TFA are both part of this BS. I wonder if eventually everyone being a critic will go too far. By this I mean will it get to a point where trailers and pre-release information will be analyzed and judged so harshly that it'll harm a movie's success.
JETT SAYS: Mike, you make a good point and I agree with you. Since you already ignore ridiculous fanboy behavior, take it further and also ignore comments on social media and articles about these films. Life will be so much better!
Do you think Warner Bros. will release another trailer for BvS? I liked the last trailer but it doesn't feel like the home run, take it to the bank, kind of last trailer. That's why I think we will get one more between late January or early February.
JETT SAYS: Chance, I highly doubt there's going to be another trailer – especially since we're only about 2 months out from release. Also, Warner Bros. isn't going to panic and react to a segment of fandom that didn't like the last trailer. Plus, we're already into the TV spot phase for the film's publicity and, frankly, more of the mainstream will see them than have seen any of the trailers.
I heard a rumor back 2007 on this site that a character in THE DARK KNIGHT was going to look at The Joker under the influence of Crane's fear toxin. Was this ever supposed to happen or was this always just a rumor?
JETT SAYS: Not sure exactly other than we know it didn't happen. Maybe there was going to be such a scene in an early draft of the script and was cut during rewrites.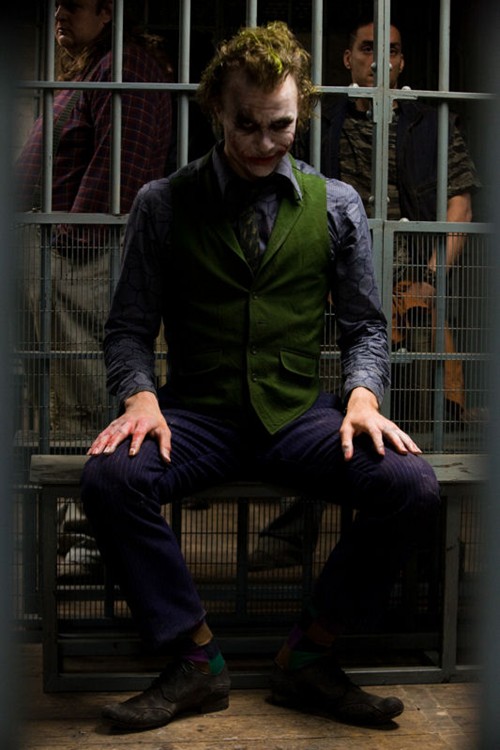 I heard some chatter about Warner Bros. possibly announcing the solo Batman film during their DCEU special on January 19th on The CW. Do you think there's any truth to those rumors?
JETT SAYS: Jorge, I haven't heard that or anything about a solo Batman film announcement coming down. However, we all know it's happening – Warner Bros. and Ben Affleck himself have all but said it. The only thing left to announce is the date and title – and I bet that will come down sometime this year.
Do you think Warner Bros. is happy with how the marketing for BvS is progressing and the reaction to last trailer?
JETT SAYS: Alex, I'm sure Warner Bros. and all involved with BvS are nervous as hell right now. Not because they think the marketing hasn't been successful, but because they've got SO MUCH riding on this film. It HAS to be a success, period. While I would agree that opinions on the last trailer were mixed, that's not necessarily a bad thing as everyone was talking about it.
Was TITANS cancelled at TNT because Nightwing will feature prominently in a Batman solo film?
JETT SAYS: Probably not. Warner Bros. has shown that they're not afraid to have both TV and film versions of the same characters existing simultaneously. Maybe WB TV will take the project to another network since TNT passed. However, there is some rumblings that WB is going to turn the solo Cyborg film into a Titans movie. Perhaps that had some influence on the decision.
What are your five favorite Batman or Bruce/Alfred scenes on film?
JETT SAYS: Gabe, that's a good question and I'm going to turn it into a new op-ed on BOF. I will say this may be at the top of my list…
Will Bruce Wayne make an appearance in SUICIDE SQUAD?
JETT SAYS: The Magic 8 Ball says…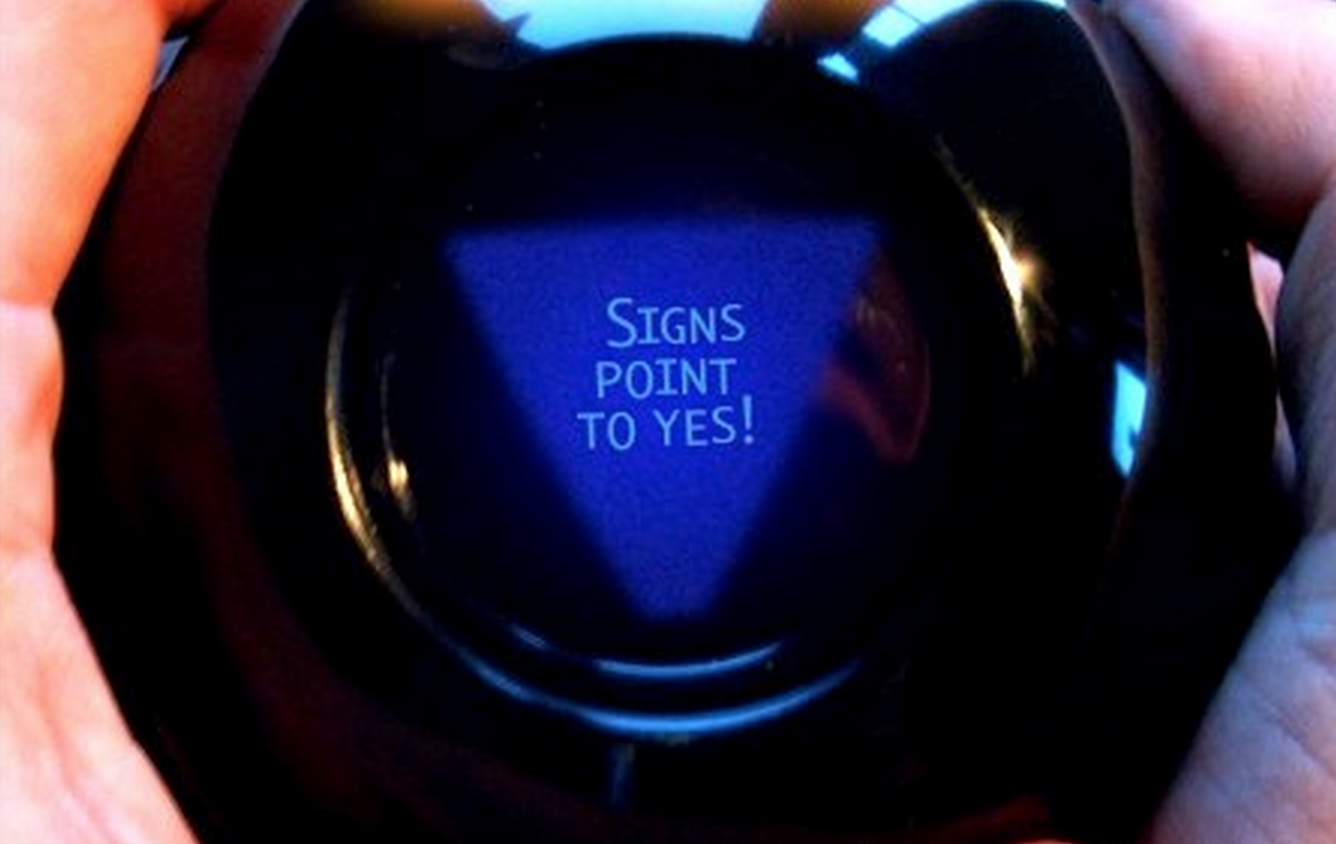 I know you do not share spoilers and do not condone the breaking of NDAs. But having said that, do you believe that Reddit review is legit or an hoax? Did your sources share any thoughts on the matter?
JETT SAYS: Honestly, I didn't read it and didn't pay it any attention. In my opinion, it's BS.
Why do you think they haven't used any of the music from MAN OF STEEL in any of the trailers so far? It would certainly make for better trailers than the generic action music they're using.
JETT SAYS: No idea. Maybe they didn't think any of it fit the trailers.
Do you think we'll get Jared Leto's first appearance as The Joker in BvS (via flashback, etc.)? Or do you think he'll just be alluded to?
JETT SAYS: Anthony, that's the million dollar question bro. There have long been rumors that Leto shot a scene as The Joker for BvS while SUICIDE SQUAD was filming in Toronto. We'll see in about two months!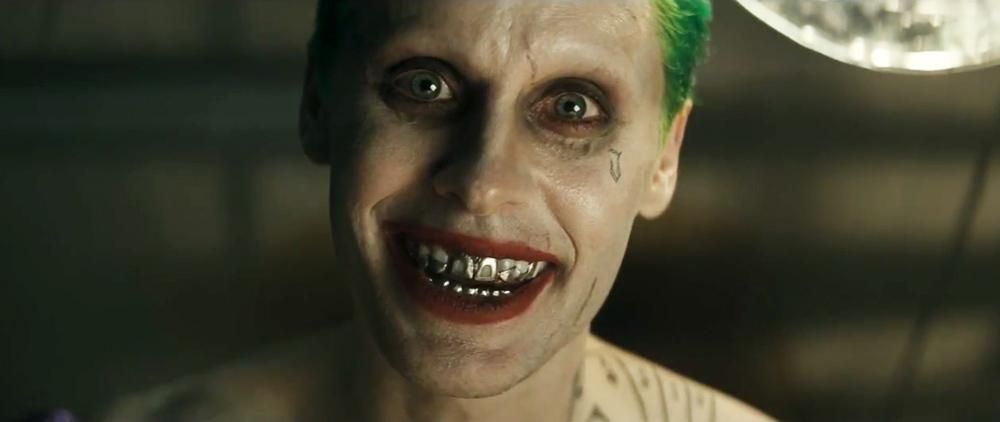 Do you think there will be another trailer or just TV spots?
JETT SAYS: Alex, as I said previously, I don't think there will be another trailer and I think it's TV spots and stuff going forward.
JETT SAYS: Like I said, I think it's BS. And if it isn't, the dude who posted it is a F'n douche bag delux.
A life-long Batman fan, Bill "Jett" Ramey
is the founder of BATMAN-ON-FILM.COM.
He likes Elvis, Rock-N-Roll,
The University of Texas, cold beer,
Dallas Cowboys Football, and of course...
THE BATMAN!
He resides in the GREAT state of TEXAS with his lovely wife, three kids, and two Boston Terriers.

comments powered by