ROBIN: SON OF BATMAN #3
AUTHOR: Bobby Barrett (Follow @BATBOBBY)
DATE: August 23, 2015



SYNOPSIS: Robin and Nobody II team up to take on another mission from the "Year of Blood."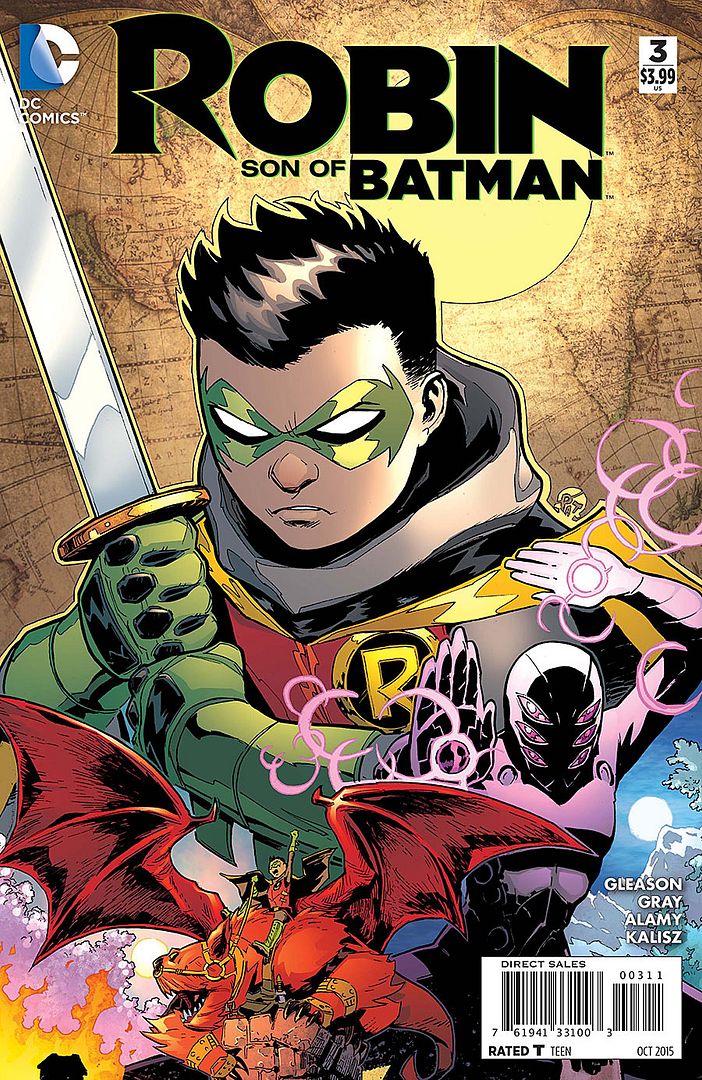 The creative team behind ROBIN: SON OF BATMAN seems to be finding their groove and having a little fun, and it shows in the reading. After a strong start but a slightly rocky second issue, chapter 3 comes in strong with some fast paced action, snarky humor, and mysterious hints at events to come.
Patrick Gleason has figured out what the best Damian writers (Morrison, Dini, and Tomasi for those keeping track) have known for years: this Robin does best alongside someone else. Damian needs another character to interact (and swap insults) with. He's a pompous little brat and when shown in the right context and moderation, those moments can be the most entertaining. In this case, we get some more time with "Nobody II," Robin's reluctant ally. We learn a bit more about her (particularly that her name is Maya) and what her relationship with her father (the original Nobody) looked like. This helps to understand her motivation in going after Damian a little more, but I'm still not seeing her as a legitimate threat – more like a sidekick in the making.
Robin and Maya continue, with moderate success, to fulfill Damian's redemption list from his "Year of Blood," and two other very significant players come closer to joining the fold. Let's just say Damian appears to be in for an unexpected family reunion…if he survives a face-off with an A-list DC villain first!
This book was fast-paced and fun to read. Gleason and co. seem to be getting their pacing down pat as this book moves at breakneck speed when it needs to, but knows when to slow down and let the art do the storytelling. The two splash pages here are outstanding; in fact, the title page would make one sharp looking poster. It's good to see Gleason maintain his artistic strengths while taking on the daunting task of scripting the series.
Speaking of the script, ROBIN seems to have found the perfect balance of old story threads and new ones. The idea of a successor to Nobody coming back for revenge on Robin is a fantastic follow-up to this team's previous monthly, and the continuation of a plot thread opened up at the end of the "Robin Rises" saga is also welcome. The new addition driving the story forward is "Year of Blood," though, and it jives perfectly with these other established plot points.
Looking forward to seeing Damian grow a little more while shedding additional light on his past. - Bobby Barrett
GRADE: B-
Bobby Barrett is a lifelong Batman enthusiast living in Fresno, California, with his wife and several cats.
He enjoys reading, writing, acting, and playing very loud rock music.

comments powered by