DETECTIVE COMICS #45
Author: Grant Atticus (@GRANTATTICUS)
October 15, 2015



SYNOPSIS: A brand-new epic begins as the superstar team of writer Peter J. Tomasi and artist Marcio Takara takes the new Batman on his first mission with the Justice League! When Jim Gordon is approached by the Justice League to solve a series of mysterious mass murders, he must turn his focus away from Gotham City and test his mettle with the World's Greatest Heroes!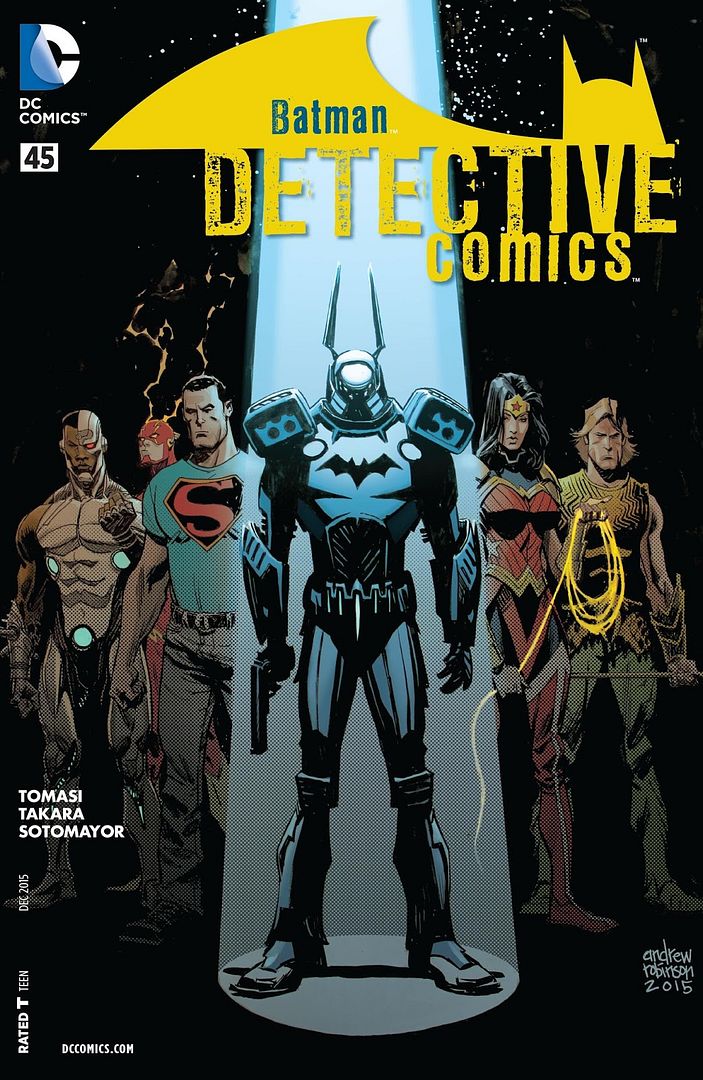 Starting with issue #45 of DETECTIVE COMICS, Peter J. Tomasi, Marco Takara, and Chris Sotomayor take over on the book with a story of the Justice League seeking the help of the new Batman, Jim Gordon.
The beginning opens up with an interesting murder at a soccer game and Gordon taking a night off enjoying a game of baseball. After relaxing for only a brief moment, he's called into action as Batman as some rouge airplanes start heading into Gotham airspace.
From this, it becomes apparent how a writer like Tomasi differs from one like Scott Snyder when writing this new Batman. To be fair, I'm not all the way caught up on Snyder's Batman, but Snyder does have a way to write different Batmen – whether it be Dick Grayson or Jim Gordon – in a way that still plays up the main characteristics of the character, while Tomasi feels to be crafting his Gordon like John McClain as Iron Man.
It was nice to see Gordon taking pride in the fact he could see the good he was doing as Batman being reflected in how families were out late enjoying the ball game and how he gets star struck when the Justice League calls upon him to help them with a case. At first they go to Bruce Wayne; but after an interview with Wonder Woman's lasso of truth, the league decides it's better that Bruce remain in his current state. Hopefully the book will get into what Wonder Woman saw in Bruce that made her decide to leave him alone and not try to bring him back in as the detective they need, the true Batman.
Takar's artwork is nice, but sometimes it feels a little too sketchy. The standout artwork definitively belongs to cover by Andrew Robinson.
All in all, this story was a nice introductory issue to those of us who haven't been keeping up on DETECTIVE. I'm really excited to see what Tomasi is bringing in for this story arc. - Grant Atticus
GRADE: B

comments powered by