DETECTIVE COMICS #43
Author: Bill "Jett" Ramey (@BATMANONFILM)
August 8, 2015



SYNOPSIS: Batman and his new team are after a band of thieves in Gotham City—but they're about to develop a new weapon that will make them much harder to stop!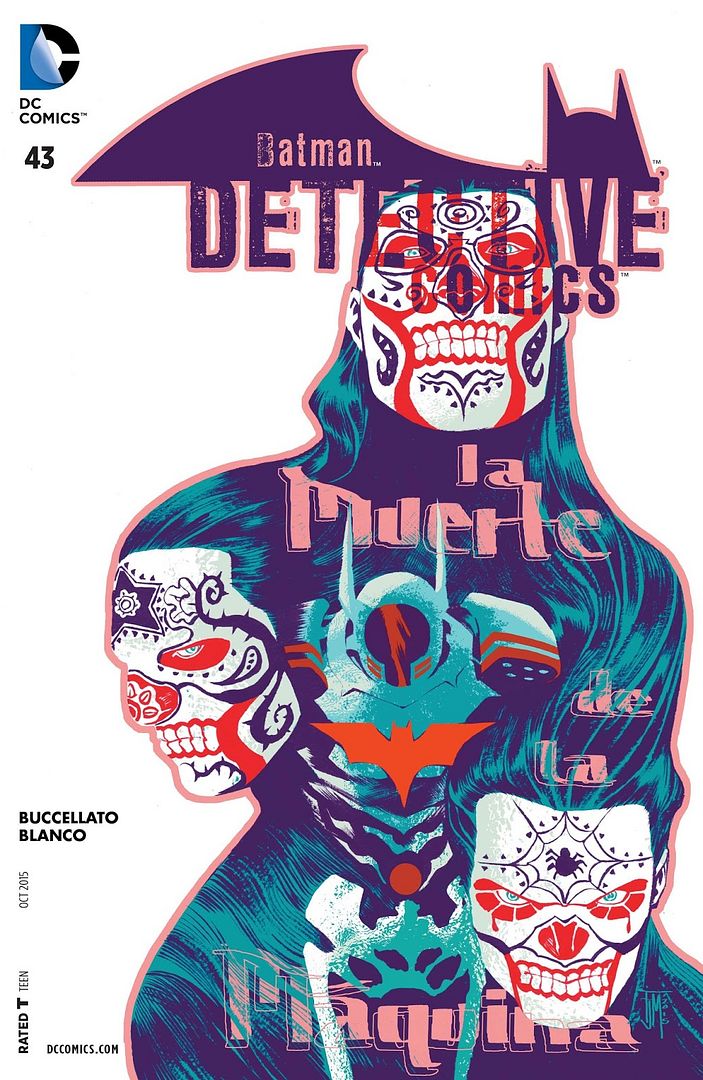 DETECTIVE COMICS is definitely living up to its name nowadays. Writer Brian Buccellato has been crafting true detective tales monthly since he took over a few issues back. In fact, I'd go as far to say that Batman – well, the Jim Gordon Robo-bunny Batman of the current DCU – isn't even the main character of this title. That role belongs to none other than GCPD Detective Harvey Bullock. Heck, the Gordon-Batman may not even be DETECTIVE's secondary character! It seems to me that the DCPD's "Batman Task Force" (BTF) fits that bill.
Issue #43 continues to the storyline about the gang of criminals (La Morte) who have descended on Gotham and have targeted the Gordon-Batman to steal the suits power core. The Batman task force deduces that the power core could be used to create a weapon of mass destruction (a nod to THE DARK KNIGHT RISES perhaps); the only problem is locating said power core.
This issue ends with the circus coming to town and it's about to blow up…literally! Can the Gordon-Batman and the BTF stop a massive hit on Gotham? Will the dirty cop in the BTF be redeemed? Is Montoya working for internal affairs? Is there anyone besides Jim Gordon that Bullock can trust? And what's the deal with this Joker counterpart to Robo-bunny Batman? We'll find out next month as this story arc comes to an end (and a new run begins with writer Peter Tomasi).
And is it just me, or do you like Gordon-Batman better when he's two-fifteen? - Bill "Jett" Ramey
GRADE: B

comments powered by