DETECTIVE COMICS #42
Author: Matt Grazel
July 4, 2015



SYNOPSIS: The all-new Batman tries to find his place in Gotham City! But how can he manage his already uneasy relationship with the GCPD?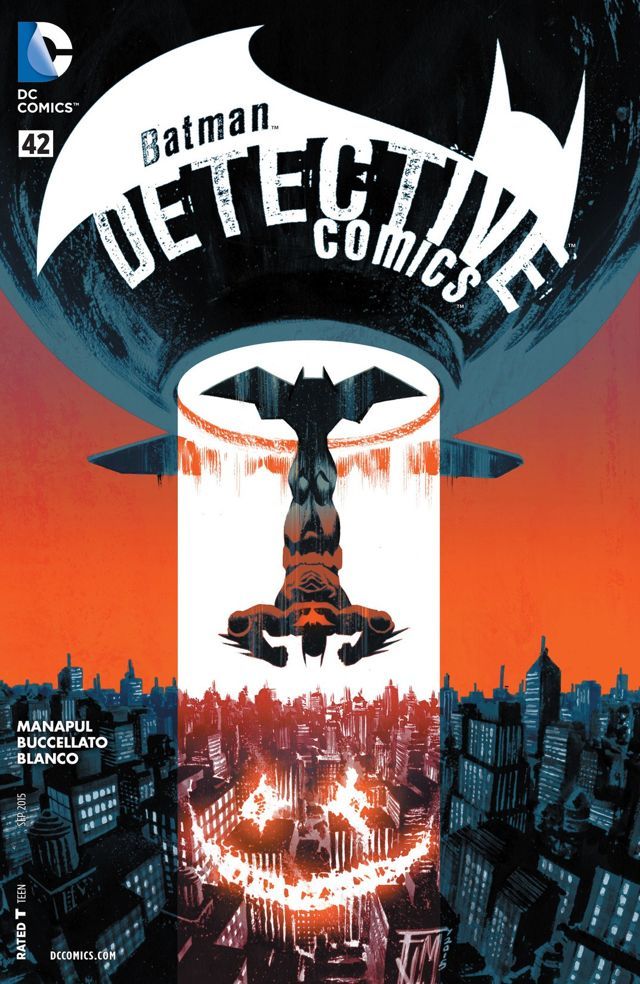 Jim Gordon continues to adjust to being the new Batman in the newest issue of Detective Comics. The transition for Gordon has not gone smoothly as he expresses his doubts about whether he can succeed as a worthy replacement for the original Dark Knight. Readers find out in issue #42 that Batman and his task force are battling villains who go by the name of La Morte.
La Morte take advantage of the inexperienced new Batman through the use of specific weapons that cause the Batman suit the inability to function properly. The task force, featuring Detectives Harvey Bullock, Renee Montoya and Nancy Yip continue the process of working to be an effective unit with Batman. However, as was revealed in last month's issue, Yip has her own agenda and cannot be trusted.
Detective Comics is primarily focused on the GCPD now that Gordon is Batman. It is interesting to read a comic about Batman working with police and having conversations with members of his own task force. Harvey Bullock remains the main character of this story arc. The creative team of this title has done tremendous work including Bullock into their arcs since Francis Manapul and Brian Buccellato took over the comic last year.
The GCPD is not pleased with having to work with Batman but Commissioner Maggie Sawyer and Montoya are the main supporters of the new alliance. Montoya and Bullock continue to be at odds in regards to the task force and Bullock is not sure of whom he can trust except for Batman himself. Gordon and Bullock are impacted by the changes more than anybody else, which strengthens their friendship in that they can trust one another. Gordon and Bullock know they need to rely on one another for support during difficult times for both of them.
The story and the artwork continue to excel in Detective Comics. Manapul is guaranteed to provide creative artwork on the covers. Artist Fernando Blanco continues to settle in nicely as the artist while Buccellato's colors remain top-notch. If you are looking for a comic that focuses on a police department along with the fresh concept of Batman working along with the GCPD, give Detective Comics a read. - Matt Grazel
GRADE: A

comments powered by