DETECTIVE COMICS #41
Author: Matt Grazel
June 18, 2015



SYNOPSIS: Following the events of "Endgame," get ready to ride with the GCPD in a whole new city! Harvey Bullock is leading a Bat task force, but what are his duties, and can he be trusted? And what kind of welcome awaits his new partner, Renee Montoya?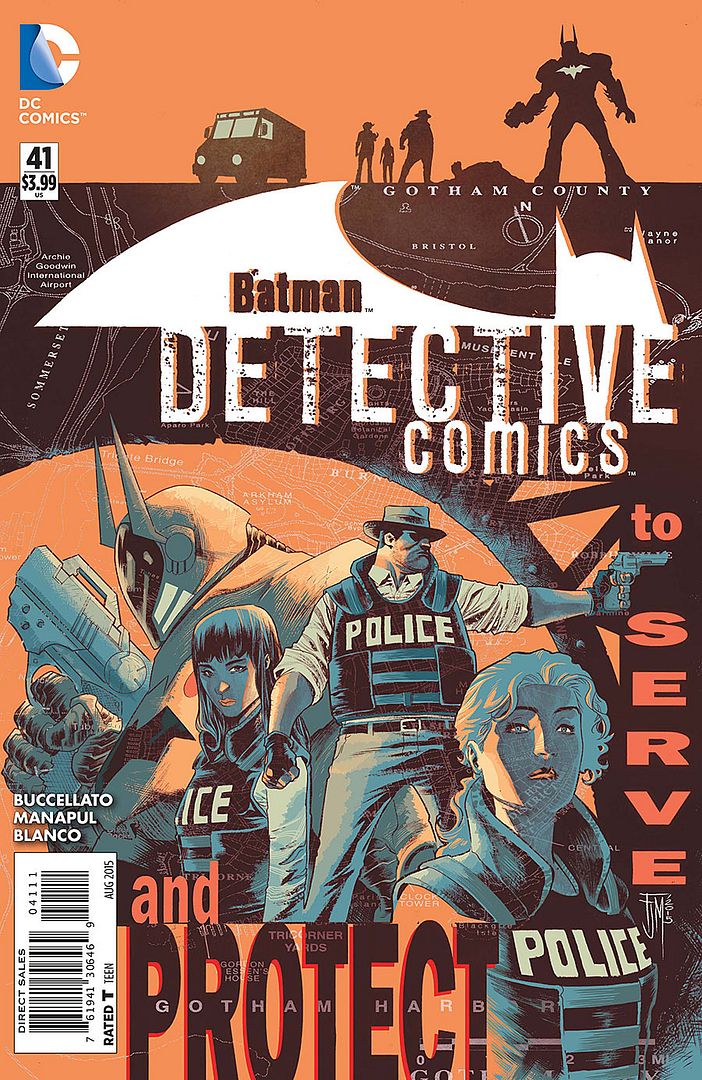 The "Endgame" story arc altered the Batman comics as a new Batman is introduced. The man carrying on the legacy of the Dark Knight is none other than Jim Gordon, who other than Alfred Pennyworth has the closest alliance with Batman. While the change is an adjustment for comic book readers, the characters are also getting accustomed to how a new Batman will affect Gotham City in both Batman #41 and Detective Comics #41.
Jim Gordon is still coming to terms with his decision to be Batman. Harvey Bullock, a character that has been central to Francis Manapul and Brian Buccellato run on Detective Comics, is struggling with the changes in the Gotham City Police Department and the new Batman. Bullock is determined to prove the original Batman is not dead. He is being persuaded by new Commissioner Maggie Sawyer and a returning Renee Montoya to join the new Bat Task Force that is working with Batman.
Bullock has never seen eye to eye with The Dark Knight and initially is opposed to being in charge of the Bat task force in this issue. Montoya explains to Bullock why the task force is in the best interest for the GCPD and the city. She reveals that Gordon insists Bullock be apart of the task force.
Manapul, Buccellato and artist Fernando Blanco present part one of "Reunion," a four-part story, in Detective Comics this month. While Manapul provides another amazing cover, Blanco's pencils and Buccellato's colors compliment each other well. In particular, Commissioner Sawyer is drawn and colored well by Blanco and Buccellato, respectively.
Manapul and Buccellato are in the beginning stages of crafting a story that along with the main Batman title will have a dramatic effect on the Batman character in comics. Another interesting development in Detective Comics #41 is the hidden agenda of Detective Yip who Bullock has grown to trust and care for. Clearly, readers of Batman and Detective Comics in addition to the characters in these titles have something in common, which is getting used to the changes that have been established. The unexpected will be in store as Jim Gordon continues to carry on the legacy of Batman. - Matt Grazel
GRADE: A-

comments powered by