BATMAN AND ROBIN #39
Author: Bobby Barrett (Follow @BATBOBBY)
February 22, 2015



SYNOPSIS: Has Damian Wayne become something more than human? And how do you control a reckless child who now has super powers?
Last month's BATMAN AND ROBIN #38 gave the impression of a bold new beginning for the book. Alas, by the time #39 hit the stands, we'd been made aware that it was in fact the beginning of the end, as DC dropped the bomb that this series will end its run with next month's #40.
What does that mean for these current issues? Well, it's certainly unexpected timing. The book is essentially in "cool down" mode from its last major storyline, regrouping its characters, and setting up what comes next. Only in this case, "what's next" is a new monthly book titled ROBIN, SON OF BATMAN, that will see the majority of BATMAN AND ROBIN's veteran creative team making the leap--with the notable exception of writer Peter Tomasi (penciler extraordinaire Patrick Gleason will add "writer" to his duties). Tomasi's departure comes as a shock, as the writer has poured his heart and soul into this book since its New 52 relaunch – arguably giving Damian Wayne's creator, Grant Morrison, a run for his money in terms of not only understanding the character, but maintaining a firm handle on the relationship between the boy and his father.
So does this mean Tomasi has said everything he's needed to say about Damian? Not quite. These final two issues are important because they will set the stage for Robin moving forward, and while last month gave us a great deal of soul searching and depth from the newly powered Boy Wonder, this month brings reality crashing in with the inevitable friction from Bruce Wayne attempting to raise a 10-year-old with super powers.
The refreshing thing here is that while we do once more see a frustrated Batman yelling at his son, the character growth this month comes from The Dark Knight himself. Batman and Robin butting heads is something we've seen plenty of in this series; and with the duo's current circumstances in play, that friction was bound to rear its ugly head sooner than later. It's a pleasure to see some genuine growth in Bruce Wayne, though, as he attempts a quiet day out with his son to bond--and later on, surprises the boy with a level of trust never before granted to him.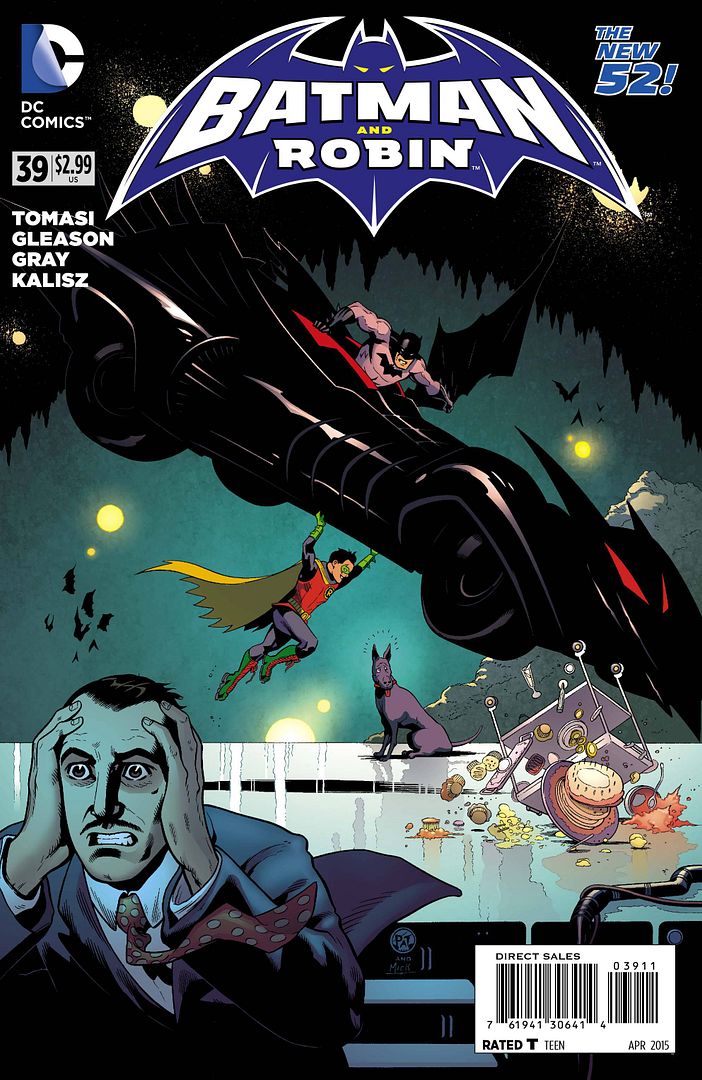 Damian, on the other hand, is settling back in almost too comfortably – relying almost completely on his newfound powers, rather than his training, to fight crime. Bruce does his best to convey what every reader has likely already thought: we don't know the exact limits of these powers, or if they are permanent. Thus grows the wedge between Dark Knight and Boy Wonder, one that could ultimately lead to the end of the Batman/Robin partnership.
Visually, this book has always excelled in dynamics: no matter the type of scene, it consistently appears lush and appealing. With Pat Gleason powering away with his distinct style, Mick Gray and Jon Kalisz put the finishing touches that bring the final product to dazzling life. One sure takeaway from this issue is that Gleason can draw one hell of a Batmobile!
For being a "transitional" one, this issue succeeds in delivering everything this series has to offer. From bizarre villains to outlandish action, quiet character moments, and surprising guest appearances, 20 pages has never felt so full. One chapter to go and this book will become a memory (albeit one that will be immortalized on many a bookshelf), but while it's still here, make a point to enjoy it. The next era is just around the corner. - Bobby Barrett
GRADE: A-
Bobby Barrett is a lifelong Batman enthusiast living in Fresno, California, with his wife and several cats.
He enjoys reading, writing, acting, and playing very loud rock music.



comments powered by