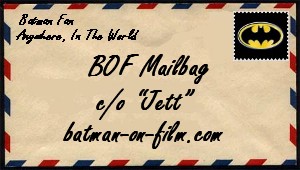 The Happy Thanksgiving 2015 BOF Mailbag!
Author: Bill "Jett" Ramey (Follow @BATMANONFILM)
Date: November 22, 2015

Welcome to this weekend's installment of the BOF Mailbag and Happy Thanksgiving 2015!
Thanks for all the questions and keep them coming via EMAIL, BOF's FACEBOOK PAGE, or on BOF's TWITTER.
Also, please post your thoughts, feedback, and opinion in the COMMENTS SECTION below!
Now, let's get started...
If, hypothetically, a BATMAN BEYOND film were to come to fruition, what do you think the likelihood is that one of the actors who have previously played The Dark Knight would be brought on board to play the elder Mr. Wayne? (via EMAIL)
JETT SAYS: Raphael, I think it would be unlikely. I think a BATMAN BEYOND film would either be its own universe/continuity or would exist in within the DCEU universe. If the latter is the case, then, of course, whoever ended up playing the aged Bruce Wayne would be an older version of Ben Affleck's Batman.
Jett, I've heard you say more than once that you believe a couple DC movies won't happen, and the big one is THE FLASH. Perhaps you explained it before, but I was curious: why do you think a Flash movie will not get made at all? Also, what is the other DC film that you say won't get made? Why? (via EMAIL)
JETT SAYS: The three films that I think might not ultimately be made – even though they are on the DCEU release schedule – are THE FLASH, GREEN LANTERN CORPS, and CYBORG. I think the least likely of those three is GLC. I think the thing with The Flash is that it's a hard character to bring to film. Warner Bros. tried for years to make a Flash film and were unsuccessful each time. I think the character is more suited to television than film and the TV show is a great example of that. You couldn't do what they do with that show – and I'm a big fan of it by the way – as a film; it just wouldn't work. Perhaps simply having the character in the two JUSTICE LEAGUE movies will be the way to go when to The Flash on film.
As far as why I have reservations about GLC and CYBORG, well, the Ryan Reynolds GREEN LANTERN film was a HUGE flop, so I don't know if Warner Bros. will actually greenlight (pun intended) the project even though it's been "announced." And as far as Cyborg, the character is not well known at all and that may play a hand in that project ultimately getting made. I'm interested in it personally and believe it would be cool for the DCEU to be diverse. We'll see.
What do you think made Warner Bros. decide to make a SUICIDE SQUAD, movie? Were they testing the waters so to speak with that BATMAN: ASSAULT ON ARKHAM animated movie and what did you think of it? (via EMAIL)
JETT SAYS: I believe the concept of the Suicide Squad has all the ingredients for a great ensemble action film and Warner Bros. knew it. Apparently, writer/director David Ayer came in and blew 'em away with his pitch. As someone who has long lobbied for this film, I'm happy as hell!
As far as Zack Snyder's influence, I'm sure it was minimal since Warner Bros. wants these DCEU films to be filmmaker-driven, not producer-driven. I'm sure his role was to make sure that it jibed continuity-wise with the rest of the DCEU.
Hi Jett. Hope you're doin' well. I know BATMAN v SUPERMAN isn't an adaptation of THE DARK KNIGHT RETURNS, but considering the quote – "In all the years to come, in your most private moments, I want you to remember the one man who beat you." – was used by Harry Lennix to announce it, would you expect it to be in the film? (via EMAIL)
JETT SAYS: Hi Joe. Not sure…but I certainly hope so! It's one of my most favorite lines from any Batman story.
I always thought, and now especially with the 2nd and 3rd instalments of the DCEU movies that they should have a big opening credits scene, "James Bond style". I feel it could be very operative and stylish. Following the more visual route than a song ballad. What do you think? Keep up the great site! (via EMAIL)
JETT SAYS: Hi Lew. I wouldn't be opposed to it. BATMAN FOREVER came close, no? It was actually meant to open that way with the credits following the opening segment. Even both THE DARK KNIGHT and THE DARK KNIGHT RISES opened kinda like a "Bond" film – albeit Batman wasn't involved in either's "Prequel."
What do you think of the WONDER WOMAN image that was released? Also, what do you think about the casting thus far? I for me like the image of Gal as Wonder Woman and the casting.
JETT SAYS: Chance, while I'm happy the film is being made, I'd be lying if I said I was paying attention to it and anticipating it as much as a Batman film. I'm just glad that it's a period piece – well, at least a part of it – and I think Gal Gadot makes a fine (no pun intended) Wonder Woman.
If someone tried again to make a Wonder Woman TV series, what do you think about them using ARROW as a model? On ARROW, the modern day is set in Star City and there are flashbacks to Oliver Queen's time marooned on the island. I think they could set the Wonder Woman TV series during World War II and have flashbacks to her time on Themyscira.
JETT SAYS: Another Wonder Woman question…two in one week? Wow! David, I guess that would be OK. But like I said in my reply to the previous question, I don't really pay much attention to the character. I don't think another TV series will happen anytime soon. They've recently gave it a go twice and neither project came to fruition (outside of the pilot that was shot for the Adrianne Palicki-starring series).
Did you ever meet Charles Roven while covering "The Dark Knight Trilogy"? He seems like a nice guy.
JETT SAYS: I did and got to chat with him on several occasions. I never got really "friendly" with Mr. Roven other than that I'm sure he knows who I am and he was nice every time I had the chance to visit with him. Of the producers, Emma Thomas and I hit it off very well and did indeed become friends. Lots of the access I got during "The Dark Knight Trilogy" (and even on other projects like MAN OF STEEL for example) was because of her. I'm indebted to Emma (and Chris as well) and have the utmost respect and admiration for her.
What do you think are the chances Black Mask finally gets the big-screen treatment in the DCEU?
JETT SAYS: Jorge, I'd say that there's certainly a chance of that happening. How likely it is though, I don't know. If Ben Affleck only makes one solo Batman film, I'd say the chance is pretty low. I expect The Joker to be the main villain in that movie.
Thoughts on Jim Gordon as Batman? I'm hating it!
JETT SAYS: Nick, "Superheavy" is my least favorite story arc from Scott Snyder during his run on BATMAN. I don't hate it really, but I've liked the other stuff much better. I'm also not a big fan of this Mr. Bloom – the character is a little out there for me. I will say that I'm interested in seeing how regaining his memory affects Bruce and how being Batman for a short time affects Jim Gordon.
Did you watch THE DEATH OF SUPERMAN LIVES: WHAT HAPPENED?
JETT SAYS: Apostolos, I have not…yet. It's on my list of things to do!
Jett when do you think we will see the next trailer for BATMAN v SUPERMAN drop? Will this be the last full trailer before the movie is released? And what do you think we can expect to see from this one based on what we have already seen/learned from the previous ones?
JETT SAYS: Dustin, from what I've been told by people who know, it's looking like it'll drop in mid-December. So we're probably 2 to 3 weeks out from seeing it. And yes, I'm pretty sure that this is the last full trailer we'll see. Starting in early 2016, TV spots will start to hit the air and other marketing will commence. As far as what we'll see, probably a more of the same. Frankly, I don't really want to see anymore. Less is more in my opinion.
Hi Jett. Will JUSTICE LEAGUE DARK be in the same universe as the other DCEU films? How much input will Zack Snyder have on it? Thanks!
JETT SAYS: Aaron, from what I've been told, JLD will indeed be part of the DCEU but will "separately coexist" with the other DCEU films. What that means is there will probably not be any crossover. For example, don't expect Etrigan the Demon or Swamp Thing to show up in Ben Affleck's solo Batman film. Regardless, I'm really looking forward to this film!
Have you ever seen Richard Widmark's performance in the KISS OF DEATH (1947)? Supposedly he was a fan of comics (Batman) and his early work was playing creeps on radio serials. The Riddler from the 60s Batman show based his performance off of Widmark's performance. Your thoughts on it as well if you've ever seen it.
JETT SAYS: Mike, I do recall that Widmark's turn in that film influenced Frank Gorshin's Riddler; I must have read it somewhere. I've never seen the film, though I have seen the clip of Widmark laughing when he pushes the wheelchaired woman down the stairs.
A life-long Batman fan, Bill "Jett" Ramey
is the founder of BATMAN-ON-FILM.COM.
He likes Elvis, Rock-N-Roll,
The University of Texas, cold beer,
Dallas Cowboys Football, and of course...
THE BATMAN!
He resides in the GREAT state of TEXAS with his lovely wife, three kids, and two Boston Terriers.

comments powered by