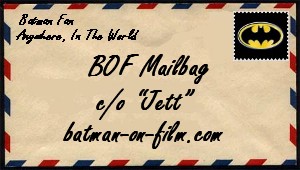 The 11/15/15 BOF Mailbag
Author: Bill "Jett" Ramey (Follow @BATMANONFILM)
Date: November 15, 2015

Welcome to this weekend's installment of the BOF Mailbag! Thanks for all the questions and keep them coming via EMAIL, BOF's FACEBOOK PAGE, or on BOF's TWITTER.
Also, please post your thoughts, feedback, and opinion in the COMMENTS SECTION below!
Now, let's get started...
Hi Jett – thank you for BOF! I was thinking how easy it would be for DC to connect their TV properties to their film properties. Wally West could be The Flash in the movies. SUPERGIRL and ARROW should be set in the DCEU. I also think Nightwing, Tim Drake's Robin, and Batgirl should get their own TV shows or movies. What do you think? (via EMAIL)
JETT SAYS: Hi Jonathan, thanks for the email/question. I in the camp that believes that DC on film and TV should be kept totally separate and exist within their own continuities and universes. I've said for years that having a single continuity – even in film – can be creatively stifling for filmmakers and TV show runners. Thankfully, WB and DC agree with me – though not as much – and are doing just that with the television and cinematic DC endeavors.
Jett, what are your thoughts on the first picture of Chris Pine on the set of WONDER WOMAN as Jason Todd?
JETT SAYS: Jorge, he looks just like Jason from the comics! Can't wait to see him in that red hood in WONDER WOMAN!
With Warner Bros. seemingly filming the DC movies 16 to 20 months in advance of their release date, do you think that there is a possibility that THE FLASH, which is scheduled for release in March of 2018, could go into production late 2016? WONDER WOMAN has just begun filming and comes out in June of 2017.
JETT SAYS: Chance, it's certainly possible. However, I believe a couple of the DC films on the Warner Bros. schedule won't come to fruition – and THE FLASH is one of them.
The other week someone asked about when DC would catch up to Marvel's excellent branding. I think DC hasn't tried that hard to brand itself especially in comparison to Marvel. Do you think that's because they have done so well at branding Batman and Superman? If BATMAN v SUPERMAN, SUICIDE SQUAD, WONDER WOMAN, and JUSTICE LEAGUE do well with audiences, will they be able to catch up to Marvel's branding?
JETT SAYS: Are we talking about the branding of the DCEU or DC characters? If it's the former, I'd say that there's a lack of branding because the DCEU is brand new. If it's the latter, I'd say that there aren't any comic book logos more iconic than the "S" and the "Bat."
If you HAD to pick a second NFL team, which one would it be? And what is your favorite film genre other than Batman?
JETT SAYS: Jeremey, can't even fathom an answer for that first question. Let me say this: Anyone who had more than one NFL team, really has NO NFL team. As far as my favorite movie genre, I like comic book movies and action films. I also like horror films that are more about suspense than gore.
Hi Jett. Have you heard anything about Jesse Eisenberg cameoing in SUICIDE SQUAD as Lex Luthor or not?
JETT SAYS: Aaron, I've heard nothing other than those original rumors that had him making a cameo as Lex. I can't confirm either way.
Most underrated Batman movie? Most underrated BATMAN: THE ANIMATED SERIES episode? Most underrated Batman villain?
JETT SAYS: Hmm…BATMAN BEGINS, "Joker's Millions" (yes, I know technically it's not a BTAS episode, and Hugo Strange.
How would you feel if characters like Wonder Woman or Aquaman all turned out to be descendents from Kryptonians in the DCEU?
JETT SAYS: Ha! Are you trolling me? Since I was the one who first hypothesized that Amazon's might be decedents of ancient Kryptonian explorers who visited Earth hundreds of thousands of years ago (adaptation to Earth would be a cause for them not being as powerful as Superman or Zod, artificial reproduction could account for an all-female race, and those first Kryptonian explorers would be their "gods"), it wouldn't bother me in the least. I'm sure that Zack Snyder and co. will indeed "explain" Wonder Woman/the Amazons and Aquaman/the Atlanteans somehow. Maybe that's the way they do it.
Do you think BATMAN v SUPERMAN will rank above or below THE DARK KNIGHT RISES on your list of favorite Bat-flicks?
JETT SAYS: Well, RISES isn't my favorite Batman film – that would be BATMAN BEGINS. And no, I don't think BvS will supplant any of the films of "The Dark Knight Trilogy" on my list of faves.
What would you think about some of the DC Elseworlds books being made into animated movies? I'd love to see GOTHAM BY GASLIGHT and RED SON in animated form.
JETT SAYS: Dude, I've been pimping GOTHAM BY GASLIGHT getting the animated movie treatment for years! In fact, I've actively been lobbying James Tucker; and he told me that GBG is totally on his list. So maybe one day it'll happen!
A life-long Batman fan, Bill "Jett" Ramey
is the founder of BATMAN-ON-FILM.COM.
He likes Elvis, Rock-N-Roll,
The University of Texas, cold beer,
Dallas Cowboys Football, and of course...
THE BATMAN!
He resides in the GREAT state of TEXAS with his lovely wife, three kids, and two Boston Terriers.

comments powered by