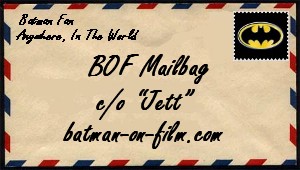 The BvS Trailer #3 BOF Mailbag!
Author: Bill "Jett" Ramey (Follow @BATMANONFILM)
Date: December 6, 2015

Welcome to this weekend's installment of the BOF Mailbag. SO...
Did any of you all happen to check out that new trailer for the BATMAN v SUPERMAN movie? If not (or maybe for the 1,000th time), here it is...
Yes, that gave us A LOT to talk about! After you read the mailbag below, check out the latest podcast where Mark Hughes, Rick Shew, and I talked about it in detail.
Thanks for all the questions and keep them coming via EMAIL, BOF's FACEBOOK PAGE, or on BOF's TWITTER.
Also, please post your thoughts, feedback, and opinion in the COMMENTS SECTION below!
Now, let's get started...
JETT SAYS: I don't think so. I believe Superman is the first "superpowered" being to show up on the DCEU Earth.
Just finished listening to the podcast, and an interesting idea popped into my head, however brace yourself for a slight non-Batman topic. The films of "The Dark Knight Trilogy" were all inspired by various different comics stories, THE LONG HALLOWEE, YEAR ONE, NO MAN'S LAND, KNIGHTFALL, etc. We've long known BvS would be inspired by THE DARK KNIGHT RETURNS. But now with the Doomsday reveal, would it be farfetched to think that the "Death of Superman" storyline may be an inspiration too? It may be a bit wishful thinking on my part because I'd hate for Doomsday to be just a stock "monster villain" instead of how menacing he actually was in the comics. Your thoughts? (via EMAIL)
JETT SAYS: Hi CJ, thanks for the email and listening to the podcast. I don't think that we'll see Doomsday "kill" Superman in BvS or in any future DCEU. Why? I think the whole storyline would take up WAY too much of these team-up films like BvS and JUSTICE LEAUGE. Also, I'm not sure that this version of Doomsday – which seems to be kinda a "Bizzaro Zod" if you will – is the film's main villain.
JETT SAYS: No, not really. I think it's clear that Batman and Superman's idea of justice is very different based on the exchange between Bruce Wayne and Clark Kent at the beginning of BvS trailer #3.
Regarding the BvS trailer #3, what do you think about the spoiler fully trailer, especially related to the production phase which was handled in terms of secrecy like a governmental intelligence project. I do not get a clue out of this. This project is so important not only for DC, but for WB, that there must be a big master plan to the marketing and they just could not release its plot twist by the 3rd trailer, don't they! I mean we have Snyder, Terrio, Goyer and even Affleck involved! Do you have an idea? Do they want to misdirect the whole world? King regards from Cologne, Germany! (via EMAIL)
JETT SAYS: Marco, even though I'm in the camp that believes they showed too much in this new trailer, I've got to think that there's a whole lot of stuff we don't know. Also, I believe that this trailer was edited very carefully to kinda steer us away from what we'll actually end up seeing. Or that's what I hope!
JETT SAYS: As I said in the latest podcast, I like it. I've always thought Batman would alter his voice electronically.
In "The Dark Knight Trilogy," Bale's voice was "altered" a bit in post. His "Batman Voice" was supposed to be electronically altered via a contraption on the suit. However, it was never mentioned or expained in any of the three films.
Jett, do you believe there is a chance that "Doomsday" in the BvS trailer is actually Wraith? Here's the theory about it I read online. (via EMAIL)
JETT SAYS: Hey Chris, good to hear from you! No, I don't think that character in the trailer is this Wraith. I believe it is indeed an adaption of the Doomsday character from the comics.
Do you think Chris Nolan's "Dark Knight Trilogy" universe could've been used in BvS and the DCEU? (via EMAIL)
JETT SAYS: Warner Bros. would've loved for it to happen, but no, not at all. It was its own thing that existed in its own cinematic universe. Frankly, I would've been PISSED if Chris had signed off on bringing his Batman into the DCEU (a term I loath...it should be DCCU!). That Bruce Wayne -- and my personal favorite depiction of the character(s) -- got the ending that both he, and I, deserved.
JETT SAYS: Dude, there's GOT to be…there's just got to be.
I've been with you and BOF since the "JettD60 BATMAN 5 PAGE" days. I know we've disagreed a lot over the years, but I respect your dedication. My question is do you think the BATMAN, INC. characters could work in a live-action film? Yes or no and why?
JETT SAYS: Hi David, good to hear from you again bro! When did we ever knock heads? You know I'm always right, right? Anyway, no, I do not think that any of the "Batman of all Nations" would work in a live-action film. Now, I do like those characters from a Batman history point of view, but I absolutely HATED the whole "Batman, Inc." nonsense from Mrant Gorrison.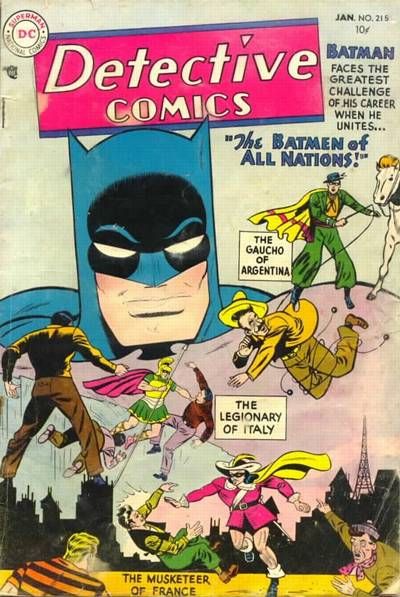 Did Chris Nolan consider any other directors before choosing Zack Snyder?
JETT SAYS: For MAN OF STEEL I assume? Yep…Ben Affleck. And Warner Bros. wanted him to direct JUSTICE LEAGUE back when they still planned on using the Will Beall script for the film. I even said back then with Ben was in the mix to direct it, that if he took the gig, he'd cast himself as Batman.
From the look of the new trailer it seems like Nolan's influence is not as apparent as it was in MAN OF STEEL. It def seems for lack of a better word more comic book. Would you agree?
JETT SAYS: Yeah, absolutely. Chris had nothing to do with this film creatively. He and his wife Emma Thomas are serving only as executive producers.
A life-long Batman fan, Bill "Jett" Ramey
is the founder of BATMAN-ON-FILM.COM.
He likes Elvis, Rock-N-Roll,
The University of Texas, cold beer,
Dallas Cowboys Football, and of course...
THE BATMAN!
He resides in the GREAT state of TEXAS with his lovely wife, three kids, and two Boston Terriers.

comments powered by