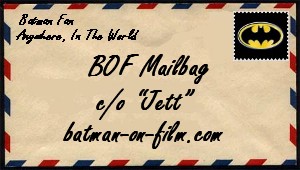 BOF Mailbag for March 29, 2015
Author: Bill "Jett" Ramey (Follow @BATMANONFILM)
March 29, 2015

HAPPY SPRING 2015!
As we look forward to BATMAN v SUPERMAN and SUICIDE SQUAD, let's take a moment to acknowledge beer, bees, fertilizer, flip-flops, and antihistamines!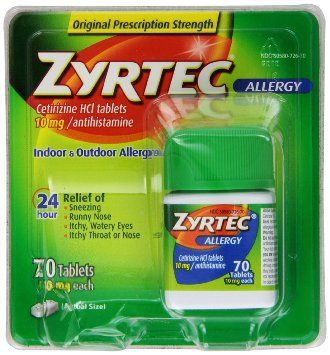 Below you will find the latest BOF Mailbag. Thanks for all the questions and keep them coming via EMAIL, BOF's FACEBOOK PAGE, or on BOF's TWITTER.
Also, please post your thoughts, feedback, and opinion in the COMMENTS SECTION below!
Do you think Warner Bros. will release the [BATMAN v SUPERMAN] trailer at Wondercon?
JETT SAYS: Chance, I believe that there will be something related to the film during Wondercon. Since Wondercon is only a week away and I'm on both the Warner Bros. and Wondercon press list, I'm sure I would've heard something from the latter by now – especially based on my relationship with them. Perhaps they'll drop the film's first poster since all we've got so far is the logo. But I can certainly see WB releasing the trailer next Saturday at Wondercon and then online shortly afterward. I don't suspect there will be a full-on BvS panel with cast and crew, but you never know – especially since director Zack Snyder loves him some comic cons. We'll see next week!
And for the record, I was heading to Wondercon and planning to attend as press and meet my good friend Mark Hughes. BUT – honest to goodness – my youngest son got hit by a thrown discus directly on his right big toe during track practice, breaking it in two places the process. Thus, a visit to the ER and the resulting insurance bills later, my Wondercon 2015 budget was, well, shattered like a big toe bone hit by a flying discus.
Where do you see the Batman franchise going after the immediate plan ahead of us? It seems like they want to turn Indiana Jones into a James Bond type deal (I'm looking forward to that). Do you think Batman on film will become something similar?
JETT SAYS: Long ago in the very early days of BOF, I wrote an op-ed suggesting that Warner's Batman film franchise should model itself after the Bond movies. The thing is Seth, doing "Batman like Bond" is tricky. Why? Because of this idea of a shared movie universe and that damn continuity – you know what I'm sayin'? Now, with this new DC Cinematic Universe, continuity is – good or bad – required to make it work.
You see, James Bond and Dr. Indiana Jones don't exist in a fictional film universe where the events of other films matter to their endeavors or vice-versa. But now, Batman on film absolutely does – thanks to the new DCCU.
Seth, what I think you're asking in your question is this: Is ever possible for Batman on film to go on and on and on, all the while doing a "soft reboot" whenever needed. If so, yes, it's my hope that Batman on film would eventually go that route. This certainly could happen; IF the Batman film franchise became focused on one film at a time, with each telling one story at a time and "absolute continuity" be damned – you with me?
But alas, I don't suspect Batman becoming Bond (or Dr. Jones) anytime soon. One day? Maybe.
Jett, if I may ask, how far back date-wise does your Batman collection go?
JETT SAYS: Jeremy, I'd say the #1 thing in my Batman collection is me. My Batman fandom goes back to the mid-1960s – thanks to my Mom – with the Adam West BATMAN TV series, as well as all the Batman comic books she bought for me. So Jeremy based on that, my "Batman Collection" goes back nearly 50 years.
As far as something that I bought at one point in my life that I still have, the oldest object is my original (and coverless) copy of BATMAN #251 from 1973. My most prized possession is the handwritten "Thank You" letter I received from Chris Nolan. And my friendship with the great Michael Uslan is certainly a prized part of my "collection," but not something one can display on a shelf.
In the run up to BATMAN v SUPERMAN, do you plan on re-watching any of the Batman or Superman TV shows and movies?
JETT SAYS: I don't know Rob, I'd say probably. I watch something "Batman" on a regular basis. On the Superman front, I'll watch SUPERMAN: THE MOVIE from time to time more than any other Superman film or TV series. TV-wise, I never was a big fan of either LOIS AND CLARK or SMALLVILLE. MAN OF STEEL gets popped into the Blu-ray from time to time, and I suspect I'll watch it in full right before I go to see BvS in late February or early March of next year.
Given the current trend for the DC Cinematic Universe, do you think we will ever see a BATMAN BEYOND film adaptation? If so, who would you cast as Terry and Bruce?
JETT SAYS: Nick, I think a BATMAN BEYOND movie could be made that would fit into this new DCCU – albeit in its future. Will that ever happen? I truly don't know. I know Warner Bros. has considered it more than once over the years. Heck, they even hired Boaz Yakin to direct and develop a BEYOND movie back in 1999/2000ish. There was even some scuttlebutt of dong a BEYOND film (or series of films) post-"The Dark Knight Trilogy." As a fan of that Batman concept, I hope to see a BATMAN BEYOND film someday.
As far as casting, I don't know who I'd cast for Terry McGinnis, but I wouldn't make him a teenager in the film. (Of course, DC killed off Terry McGinnis here recently and Tim Drake will become the new Batman of the "definitive future of the DCU" staring in June. Oy vey!) When it comes to Bruce Wayne, I've said many times that the clear choice would be Clint Eastwood.
What are your thoughts of the Jesse Eisenberg picture as Lex Luthor?
JETT SAYS: Glen, about what I expected to be honest. I thought he looked good and pretty much like Lex Luthor. To me, it looks as if he might be wearing prison garb and has had his head shaved. In fact, BOF's BvS spoilerless scooper "Shoeless" chimed in once the pic was released and told me the following (which I will black-out as some may deem it to be spoiler-esque)…
START >>> Apparently, Lex (Eisenberg) has hair for the most of the film and it's sheared near the end. Why? I don't know – maybe he goes to prison (Belle Reve?) or is a big fan of THE KING AND I's Yul Brenner? <<< FINISH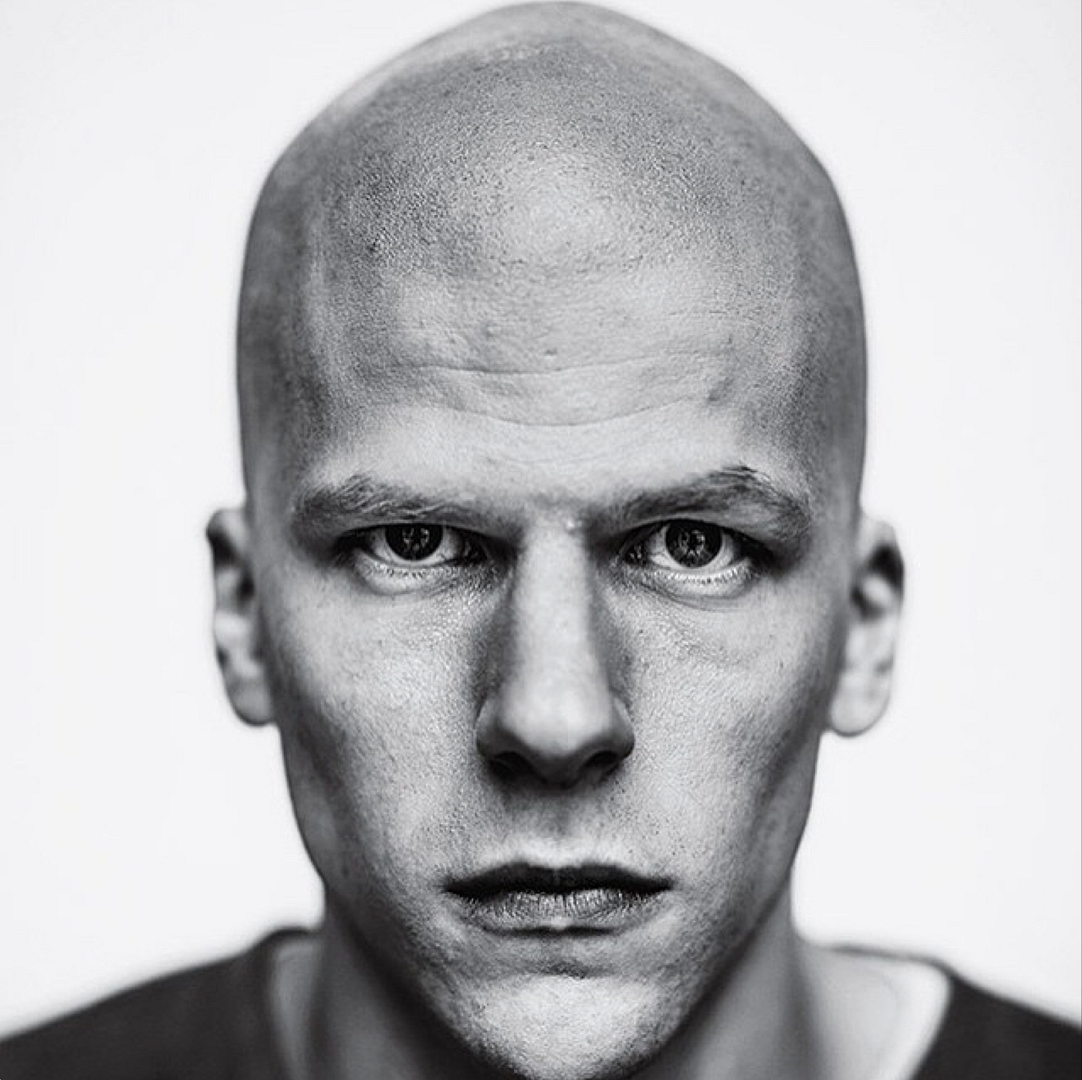 Does Michael Uslan still own the film rights to Batman, or did Warner Bros. wise up and purchase them from him?
JETT SAYS: Alex, Mr. Uslan and Mr. Ben Melniker purchased the film rights to Batman in 1979 and both remain executive producers on all Batman films to this day. Though Warner Bros. does indeed own the film rights to Batman, there is no one more important to bringing the dark and serious Batman to the big screen than Michael Uslan. I'm not going to comment on what happened because, honestly, it's a delicate and messy situation; but, I will direct you HERE. Also, I wouldn't use the term "wise up" in relation to how WB obtained the films rights to Batman. Frankly, Michael's influence on Batman on film is a good thing and should be welcomed by both my friends at Warner Bros. and by Batman fans.
What is it you don't like about THE KILLING JOKE?
JETT SAYS: Nick, I never did care much for it. Maybe the insinuation that The Joker sexually assaulted Barbara Gordon was too, for lack of a better term, "nasty" for my Batman tastes. I think it's highly overrated and, quite frankly, not all that good. Yes, Mr. Moore nailed The Joker, but I'm of the belief that he went too far just to go "too far." Before and after, there are many more Batman stories that rank above THE KILLING JOKE.
Will the marketing of BATMAN v SUPERMAN start to intensify now? It seems that we had two new promo pics a month apart which is awesome.
JETT SAYS: Jorge, abso-damn-lutely it will! The first trailer is coming SOON – perhaps even next week (though "Shoeless" told me it would be "attached" to WB's MAD MAX: FURY ROAD in May, and he's been spot-on 100% of the time) and WB will certainly be pumping up the film more and more and more as 2015 progresses. I believe we'll get something big in early July around the time of San Diego Comic Con '15, as well as during the "Holiday Film Season" at the end of the year. The next 361 days (as I write this mailbag) will be fun, so enjoy!
With SUICIDE SQUAD set to start filming on April 15th, when do you think we will hear of more casting announcements? Supposedly there are rumors that Rick Flagg, Sr., Deathstroke, and several other villains will be in this movie but no casting yet. Also, will Lex Luthor be in this movie? Jesse Eisenberg is still in talks.
JETT SAYS: Well, they can start filming and still announce casting, FYI. As I said last week, I wouldn't put consider any of the recent SUICIDE SQUAD rumors as gospel, OK? With security on these films like it is today, does anyone think it's, well, at least questionable that so much info has been leaked about SS? And the same goes for any "significant" BATMAN v SUPERMAN details. I don't believe for a minute that anyone outside of those involved have read the script, period. I do believe that there's A LOT of false/BS info out there – for both films – being leaked on purpose. And though I know that my BvS guy "Shoeless" is 100% legit, I'd even tell you all to take what I say with a grain of salt.
If you could choose one actor who has voiced Batman [in animation] to play him in a live-action film, which actor would it be?
JETT SAYS: Olan Soule!
Gabe, there's not one person that has voiced Batman – other than Adam West and Christian Bale who did both – that I would actually want to play Batman in a live-action film. Honestly, I've always thought the fanboy idea of Kevin Conroy actually playing Batman in live-action was ridiculous. And yes, I know that Mr. West voiced Batman after his live-action Bat-endeavors and Christian's Batman voice work was for the BATMAN BEGINS video game. And the latter reminds me of an interesting story…
I once interviewed the great Andrea Romano why she didn't cast Christian Bale to voice Batman in the 2008 animated tie-in to THE DARK KNIGHT, BATMAN: GOTHAM KNIGHT? "He was out of our price range," she said with a hearty laugh!
How do Mark Hughes and Sean Gerber rate all the live-action Batman films?
JETT SAYS: Apostolos, I shall ask my two most trusted BOF friends and will post their lists in next week's mailbag!
Scott Snyder's "Bat-Rabbit." How long do you think the gimmick of doing a KNIGHTFALL and Grant Morrison's "Omega Sanction" non Bruce Wayne Batman story arc will last this time before he inevitably reclaims the cape and cowl?
JETT SAYS: Ben, look, I'm with you, totally. This "New Batman" is indeed a gimmick – I know this for a fact. With that said, I love the Scott Snyder/Greg Capullo's run on BATMAN, and I trust Mr. Snyder to deliver something, well, interesting.
Look, I might know who this "New Batman" is, OK? This is, yet again, a comic book stunt that's designed to infiltrate the mainstream press and have them say, "You won't BELIVE who is now Batman!" I also know that things go back to "status quo" – as they always do – come March 2016.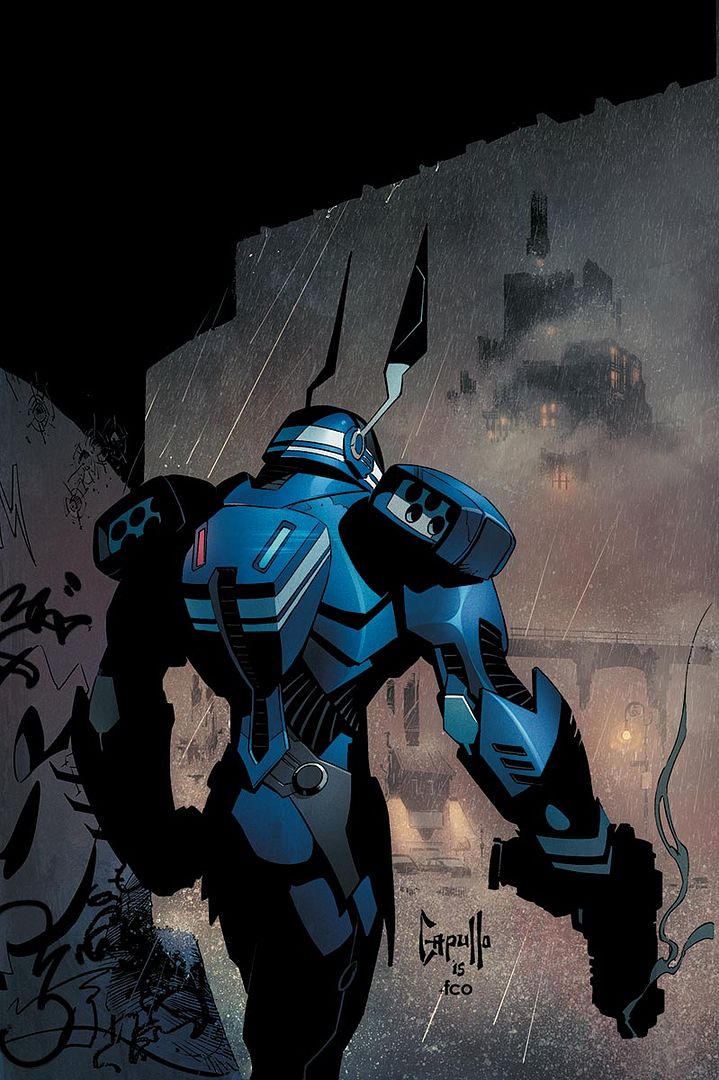 A life-long Batman fan, Bill "Jett" Ramey
is the founder of BATMAN-ON-FILM.COM.
He likes Elvis, Rock-N-Roll,
The University of Texas, cold beer,
Dallas Cowboys Football, and of course...
THE BATMAN!
He resides in the GREAT state of TEXAS with his lovely wife, three kids, and two Boston Terriers.

comments powered by