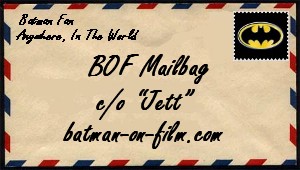 BOF Mailbag: 2/8/15
Author: Bill "Jett" Ramey (Follow @BATMANONFILM)
February 8, 2015

Below you will find the latest BOF Mailbag. Thanks for all the questions and keep them coming via EMAIL, BOF's FACEBOOK PAGE, or on BOF's TWITTER.
JETT SAYS: Purely guessing, I'd say we'll see Batman, Carrie Kelly's Robin, Dick Grayson/Nightwing, Alfred Pennyworth, Barbara Gordon/Oracle, and a dead Robin in flashbacks.
Jett, when are you going to blog "The Dark Knight Trilogy?" (via EMAIL)
JETT SAYS: On the 10th anniversary of each. So look for my BATMAN BEGINS blog this coming June. Also, BOF is celebrating the 10th anniversary of BEGINS, so check out what we've got so far RIGHT HERE.

Are you still disappointed with the casting of Ben Affleck as Batman? (via EMAIL)
JETT SAYS: What?! I was never disappointed with his casting! I thought it was a good move by Warner Bros. and Zack Snyder from the get-go. I think he'll be a hell of a Batman!
Part of Marvel's success has not only been the quality of films, but the merchandise as well. "The Dark Knight Trilogy" was a huge success at the box office, but not in merchandise. Do you think that part of the reason they are going for a more "comic book" look and feel for Batman in the new DCU that they are looking at a success on both ends, or are they going for that look and feel more for the fans?
JETT SAYS: Well Matthew, "The Dark Knight Trilogy" wasn't a success when it comes to merchandising because Chris Nolan and all involved didn't want the films to be two and a half hour commercials for toys and happy meals. While the merchandising for those films was very subtle, I suspect they did in fact make money off the toys, apparel, and other such tie-ins.
Honestly, I don't think the "look" of BATMAN v SUPERMAN's Batman has anything to do with merchandising or trying to appease fans. I think that they wanted to do something different aesthetically with the Batman costume from its cinematic predecessors. I will say that Ben Affleck's Batsuit is probably the most "comic book faithful," if you will, to date. (But here's a little secret…its construction isn't that much different than those that came before.)
For a long time I assumed Ben Affleck would direct himself in a Batman movie. However, when I look at his shooting schedule, I don't know where he'll have the time in between now and 2019. After he's finished shooting the project he's on currently, he's supposed to direct his own film, and then shoot the Justice League movies. And, there's also been a rumor about him reuniting with David Fincher soon. Do you think Warner Bros. and Affleck have talked about him directing Batman films or do you think they'll cross that bridge when they get there?
JETT SAYS: Gabe, there's no question in my mind that Warner Bros. and Ben Affleck (along with Zack Snyder, who is the "Godfather" of the DCCU by the way) have discussed him directing his solo Batman film. I'm of the firm belief that he will ultimately helm it. With that said Gabe, perhaps his schedule would indeed force him to cede the director's chair to someone else as he'd be totally tied to the solo Batfleck Bat-Flick for two years if he were to direct. Regardless, Ben will have a HUGE part in the story and the film overall whether he directs it or not.
If Ben doesn't direct – and I still think he will – I'd bet a month's pay (of MONOPOLY money, of course) that Zack Snyder will helm it. That dude has LONG wanted to direct a Batman film. Directing films that include Batman just isn't the same as making a "Batman film" – you know what I'm sayin'?
Do you think BATMAN v SUPERMAN and the Justice League films would be less "crowded" if Zack Snyder had been given more creative freedom?
JETT SAYS: How do we know that they're "crowded?" On paper, the films of "The Dark Knight Trilogy" would seem "crowded," but they weren't. And trust, me, Zack Snyder has probably as much creative freedom on these films as Chris Nolan did with the aforementioned "Trilogy." Zack is, quite frankly, the "Godfather" of the DC Cinematic Universe.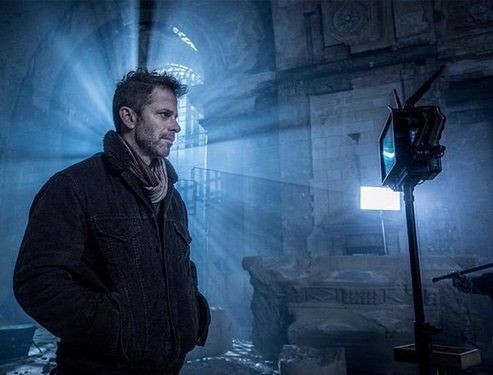 Jett, this is not a Batman question, but definitely DC related. With CONSTANTINE under threat of cancellation, what do you think would be the odds Guillermo del Toro would cast Matt Ryan as Constantine for DARK UNIVERSE and using the TV series as a retroactive prequel? Keep up the great work on a great site! (via EMAIL)
JETT SAYS: Clint, great question. First of all, it's my hop that if NBC indeed cancels CONSTANTINE, that another network would pick it up. Honestly, I think it was more suited for cable, Netflix or Hulu in the first place. It would've been nice for it to have been a AMC series in the first place as opposed to NBC. But that's water under the bridge.
While I hope like hell that GDT's DARK UNIVERSE film comes to fruition, it's currently not on WB's DC film schedule. However, I do know (via my good friend Mark Hughes from FORBES.COM) that a first draft has been turned in to the studio, so we'll see where things go from there. If DU does happen, yes, I'd LOVE for Matt Ryan play John Constantine in it as he's absolutely brilliant. With that said, I don't think Warner Bros. and DC Entertainment are interested in mixing their film and TV endeavors; and I do agree with 'em on that.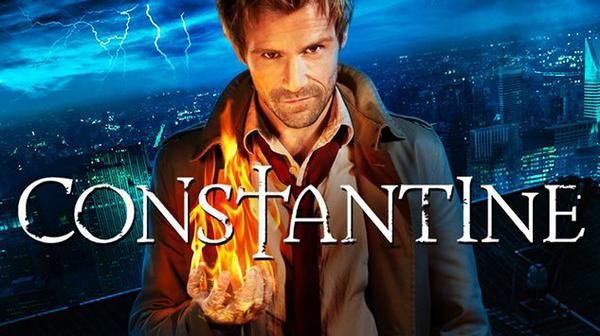 JETT SAYS: I'd say that's about right. But I think it'll ultimately get $400 million-plus domestic. It's too big of a film and historically important not to be a huge hit.
Now that the BATMAN v SUPERMAN trailer wasn't attached with JUPITER ASCENDING, do you believe we will definitely have to wait until the release of MAD MAX before we see it?
JETT SAYS: Ben, my BvS insider, "Shoeless," is adamant that a BvS trailer is "attached" to MAD MAX: FURY ROAD in May. In fact, he emailed me Friday evening to reconfirm.
The mailbag continues after the jump!

Hi Jett. Has Zack Synder cut an early version of BATMAN v SUPERMAN and if so, what have you heard about it?
JETT SAYS: Sean, I really have no idea. So I can't comment about the quality – or lack thereof – of a BvS "rough cut." The security for this film is the tightest I've ever seen. I'm sure that Snyder has put together a first cut, but this film has so much work to do in post, that I'm quite sure that's the focus right now.
Does Warner Bros. really need to release the BATMAN v SUPERMAN trailer right now? Since there's constant buzz and speculation, couldn't WB save time and money on marketing and hold out until late Summer, early Fall?
JETT SAYS: That's a good point Tim, but traditionally, a teaser trailer is released about a year out for tent pole films like this. I thought they should've dropped that teaser back in December when the new HOBBIT film was released. It was ready, but Warner Bros. decided to wait until 2015.
JETT SAYS: Wow, there are so many. You gotta remember that my Batman fandom goes back nearly a half century at this point! What immediately comes to mind is the ending of THE DARK KNIGHT RISES. I don't know if something "Batman" has ever moved me like that.
There is a rumor that CONSTANTINE could move from NBC to Syfy. Is there any truth to this?
JETT SAYS: Chance, I hadn't heard about this until I read your question. So I did some investigation and it certainly seems as if this isn't a rumor and that NBC is looking to save the show. Sliding it over to NBC's sister cable network would be a very smart move. Hell, it should've been on cable in the first place!
If Mr. Michael Uslan we're to take the directors seat for one Batman film, what story do you think he would like to tell . Given he is the Godfather of modern day comic book film genre, he could tell a hell of a Batman story in my opinion.
JETT SAYS: Stacy, I don't know if Mr. U would want to direct. He's more of a writer and producer than a director. However, I reckon that that story has already been told on film back in 2005 and I'll leave it at that.
I stopped reading Batman comics around 2001 when Tim Drake was Robin and Nightwing was in Blûdhaven. What has happened since then (i.e. Damian Wayne, The New 52, etc.)?
JETT SAYS: Dude, a LOT hahahaha! If you're wanting to get back into Batman comics, I'd say there's one title and one title only that you should read: BATMAN by Scott Snyder and Gregg Capullo. Go to AMAZON.COM
and pick up the collected TPB's of their run ("Court of Owls," "Death of The Family," "Zero Year," etc.) and then start reading that one comic monthly. And it's very easy to do since each comic is released in comic book shops and digitally online the same day.
JETT SAYS: I'll probably give the first issue a look. It certainly looks like something that's targeted to younger kids. If so, that's a good thing as children need conduits into the world of Batman.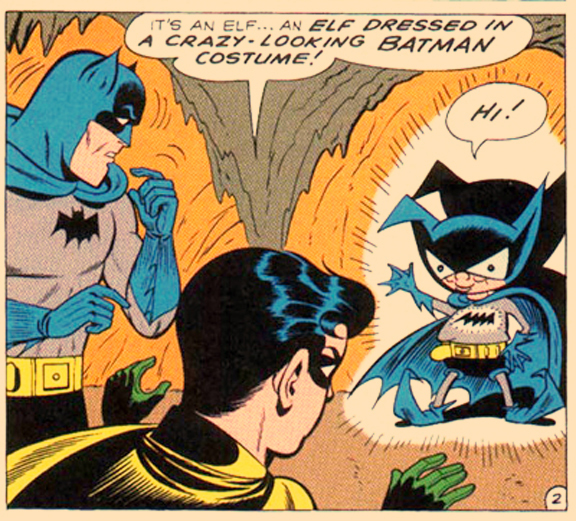 Do you think if GOTHAM ever becomes a very successful show, will the major difference in that Bat-universe of Batman being a response to the rise of supervillains ever translate to the comic mythos? Or will it always just be viewed as a separate universe?
JETT SAYS: I don't think so Mike. This would be something that would require yet another reboot and retelling of Batman's origin. Since the mid-1980s and BATMAN: YEAR ONE, Batman is a response to the mob and a corrupt justice system in Gotham, and the supervillains are a response to The Batman. I simply don't see that changing.
JETT SAYS: Because I'm good enough, I'm smart enough, and doggone it, people like me!
With the Dick Grayson's parents set to appear on GOTHAM, Dick Grayson going to be on the new DC television show Titans as Robin/Nightwing, and Dick Grayson more than likely going to be a part of the DCCU, I just wanted to hear your thoughts on possibly having three different versions of Dick Grayson taking place at the same time.
JETT SAYS: Chance, I've got no issue with it at all. I think they'll be distinct enough that there won't be any confusion. Plus fans are quite familiar with different versions of the same characters and different continuities. And the mainstream doesn't care enough to be confused!
JETT SAYS: Tom, as I've said before on BOF, I think we'll get at least one Batfleck Batflick, possibly two.
A life-long Batman fan, Bill "Jett" Ramey
is the founder of BATMAN-ON-FILM.COM.
He likes Elvis, Rock-N-Roll,
The University of Texas, cold beer,
Dallas Cowboys Football, and of course...
THE BATMAN!
He resides in the GREAT state of TEXAS with his lovely wife, three kids, and two Boston Terriers.



comments powered by