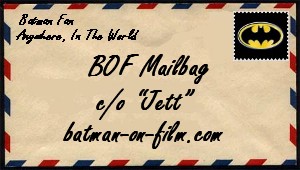 The June 13, 2015 BOF Mailbag
Author: Bill "Jett" Ramey (Follow @BATMANONFILM)
June 13, 2015

Below you will find the latest BOF Mailbag. Thanks for all the questions and keep them coming via EMAIL, BOF's FACEBOOK PAGE, or on BOF's TWITTER.
Also, please post your thoughts, feedback, and opinion in the COMMENTS SECTION below!
Next time we visit, I shall be coming to y'all from the land of 10,000 lakes, lutefisk, hot dish and Paul Bunyan.
Now, on with this weekend's mailbag...
I'm sure others will ask but how do you feel about this new Bruce Timm project? Thanks Jett!
JETT SAYS: Adam, I've got mixed feeling when it comes to Timm's JUSTICE LEAUGE: GODS AND MONSTERS. While I liked the first episode (which you can watch below), I'm kinda hung up with its Batman not being Bruce Wayne. I've got no issue with the vampire aspect as we've seen it before with RED RAIN, but when Batman isn't Bruce, I've got an issue (unless it's BATMAN BEYOND, but that's a whole other topic). I'm going to watch it and attempt to stay unbiased going in, so we'll see. I will say that with Bruce Timm in charge, we all know it'll be top-notch quality-wise. Will it be everyone's cup of tea? That remains to be seen.
Bill, first off, thanks for all your hard work every week. With Comic Con coming up, what do you think the big DC news will be for that week? Also, if you're going, what panel or event has you most excited?
JETT SAYS: Thanks Glenn, my pleasure. I am going to Comic Con in San Diego again this Summer and I'm going simply to cover BATMAN v SUPERMAN and SUICIDE SQUAD. Truth be told, I'm not the biggest fan of Comic Con. I find it overcrowded and chalk full of obnoxiousness – that's probably because I'm starting to act like Clint Eastwood in GRAN TORINO. You can't get into Hall H unless you have a V.I.P. pass or literally camp out in line – and I'm sure as hell am not going to camp out! Hell, you can barely walk down the Gaslamp Quarter without people bumping into you and acting like a**holes. And don't EVEN get me started about walking the main floor of the convention hall! Sorry to be such a Debby Downer, but it's the truth. Frankly, if you've gone as many times as I have over the last 10-plus years, the novelty and excitement wears off. ANYWAY…
As I said, I will be there this year to cover BATMAN v SUPERMAN and SUICIDE SQUAD. I believe that those two films – especially the former as SUICIDE SQUAD can have a big panel of its own in 2016 – will be spotlighted by Warner Bros. I don't expect too much – of anything – when it comes to any other DCCU film. I am, I'll admit, quite excited for that. Now, get the hell off my lawn!
How was your holiday, what shenanigans did you get up to?
JETT SAYS: Not too many shenanigans Travis because I'm old – just read that last Q&A! We went up to Dallas for my youngest son to attend a Dallas Cowboys youth football camp (where I was interviewed by DallasCowboys.com). We then headed south down I45 to Austin for the son to participate in the 3 day Coach Charlie Strong/Texas Longhorn football camp. So it was a football heavy vacation – which a lot of our vacations tend to be in this family. We did have fun in Austin – it's one of my favorite cities to visit – as me and Mrs. Jett had more free time to do some "Austin stuff." We hit the 6th street area, the state capitol building, the LBJ Library, Torchy's Tacos, and one of my fave spots of all time, Scholz's Garten. Oh yeah, I did get a new (Texas) Batman shirt!
What are your overall impressions of season one of THE FLASH and I ZOMBIE? I personally love both shows and thought their first seasons were fantastic.
JETT SAYS: Loved and got hooked on both! I still don't care much for GOTHAM and I desperately hope some network will pick up CONSTANTINE.
If they are shooting a "Joker kills Robin" flashback for BvS during the filming of SUICIDE SQUAD, who will/should direct the scene? David Ayer, Zack Snyder, or Ben Affleck?
JETT SAYS: Great question Stephen! Let me preface that I don't know for sure if such a scene is being filmed; if I did, I wouldn't be speculating and talking about it here on BOF. There's been some buzz for a while now that such a scene will indeed be filmed for BvS. So with that said, I'd say that Zack Snyder SHOULD direct it – and maybe he did despite the fact there were no reports of him being in Toronto. If Zack didn't do it, I'm sure that either David Ayer or Ben Affleck directed the scene – and probably the latter.
You said last week that you dug the LEGENDS OF THE DARK KNIGHT. What were some of your favorite stories from its run?
JETT SAYS: Yep: "Shaman," "Prey," and "Venom" immediately come to mind.
Were you upset with the death of Terry McGinnis in "Future's End?" Are you happy with Tim Drake as the future Batman in BATMAN BEYOND?
JETT SAYS: I didn't read "Future's End," but I was aware that the killed off Terry and replaced him with Tim Drake as DCU's Batman of the future. I don't know if I'd say that I was "upset," but I certainly don't prefer this scenario. I am reading BATMAN BEYOND as I've always been a fan of it, the BEYOND concept (an aged Bruce Wayne finding a new Batman but still running the show), and I thought issue #1 was alright. Honestly, I don't know why DC felt they had to change up the concept simply to make it fit into the new DCU continuity. Does anyone want to bet against me that we'll ultimately see Terry again...and an old-ass Bruce too? It's just a matter of time before DC gives us another Crisis/reboot/stunt and things are reset/reshuffled again. I'll wait and see how the next few issues and the first storyline goes and reassess.
Like yourself I'm sure, I find it hardly surprising that the internet is awash with "JUSTICE LEAGUE MORTAL would have been amazing" fanboy comments now that MAD MAX is a success. Of course back in 2008, it was a disaster waiting to happen and nobody wanted it; even though said fanboys would more than likely deny that was the case. Did you ever have a chance to read the script after the project was canned and if so, was it as bad as we feared it would be at the time?
JETT SAYS: I think that George Miller is a good director and that JUSTICE LEAGUE MORTAL would've been, um, "not good" and killed not only Chris Nolan returning for a third Batman film, but any chance of a DCCU as we have today.
I have read the script – if the one that leaked online is legit – and thought it was "meh" at best. I also thought the casting was terrible. Yes, Armie Hammer has gone on to success, but why Miller would've cast a 21 year old as Batman is beyond me.
And remember Ben, never EVER question the retroactive memory of ANY fanboy.
Do you think BvS will have a completely different look and feel from MAN OF STEEL? One thing I didn't like about "The Dark Knight Trilogy" is how different Gotham looked from BATMAN BEGINS and THE DARK KNIGHT -. it didnt seem like the same city.
JETT SAYS: Mike, I think that the Superman stuff in BvS will look aesthetically about the same when we see it in BvS, so don't worry. Of course, Gotham might look a lot different from anything we saw in BvS, but I certainly don't believe that it'll look "unworldly" while Metropolis looks like our world.
I do have to disagree with you with your take that Gotham looked dramatically different in BEGINS than it did in TDK. I would agree with you to a certain degree that Gotham looked different a bit in THE DARK KNIGHT RISES than it did in the previous two films. I asked Emma Thomas about that back in 2012 and she said that they picked Pittsburgh and didn't return to Chicago because they wanted to show parts of Gotham that had not been seen in BEGINS and TDK. If you think about it that way, the aesthetic difference makes sense.
Do you still think that Batfleck's making a small cameo in SUICIDE SQUAD, or is it possible that he plays a bigger part in the movie?
JETT SAYS: Big part? No. Extended cameo? Yes.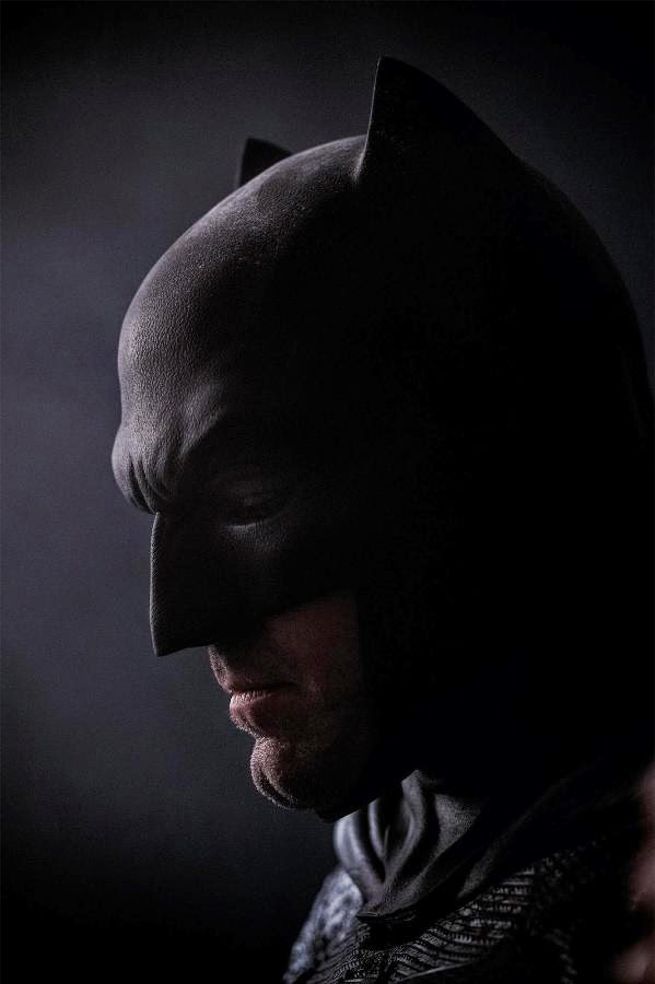 Do you watch BLUE BLOODS Jett? I just got hooked onto it and I am totally sold on Tom Selleck being Bruce Wayne if they ever did an honest to god THE DARK KNIGHT RETURNS movie. What are your thoughts?
JETT SAYS: JPH, I have not watched BLUE BLOODS, but I am a fan of Tom Selleck. His work on FRIENDS was tremendous. And yes, I agree that he would make for a good aged Bruce Wayne if they ever did a TDKR film. Of course, he's about 20 years older than Bruce in TDKR, but the dude looks great and I don't think the age difference would matter that much.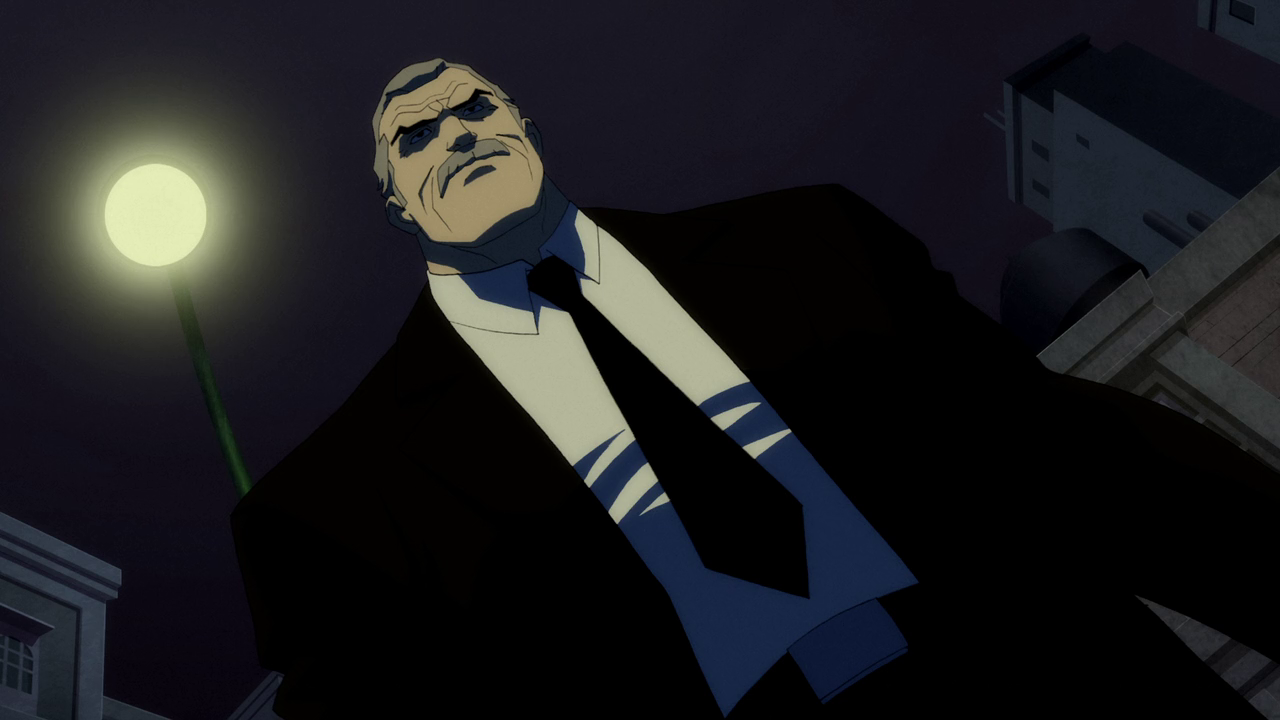 A life-long Batman fan, Bill "Jett" Ramey
is the founder of BATMAN-ON-FILM.COM.
He likes Elvis, Rock-N-Roll,
The University of Texas, cold beer,
Dallas Cowboys Football, and of course...
THE BATMAN!
He resides in the GREAT state of TEXAS with his lovely wife, three kids, and two Boston Terriers.

comments powered by