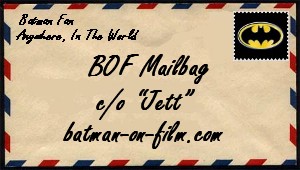 The June 21, 2015 BOF Mailbag
Author: Bill "Jett" Ramey (Follow @BATMANONFILM)
June 21, 2015

Greetings from the land of 10,000 lakes, Paul Bunyan, lutefisk, and hotdish...Minnesota! Love my second adopted home Summer state (though I'll ALWAYS be a Texan first), but they DO NOT know how to do chips and salsa...
NO BUENO!
Word to the wise: DO NOT attempt to get Tex-Mex (including chips and salsa) anywhere north of Dallas/Fort Worth (excluding the Texas panhandle on that geographic line of demarcation)! ANYWAY...
Below you will find the latest BOF Mailbag. Thanks for all the questions and keep them coming via EMAIL, BOF's FACEBOOK PAGE, or on BOF's TWITTER.
Also, please post your thoughts, feedback, and opinion in the COMMENTS SECTION below!
Now, on with this weekend's mailbag...
JETT SAYS: Not sure. If I had to guess, Warner Bros. Picture's presentation will be VERY BvS heavy.
It looks like we won't see a Joker origin story in SUICIDE SQUAD. Do you think there will be a Harley Quinn origin story?
JETT SAYS: For Harley, quite possibly – though I think it'll be via a short flashback scene. When it comes to The Joker, I don't want to know how he became The Joker or who he was before The Joker.
JETT SAYS: Pure happiness! You can check out my initial reaction to BATMAN BEGINS from back in 2005 right after I saw the film in Los Angeles RIGHT HERE.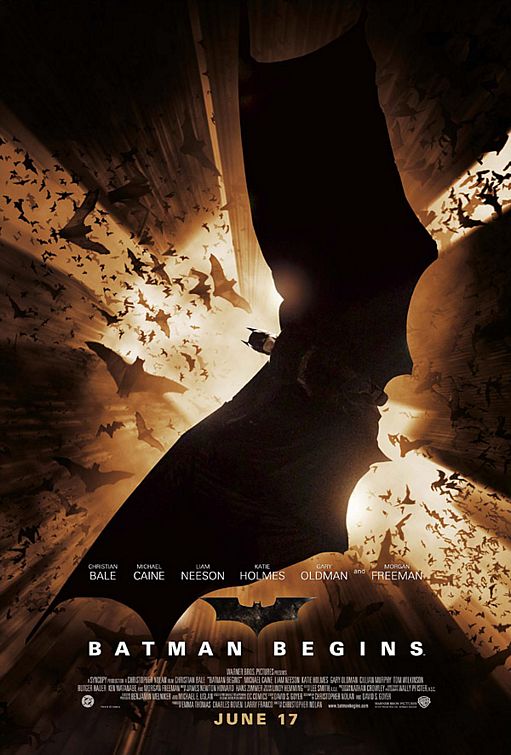 Between BATMAN v SUPERMAN and SUICIDE SQUAD, it would appear there's a huge THE DARK KNIGHT RETURNS influence. I seem to remember you suggesting a gearing up to the Batfleck solo flick with a Batman vs. The Joker centric movie that will be based on that aspect of TDKR? Haven't we seen this before in BATMAN '89 and THE DARK KNIGHT? Will the same tale told over and over from different perspectives make Batman feel very tired come 2020?
JETT SAYS: Well, Aaron, I'd say that we're past the point of worrying about Batman ever becoming "tired." But I understand where you're coming from as we have seen "Batman vs. The Joker" twice already on film. With that said, both Batman and The Joker are hugely popular characters amongst the mainstream audience and a huge box office draw when it comes to a Batman film. I frankly believe it is inevitable that Ben Affleck's Batman and Jared Leto's Joker square off in a Batman film. However, that doesn't mean we won't see other Batman villains in live-action in a future Bat-film as well.
JETT SAYS: I don't think there's going to be any viral marketing for either film on the scale of what went down with THE DARK KNIGHT back in 2007 and 2008. That was a once in a lifetime happening!
At San Diego Comic Con, do you think Warner Bros. will show a new BATMAN v SUPERMAN trailer or a scene from the film? If it is a new trailer do you think it will be released online or will it be exclusively for the crowd in Hall H?
JETT SAYS: Chance, I'm not quite sure how Warner Bros. will handle BvS as SDCC this year. I suspect that much more of what is shown there will be made public as well since the film's marketing and publicity will be ramping up. I suspect some publicity pics will be released as well as a proper BvS poster/one sheet. It also wouldn't surprise me if the film's second trailer is released since BvS's release will only be 8 months out come SDCC '15. In addition, it looks as if the cast and crew on hand will be doing press, so expect a lot of BvS stories the Saturday of the con. As far as something exclusive to the Hall H audience, I would guess that something will be shown that will not be released publicly and I'm more than OK with that. Frankly, I'm not camping out to get into Hall H and will miss the BvS presentation unless I get a V.I.P. pass from WB. I will be on hand for the press event, so that will definitely be covered here on BOF.
JETT SAYS: Hmm…I think I would have a Batsuit in a case in the Batcave that looks very much like Batman's original suit in DETECTIVE COMICS #27 from 1939. Purple gloves, big ears, everything.
What's your take on BATMAN: EARTH ONE? I can't shake the feeling this Batman is really just a revenge-driven thug.
JETT SAYS: Mic, I'm with you. It's OK I guess. Maybe it's just me, but I don't think Geoff Johns writes Batman all that well. I liked volume one better than the recently released volume two.
If Batman was to magically appear in the real world for an exclusive interview with you, what would be your one question you'd have to ask?
JETT SAYS: "Can I hug you?"
A life-long Batman fan, Bill "Jett" Ramey
is the founder of BATMAN-ON-FILM.COM.
He likes Elvis, Rock-N-Roll,
The University of Texas, cold beer,
Dallas Cowboys Football, and of course...
THE BATMAN!
He resides in the GREAT state of TEXAS with his lovely wife, three kids, and two Boston Terriers.

comments powered by