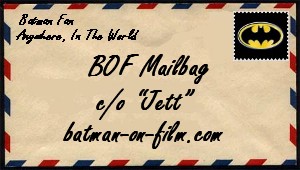 The November 8, 2015 BOF Mailbag
AUTHOR: Bill "Jett" Ramey (Follow @BATMANONFILM)
DATE: November 8, 2015

Welcome to this weekend's installment of the BOF Mailbag! Thanks for all the questions and keep them coming via EMAIL, BOF's FACEBOOK PAGE, or on BOF's TWITTER.
Also, please post your thoughts, feedback, and opinion in the COMMENTS SECTION below!
Now, let's get started...
What are you favorite Batman films? (via EMAIL)
JETT SAYS: Here's how I'd rank all theatrically-released Batman films (excluding the two 1940s serials)…
9) BATMAN RETURNS
8) BATMAN AND ROBIN
7) BATMAN FOREVER
6) BATMAN (1966)
5) MASK OF THE PHANTASM
4) BATMAN (1989)
3) THE DARK KNIGHT RISES
2) THE DARK KNIGHT
BATMAN BEGINS
As far as those DC animated PG-13 animated films, I like THE DARK KNIGHT RETURNS, YEAR ONE, and UNDER THE RED HOOD the best.
JETT SAYS: Granted, I'm not a fan of the character, but I wouldn't say that it's a mistake to include Killer Croc in SUICIDE SQUAD, nor would I say the aesthetic is ridiculous. I'll wait to see how they explain KC's look in the film and actually see the character in action before I judge. I will say that if it were up to me I'd probably not have had KC in the film or part of Batman on film's rouges gallery. Also, I'd probably have made the character look more like the way Lee Bermejo handled KC in JOKER.
Are you looking forward to PREACHER? Did you like the trailer?
JETT SAYS: Chance, I know the comic series, but I've never read a single issue. However, the trailer looked interesting and I'll certainly give it a shot – especially since I love the stuff on AMC.
What will this "BOF book" you've talked about be about? (via EMAIL)
JETT SAYS: The definitive history of Batman on film/cinema…and I'll sprinkle in a bit of my personal BOF story as well. I'll be teaming with Mark Hughes on this project. Stay tuned!
If the fans hadn't voted to kill off Jason Todd, to whom would the "Death in the Family" be referring (we know the title was already in use for the first few issues)? Jason's mother? I think, in that case, it would've been viewed as a gimmick to boost sales, promising one thing but then only killing off someone created simply for the story. Or do you think DC either planned to kill Jason regardless, or knew the fans wouldn't let him live and therefore were confident in the title?
JETT SAYS: Great question Jason. I think any of your scenarios are possible. However, if we take DC at their word that they indeed let the fans decide Jason Todd's fate, I'd say they would've killed off Jason's mother.
With the slate of DC films already highly anticipated if not over-crowded – WB/DC still trying to figure out what pieces fit where for future projects – there is inevitably going to be some casualties that never make it through development. Are the titles announced, for the most part just a list of what they hope for, yet are ultimately interchangeable and expendable?
JETT SAYS: Dan, great question. I agree with what you said in your question that THE FLASH and GREEN LANTERN CORPS are the two that are mostly likely not to ultimately happen – even if BvS and the JUSTICE LEAGUE films are successes.
Do you think we'll get a tiny glimpse at Aquaman and The Flash in the next BATMAN v SUPERMAN trailer?
JETT SAYS: I doubt it. I think they really want to focus on the Batman/Superman aspect of the film. Also, I'm not sure that Ezra Miller even cameos in the film as The Flash.
JETT SAYS: It's not my area of expertise and I know very little about that sort of stuff. All I can say is that I see Batman gear and stuff whenever I'm out and about all the time. Hell, what two comic book/superhero logos are more powerful than the "Bat" and the "S?"
Besides Jared Leto's Joker, are any other actors who play villains in SUICIDE SQUAD signed on for more DCEU films?
JETT SAYS: Usually, actors sign up for three films on these sort of things. I wouldn't doubt that all of them are obligated for more than one DCEU film.
Frivolous question, but do you have a favorite food or drink that you enjoy when watching anything Batman related?
JETT SAYS: Beer, Rob. Cold beer.
Overall, film reviewers have been much kinder to Nolan ("The Dark Knight Trilogy," MEMENTO, INCPETION) than Snyder (SUCKER PUNCH, 300). At what point did you develop the confidence that Nolan was going to deliver the goods when it came to Batman, and on what do you base the confidence you have in Snyder, given his spotty track record?
JETT SAYS: Granted, Chris Nolan's films have received better reviews overall than Zack Snyder's movies. Personally, I think Snyder gets a bad rap for some reason; probably because of SUCKER PUNCH. But to answer your question, I knew that Chris was going to nail Batman the moment I saw that very first teaser trailer for BATMAN BEGINS back in 2004. I am confident in Synder handling Batman on film because I know he has a passion for the character – he told me that personally WAY before BvS was even in the works. Also, I think he's assembled a fine supporting team when it comes to this version of Batman – Ben Affleck and Chris Terrio in particular. Of course, the final verdict won't come 'til I see BvS early next March, but nothing I've seen so far has me nervous or worried.
A life-long Batman fan, Bill "Jett" Ramey
is the founder of BATMAN-ON-FILM.COM.
He likes Elvis, Rock-N-Roll,
The University of Texas, cold beer,
Dallas Cowboys Football, and of course...
THE BATMAN!
He resides in the GREAT state of TEXAS with his lovely wife, three kids, and two Boston Terriers.

comments powered by