BATMAN AND ROBIN #37
Author: Bobby Barrett (Follow @BATBOBBY)
December 23, 2014



SYNOPSIS: Batman vs. Darkseid! The penultimate chapter of "Robin Rises" is here! Can Batman bring Damian Wayne back from death?
I'm going to preface this review with a SPOILER WARNING even though its events are being well advertised by DC Comics and making headlines on many genre sites this week. If you want to avoid spoilers of any kind, this is your chance to turn back.
Still with me? Sweet…
This is it, boys and girls! The moment DC Comics has been teasing us with finally occurs in December's BATMAN AND ROBIN #37. This feels like a milestone for me personally, as my first review for BOF was covering Damian Wayne's demise in BATMAN, INCORPORATED #8 early last year. While I do respect the direction in which Grant Morrison wanted to take that story, the adventures of the son of Batman had ultimately barely scraped the surface of the character's potential. Readers knew it, DC certainly knew it…and it looks like the B&R team of Peter Tomasi, Patrick Gleason, Mick Gray, and John Kalisz knew it as well!
So how does it play out? In a word: BOLDLY. I mentioned last month that since a character's resurrection falls so far out of the realm of what the rules for Batman are supposed to be, there's really no reason to try and keep it "grounded". In this case, the main event is a showdown between The Dark Knight and the villainous Darkseid on the latter's home world of Apokolips. This appears to be the first time an earthling has encountered the alien tyrant since the events of JUSTICE LEAGUE: ORIGIN, and he definitely has a bone to pick.
This kind of story in a Batman comic might be off-putting for some. What drives it home, however, is its sincerity of execution. Tomasi and co. depict a manic desperation in Bruce Wayne the likes of which we've hardly seen before. Literally risking life and limb for his son as an evil alien god tries to beat his skull in while an alien virus is eating up his insides. Bruce is ready to bring Damian back even if it's literally the last thing he does…and he's OK with that. Batman has been a father figure/mentor to many during his 75 years, but seeing him as a parent gives him a whole new dimension and makes me all the more eager to root for him – -another reason why Damian's story ended too soon.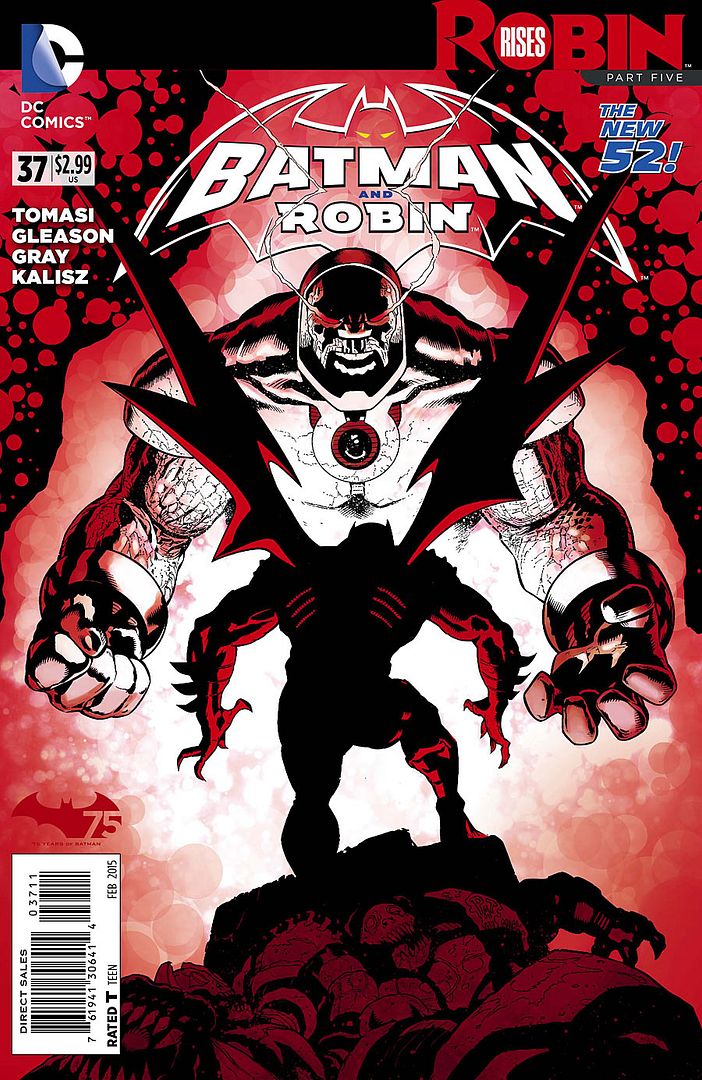 BATMAN AND ROBIN #37 Cover
Damian Wayne was introduced in a mad epic from one of the most polarizing writers in comics, Grant Morrison. Peter Tomasi might not be the genius/lunatic writer that Morrison is, but he understands both these characters and their world, fearlessly taking the Bat Family across the universe and into sci-fi/horror chaos. The writer even bring's the story full circle by making Darkseid's Omega beams, an element that led to Damian assuming the mantle of Robin to begin with, a catalyst for the character's return.
Patrick Gleason and team are fully aware of the significance of this issue, and are pulling out all the stops to make it as grand an epic as they can muster. The book is littered with splash pages (even a couple nice two-pagers), but the imagery is so powerful they don't seem to hog the space in the slightest. Considering everything that happens in this issue, it's surprising that they made it all fit in 20 pages. Darkseid himself is imposing as ever, Gleason gives his skin a textured look that delivers unease in spades. Likewise, Bruce Wayne's body being affected by the virus is equally unsettling.
On the other hand, the scenes in The Batcave are warm, and you can see the emotion on the Batman Family's faces as they experience the most surreal of moments, and Batman achieves the impossible. Can I just say how terrific it's been having Titus along for the ride as well? BATMAN AND ROBIN has always been a family-focused book, and the family pet being present throughout the story drives that point home quite nicely.
We're not out of the woods yet, though! "Robin Rises" concludes in next week's ROBIN RISES: ALPHA one-shot, and by the way this issue ended, it looks like it might already be up to Damian to save the day. - Bobby Barrett
GRADE: A
Bobby Barrett is a lifelong Batman enthusiast living in Fresno, California, with his wife and several cats.
He enjoys reading, writing, acting, and playing very loud rock music.



comments powered by