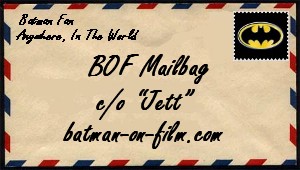 End of 2014 BOF Mailbag!
Author: Bill "Jett" Ramey (Follow @BATMANONFILM)
December 26, 2014

Happy Holidays 2014 and all that stuff!
Here's the latest BOF Mailbag which will close out the year and be the last 'til 2015. Thanks for all the questions and keep them coming via EMAIL, BOF's FACEBOOK PAGE, or on BOF's TWITTER.
Happy New Year Everyone!
What do you think of the criticisms thrown at DC that they don't know how to treat their fans, for example WB using a shareholder's meeting to announce the release dates & titles for their upcoming DC based films as opposed to Marvel Studios hosting a "Special Event" at the El Capitan Theatre in Hollywood to announce their Cinematic Phase 3 plans including title cards, a clip and a few movie stars to pump up the Marvel crowd. Should WB allowed DC to throw a similar shindig to make their announcements or is this just DC bashing? (via email)
JETT SAYS: Dave, I think it's much (and not that much) ado about nothing. Look, much props to Marvel for being very "fan friendly" – and let me emphasize the word fan. Everyone who went to the "Special Event" at the El Capitan is going to end up seeing all of these films regardless if the event was thrown or not. Plus, it's more about a press event than a something "special" for fans. I couldn't care less whether or not Warner Bros. throws such an event in the future for fans; in fact, I hope they don't as it'll come off as trying to imitate Marvel…and they'll be criticized for that. Look, I'm sure that Warners will have several events for fans in the future at San Diego Comic Con when it comes to their DC Comics films.
What did you think of the end reveal of BATMAN #37?
JETT SAYS: Nick, I think that what Scott Snyder and company's run on BATMAN has been nothing short of brilliant and I'm very much digging "ENDGAME." However, I hope like hell that The Joker isn't a supernatural being. Looking forward to seeing how this pans out.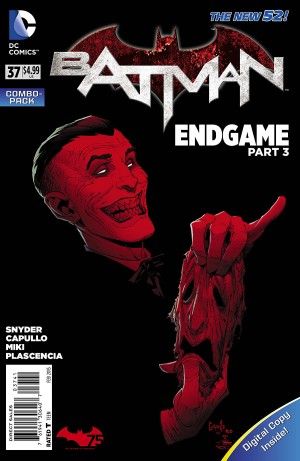 How has your perspective changed towards Batman being in the new movie [BATMAN v SUPERMAN] since it was first announced?
JETT SAYS: Travis, Ben Affleck being cast as Batman and having a lot of say on how the character will be portrayed in BvS, the two JUSTICE LEAGUE films, and a solo movie has put a lot of my apprehension at ease. Plus, I totally trust Zack Snyder. I can honestly say that I'm very much excited for all of those upcoming films. However, I'm still rather leery of seeing Batman on the big screen alongside an invincible flying alien, an ageless demigoddess, and a dude who talks to fish. Batman stories involving the greater DC Universe are not – and never have been – my ideal version of Batman. But I got "My Batman" in "The Dark Knight Trilogy," so everything now is gravy. I'm looking forward to a new interpretation of Batman on film.
If and when Green Lantern comes to the cinematic DC Cinematic Universe, who'd you like to portray him?
JETT SAYS: Cameron, I don't think you can do Hal Jordan again and you definitely can't bring Ryan Reynolds back. I'd say go with the John Stewart version of the character. As far as casting, how about Idris Elba?
It's been a relatively busy year for DC on film – cinematic developments, TV, etc. What's the biggest thing we can take from this year as far as what's to come?
JETT SAYS: Stacy, overall, it's clear that Warner Bros. is going to actively develop films and TV projects based on the DC characters that they own (which is all of them). On the film front – which I'm more interested in personally – it's apparent to me that Warner Bros. is serious about DC on film and they plan to do things differently than Marvel Films. It looks to me that they are giving the filmmakers involved with these projects much more creative control and leeway than Marvel – and that's a good thing.
Now that DC has confirmed that SHAZAM will set in the same universe as everyone else when do you think he will show up in a movie?
JETT SAYS: Chance, I wouldn't read too much into that blog statement from DC Comics. Trust me; they don't know very much about DC film projects at Warner Bros. that one would think. I think everyone involved – including DC – is simply doing some assuming. From what I've heard, The Rock's SHAZAM film will be its own thing. Keep in mind that this film is coming from Warner's sister company, New Line, and is the only one not being produced directly by Warner Bros. So when will we see first see Captain Marvel/Shazam in a live-action film? That'll be SHAZAM.
Why is it that they haven't made a new live-action Batman television show since the 1960s? And when they do – BIRDS OF PREY/GOTHAM they sidestep actually featuring Batman prominently? Do you think GOTHAM is a test case for another go in the future?
JETT SAYS: JPH, I get asked this question a lot. The bottom line is that Warner Bros. believes that Batman is special and that "Full-on Batman," if you will, should be reserved for the big screen. And honestly, I agree with them. Now, I won't go as far as to say there will never be a live-action Batman TV series in the future, but I personally believe it's unlikely. Heck, the fact that they went with GOTHAM instead of a show featuring Batman in his prime makes it even more unlikely any time soon.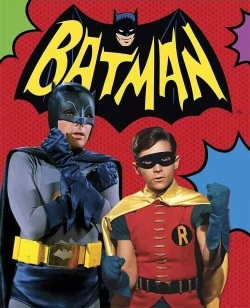 Any plans for a BOF meet-up and watch party for BATMAN v SUPERMAN opening weekend?
JETT SAYS: Grant, absolutely! I'll put something together late in 2015 and post it on BOF then.
Is that rumor about a leaked BATMAN v SUPERMAN trailer true?
JETT SAYS: I got a lot of emails asking about this, but based on my "investigation," I think it's BS. If it had been leaked online – even briefly – it would've been copied and uploaded all over the Net. And even though Warner Bros. would most likely have been successful in having it taken down wherever it would be posted, this would've been big news and we all would have heard about it.
After 75 years-worth of material, whom amongst the many writers/artists has been your absolute favorite? One that has made you go "WOW, these cats have truly spoke to me about Batman that no other has!"
JETT SAYS: Ben, I'd say the Denny O'Neil/Neal Adams stuff from the early 70s; the Steve Englehart/Marshall Rogers run on DETECTIVE COMICS in the late 70s; Fran Miller's BATMAN: YEAR ONE; and Scott Snyder and Greg Capullo's BATMAN have all did that for me. Oh yeah, I'd also throw Paul Dini's work on DETECTIVE COMICS a few years back.
What is everything to someone and nothing to everyone else?
JETT SAYS: Travis, your MIND baby! And now mine pumps with the power of yours!
Michael Keaton was quoted as saying he's not jealous of Ben Affleck because, "I'm Batman." Thoughts?
JETT SAYS: Sean, he is Batman. So is Adam West. And Val Kilmer. And George Clooney. And Christian Bale. And yes, so is Ben Affleck - and anyone else who has portrayed Batman at some point in any media.
What's been your favorite thing about Batman's 75th anniversary?
JETT SAYS: Glen, as a life-long Batman fan, it was just really cool to see Batman get so much run and be celebrated this year. I've really enjoyed doing all the "Batman 75" stuff here on BOF throughout 2014. Oh yeah, the 60s BATMAN TV series getting released this year on DVD and Blu-ray was icing on the cake!
Did Warner Bros. ever consider giving Joseph Gordon-Levitt's "John Blake" the cape and cowl in BATMAN v SUPERMAN and the JUSTICE LEAGUE films? Creating some of sort of continuity with the Nolan-verse, without Nolan at the helm of course.
JETT SAYS: Did someone at Warner Bros. ever bring up the idea? Yeah, I'm sure someone did. Was it ever seriously considered as an option for Batman on film moving forward from "The Dark Knight Trilogy?" Nope. Nolan would never have signed-off on it and Warner Bros. never would've blatantly disrespected Chris like that.
Hi Jett, just wanted to wish you and your family a very great Christmas and a Happy New Year. Let's cross fingers that Ben Affleck will be great in BATMAN v SUPERMAN!
JETT SAYS: Jayant, thanks and same to you – and too all the BOF'ers out there as well! I don't know we need to cross our fingers about Ben as Batman – he's going to kick ass!
Following the spirit of Lee Bermejo's BATMAN: NOEL, do you have other fairy tales you'd like to see set in Gotham?
JETT SAYS: Hmm…
I don't know Jason; I'm not very astute when it comes to fairy tales. I'll throw this out to the BOF'ers: Got any suggestions for Jason's question? If so, post them in the comments section below!
One, who do you think the MOST UNDERATED Batman villain is and why? Two, how do you imagine where Batman will be in terms of cultural relevance, possible landscape of mythology, interpretation in various media form, etc. by the time us fans get to witness #BATMAN100 (I doubt hashtags to be still be used in social media)? Thanks a bunch and Merry Christmas.
JETT SAYS: Jun, I'd say that Hugo Strange is Batman's most underrated villain. I find him to be Batman's intellectual equal – sort of Batman's "Moriarty," if you will. I think he's underrated because though he was one of the very first Batman villains, he disappeared from Batman comics rather quickly and didn't return until the 1970s. Basically, he just isn't very well known amongst the mainstream and to even Batman fans quite frankly. Here's hoping Scott Snyder gets his hands on the character at some point before his BATMAN run ultimately ends.
As far as your second question, "Batman 100" should be one hell of an occasion! Honestly, I was thinking about it just this week. I got to wondering if I'll be around to actually see it as I'll turn 74 the year of Batman's 100th anniversary – fingers crossed! But whether I'm here to see it or not, I think Batman will be just as big – probably bigger even – as the character is today. Plus, there's no telling what kind of new media will exist then that will come to include Batman as well.
With film special effects being at the quality they are these days, do you think we'll ever get to see Batman suiting up on screen?
JETT SAYS: Geoffery, we've kinda already seen him do that in several Batman films, no? If you mean see him walk into the Batcave butt-ass neckid (yes, that's how we spell/say it in Texas) and don the suit, well, I doubt it (and I know you didn't mean it that way). Geoffery, to be honest, I think to see Batman actually suit-up full-on, it would take too much time to show it properly. I think the quick cut scenes of the different parts of the Batsuit being applied by Bruce Wayne to his body turn out pretty good.
What I'd like to see, however, is a nod to the Bat-Pole from the 60s TV series in one of these upcoming movies with Batman. Wouldn't it be cool to see Ben Affleck as Bruce Wayne hit that button within the Shakespeare bust, jump on the Batpole in Wayne Manor, and end up in full Batman gear at the bottom in the Batcave? Oh hell yes!
I know you're probably sick of DC TV/movie questions, but here goes! Do you think a big reason they didn't have the TV versions of Green Arrow and The Flash in the DC Cinematic Universe is because they wanted "big names" in the movies?
JETT SAYS: Jack, I believe that Warner Bros. wants to keep their DC TV and film properties separate; it's that simple and I totally agree with that approach. Let the TV stuff do what they do and not have to worry about the films and vice versa – it's creatively better for both. And yeah, I think there is something to casting "big names" for their DC films. For example, there's no way you can make SUICIDE SQUAD with ARROW's version of the, well, Suicide Squad. And as good as THE FLASH is on TV, that approach wouldn't work as a film.
Do you think Commissioner Yindel will be in BATMAN v SUPERMAN?
JETT SAYS: Yes.
What are your thoughts on the rumor that Jeff Nichols will direct AQUAMAN (which came from the Sony leaked emails)? Also should we expect the Batfleck solo movie in between the JUSTICE LEAGUE movies or after them? Keep up the good work man!
JETT SAYS: Seferino, I'm not going to comment on the AQUAMAN director rumor as I consider any information that came from the Sony hack straight-up stealing. As far as a solo Batfleck Batflick, I've heard it would come in 2019. With JUSTICE LEAGUE, PART 2 debuting on June 19, 2019, I'm going to guess that it'll come after that film. Maybe it'll be a Fall 2019 release; of course, they could push it back to Summer 2020.
Is Doomsday still a rumor or confirmed? Is there any chance Batman uses a voice changer like Arrow in the TV show?
JETT SAYS: Ammos, Doomsday in BATMAN v SUPERMAN is only rumor at this point. As far as Batman (Ben Affleck) using a voice modulator/changer in BvS, I'm sure it's possible. Of course, Christian Bale's Batman in "The Dark Knight Trilogy" wore such a contraption, though it was never flat-out stated in any of the three films.
JETT SAYS: I would say that he does not exist in the DCCU and to be honest, I hope the character doesn't - unless he's the naturally conceived and born child of Bruce and Talia. When it comes to a "Robin" in the DCCU, I think Dick Grayson exists as Nightwing (though we might not see him in BvS), one Robin was killed in the line of duty, and Batfleck just might have one of his own in BvS.
A life-long Batman fan, Bill "Jett" Ramey
is the founder of BATMAN-ON-FILM.COM.
He likes Elvis, Rock-N-Roll,
The University of Texas, cold beer,
Dallas Cowboys Football, and of course...
THE BATMAN!
He resides in the GREAT state of TEXAS with his lovely wife, three kids, and two Boston Terriers.



comments powered by