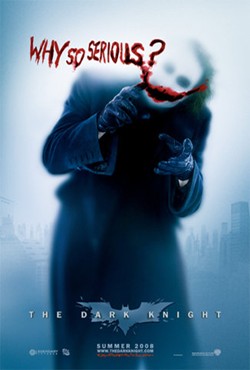 Last year, I wrote a couple of articles about what to expect and what I considered "TDK Must-Do's" in 2007. For the most part, Warner Bros. and "Team Nolan" gave fans what I thought were absolutely necessary last year. In fact, TDK marketing in 2007 actually exceded my expectations. Case in point, the viral campaign. I'll admit, I didn't know about it, it caught me off guard, and it was absolutely exceptional!
I guess it was "All part of the PLAN," right?
Even though I'd liked to have seen the TDK cast and crew at Comic Con in San Diego last summer (I know why they didn't attend and I understand completely), we still got the Wizard World Chicago panel, a teaser trailer last summer, the first full-length trailer this past December, pictures from the film, and four nice one sheets -- one of which is already hanging in my office by the way.
Overall, I've got to give all involved a very solid "A" for 2007.
So let's take a look at 2008's "Must Do's" -- or maybe "Like To See's" would be a better term.
MORE VIRAL MARKETING PLEASE!
From the first big reveal of Heath Ledger as The Joker back in May to the online premiere of the first full-length trailer in December, fans were consistently treated to some rather cool stuff via the viral campaign for THE DARK KNIGHT.
(If you are still complaining that the marketing for TDK "sucks," here's my response: "Zzzzzzzzzzz….")
To those behind this tremendously clever and fun campaign, don't stop now. Keep it going -- hell, kick it up a notch -- in 2008!
If I had to make one suggestion, I'd like to see something focus on Harvey Dent.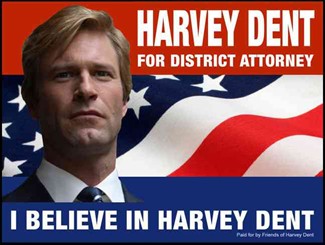 More viral Harvey Dent in 2008! &copy Warner Bros. Pictures
What about some fake "I Believe In Harvey Dent" political ads -- on TV, billboards, posters, campaign buttons and stickers, etc. Remember, 2008 is an election year here in the U.S. Don't you think it would be cool -- and funny -- to have people saying "Who the hell is Harvey Dent and what's he running for?"
THE BOOB TUBE IS YOUR FRIEND
Granted, I'm speaking for an American point of view, so my apologies to those BOF'ers outside the U.S. Anyway, here are some prime options for TDK TV spots as suggested by BOF'ers:
* The Super Bowl in February.
* The Oscars in February.
* The NCAA College Basketball Tournament in March.
* The AMERICAN IDOL finale.
* The DANCING WITH THE STARS finale.
* The NFL Draft in April.
* The "MTV Movie Awards."
* The NBA Playoffs and Finals.
I'm not saying have spots with all of these, OK? But certainly, there are some excellent options coming soon to help spread the word that THE DARK KNIGHT is coming!
HEEEEEEEEEERE'S THE DARK KNIGHT!
Other than Katie Holmes promoting WAR OF THE WORLDS (*rolls eyes*), I don't recall any of the cast or crew of BATMAN BEGINS making the talk show rounds back in 2005.
I understand the "low key" approach that was taken with BEGINS three years ago and I was fine with it -- although there's still a part of me that wishes it was marketed like FANTASTIC 4. Anywho...
If it were up to me -- and it's not, obviously -- I'd get the main TDK players out there this summer promote the heck out of this film. You all know the obvious forums I'm sure: Letterman, Leno, and Kimmel.
Daytime? I guess I'd be OK with them appearing on TODAY or GOOD MORNING AMERICA. On the other hand, I don't know if I'm too keen on seeing Christian Bale, Aaron Eckhart, or Heath Ledger yucking up with Regis, Kelly or, God forbid, that crew on THE VIEW.
THE FOLLOWING PREVIEW...
We've already had a teaser and a full length trailer in 2007. Obviously, Warner Bros. is going to release a few more trailers prior to TDK's premiere in July.
Since that first trailer focused on The Joker ( As it should, it's The Joker!), perhaps the next few we see will concentrate on some of the other major characters in the film. Like Harvey Dent and -- oh, I don't know -- Batman? Batman IS "The Dark Knight," right?
MORE ONE SHEETS
I like one sheets -- or "movie posters" -- whatever you want to call them. Warner Bros. has already released these four...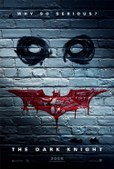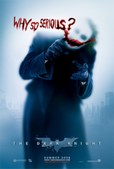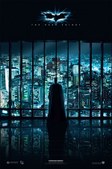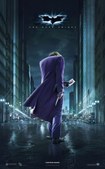 ...two domestic and two international. I say keep rolling 'em out! The "Why So Serious" Joker one (as seen above and in my office) was tremendously cool -- but how about some love for The Batman?
As far as any focused on Harvey Dent, I still say that anything dealing with Harvey should be done as fake political ads. And nothing with Two Face, just D.A. Dent.
"WHO THE F*** IS THAT?!"
Bottom line, they need to get more stuff like this...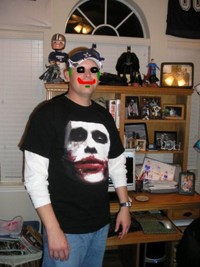 ...and this...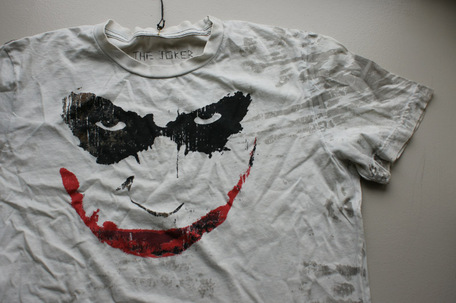 ...right now! I'm telling y'all, everywhere I go when I'm sporting that T-shirt, people look at it and ask me, well, "Who the F*** is THAT?!" And I'm like, "That's The Joker in the new Batman movie, THE DARK KNIGHT." And damn near everyone's response is "That's AWESOME!"
Enough said. Except...
I would like to see some "I Believe In Harvey Dent" shirts too. Have I made it clear yet that I believe that they ought to go all out with this fake Harvey Dent political campaign thing?
GEEK OUT, BATMAN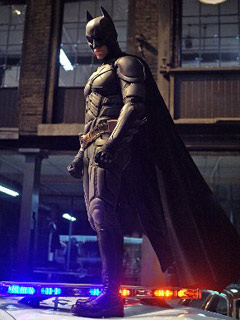 I know that Warner Bros. and Team Nolan got some flack for not heading down to San Diego last July and showing up at Comic Con. However, when it was all said and done, TDK was there via the viral marketing campaign and did have a panel a few weeks later at Wizard World Chicago. But that's all water under the bridge.
I'd say it's important for TDK to attend at least a couple of cons in 2008. San Francisco's Wondercon takes place in February this year and is the most likely candidate for an appearance by Nolan, Bale, and other various cast and crew members of the film (Nolan and Bale showed up there in 2005). Also, Warner Bros. usually has a fairly large presence at Wondercon, so I'd say it's safe to assume that they'll be there promoting their biggest movie of Summer 2008.
The New York Comic Con is an up and comer in the con scene, and it's being held in April this year. While I wouldn't rule out a TDK appearance there, I'm not thinking it's likely at this point.
Now on to THE con of the year -- Comic Con International San Diego!
I believe that it is imperative that there is a HUGE TDK presence at this convention this summer. I think they owe it to the fans to attend this year -- especially since they didn't show up last year. Most people forgave 'em last time, I don't know if they would again.
The cool thing to me is that of they play their cards right, THE DARK KNIGHT can absolutely own Comic Con come this July -- and they should. Since TDK will have been in theaters only a week when SDCC commences, I'd make it one big 'ol TDK celebration and party!
I'd have the biggest panel I could put together and have it attended by Chris Nolan, producers Charles Roven and Emma Thomas, screenwriter Jonah Nolan, David Goyer, Christian Bale, Heath Ledger, Gary Oldman, Sir Michael Caine, Aaron Eckhart, and Maggie Gyllenhaal. Show footage from the film and take questions from the audience. I'm willing to bet that this would be the most-attended panel at the con this summer!
Last year, Warner Bros. held a screening of 300 at Petco Park. Here's wondering if something like that -- or similar -- could be arranged for TDK?
Whatever they come up with (And you will come up with something, right "Powers That Be?"), it should be BIG and worthy of Batman cool -- you know what I mean?
Anyhow, these are my suggestions of the things I'd like to see over the next six months when it comes to THE DARK KNIGHT. I'm certainly no guru when it comes to the marketing of a film -- although I play such a guru on the internet.
However, I do get TONS of email and I think I've got my finger on the pulse of the Batman fan.
Well, the sensible Batman fan that is.
Alright, let's see how this whole thing plays out here in 2008 -- and be sure to LET ME KNOW WHAT YOU THINK.