Ten years ago -- June 2, 1998 to be exact -- the website that would become known as "BATMAN ON FILM" hit the Net.
You know, I wanted to write something to commemorate the 10th Anniversary of BATMAN ON FILM, but strangely, I found myself with a case of writer's block every time I tried to come up with an article.
I know some of y'all may find this a tad -- I don't know -- "unbelievable," but I don't like to talk about myself (Really, I promise!) Consequently, I have asked two every important BOF'ers to pen articles celebrating BOF's milestone and that'll come later. Anyway...
I figured I ought to at least write something, ya know? I mean, I kinda founded the site and all.
I thought long and hard about it. I tried be cute and come up with something funny and witty, but those attempts quickly fizzled out. Then it finally hit me like a ton of bricks. What I wanted to say didn't acquire me to be cute, funny, or witty. So here it is…
"Thank you."
Thanks to all of you folks who read BOF hourly/daily/weekly/monthly/yearly/"never" (Yeah right, hehehehe!). It is because of ya'll that BOF is what it is today. And, honest to goodness, what it IS blows my mind and humbles me more than I can say.
So I want to take a second to publicly thank and acknowledge the following folks -- and in no particular order (REALLY)….
*DEEP BREATH*
Warner Bros. Pictures and all of the publicists I've had the chance to work with -- ESPECIALLY Darren, Anne, Tiffany, and Orna!)...
Michael Uslan and F.J. DeSanto...
The fine folks at DC Comics/DC Direct (A shoutout to Matt, Alex, and Fletcher!)...
Lee Bermejo, Chris Jones, and all the Batman artists and writers I've had the chance to befriend...
My man "A.P." DAMMIT!. "A.P." thanks for everything...
Emma Thomas, Christopher Nolan, Chris Corbould, Charles Roven, David Goyer, and all the folks who have contributed to BATMAN BEGINS and THE DARK KNIGHT...
THE Dallas Cowboys...
Bedrock City Comics in Houston, TEXAS (My comic shop)...
"Slappy White Dog" and every single "industry insider" that I've come to know and respect...
Paul J. Wares, Gregg Bray, "6J9," "Man Who Laughs," "MWH," "Matches Malone," and very person who has posted/and is posting on the BOF MESSAGE BOARD...
Kris Tapley, Cary Ashby, John Bierly, Paul Casey, Robert Reineke, Chris Clow, Ryan Hoss, Jenn Bobbitt, Paul Coffland, Christina Han, Mark S. Reinhart and all of those who have contributed to BOF over the years...
"Stax" and Clint from Moviehole.net...
Houston's 94.5 The Buzz/"The Rod Ryan Show," Todd Sheets from the "Nightwatch" Radio Show," and Every radio host and show that has had "Jett"/BOF on as a guest...
Mac Daniel, Richard Mooney, Rob Shaw, and every single writer that has interviewed "Jett"...
Buffalo Wild Wings - Willowbrook (If y'all only KNEW how much BOF'n I've done there!). AND...
All my friends down in the "Golden Triangle" of southeast Texas whom I grew up with.
*EXHALES* (I'm not through just yet!)
*DEEP BREATH AGAIN*
My three children -- whom I've converted into Batman fans, but my teenage daughter is now bucking me on it! -- and my fantastic wife Rachel. Y'all have NO idea how much BOF'n she puts up with!
So thanks Rachel (The LOVE of my life!) for, well, putting up with it! (The conventions…going to LA, NYC, San Diego…the early movie screenings…my OFFICE full of Batman and Dallas Cowboys stuff, etc., etc., etc.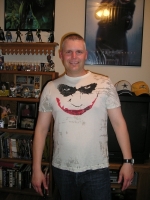 *EXHALES*

But mostly, I want to thank ALL of you BOF'ers. As I said before, there would be no "BATMAN ON FILM" without you. And I know you all come from every place in the world imaginable -- I can't list 'em all, but know that I know!

You know, BOF is what it is. It's not pretty and it doesn't have a lot of bells and whistles. But what it does have is someone who runs it CARES and -- for some reason -- has the ear of the folks that matter.

BOF isn't -- nor has it ever been -- a "scoop site." BOF is all about "pimping" THE Dark Knight and making sure that we get nothing but good Bat-Films from now on.

So here's to another 10+ years of BATMAN-ON-FILM.COM, me doing my absolute best to rep Batman fans.

By the way, does anyone remember "JettD60's BATMAN 5 Page?" Hehehehe... :P